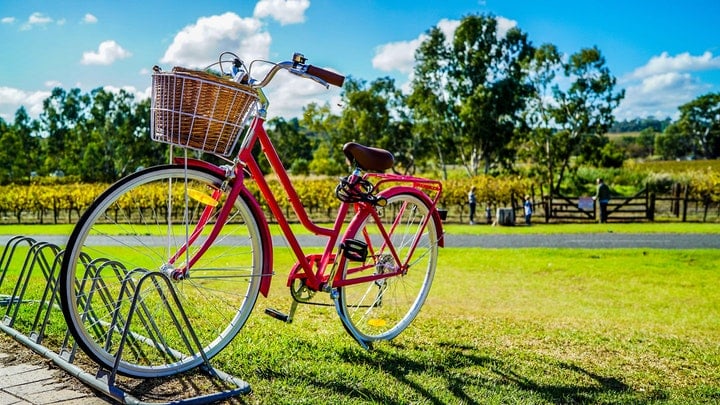 Why Riding Your Bike Is So Beneficial
To many people, riding your bike is a no brainer. It is how you get around town, it's your favorite form of exercise and it's something you couldn't do without. To others, riding a bike isn't their first go-to activity. However, since May is National Bike Month, we wanted to go over why riding your bike is so beneficial. We also hope, after learning this information. you'll find a reason to give it a try or do it more often.

May is National Bike Month
Each year, May is officially recognized as National Bike Month. As The League of American Bicyclists reports, "40% of all trips in the U.S. are less than two miles". This makes riding your bicycle a much more sensible alternative than hopping in your car. It's also better for the environment. This is why National Bike Month is so important. It celebrates riding a bicycle as an eco-friendly form of transportation and it encourages people to #bikethere.
For this year's event, the National Walk & Bike to School Day is being held on May 5th, with National Bike to Work Day on May 21st and Bike to Work Week from May 17th through May 23rd.
When it comes to encouraging people to ride their bicycles, one area recently promoted an incentive program which included $10,000 and a free bicycle for select people who chose to move there. Although not all 30,000 applicants were able to benefit from the program, at least a few dozen will get to enjoy riding around the hundreds of miles of biking trails the area has to offer.
Now, of course, not all cities, towns and states will have such programs, many have a vast array of bicycle paths and bike-friendly roads for you to enjoy.
Some of the Many Benefits of Riding Your Bike
Riding a bicycle is a very biofriendly activity and, needless to say, has countless health and environmental benefits. These are just a few of the benefits you could enjoy when you start riding your bike:
Exercise
Bicycling is a simple, yet extremely effective way to get some exercise. Instead of having to pay for a monthly gym membership or buy the latest exercise equipment, you can hop on your bike and get outdoors. Go riding in the fresh air. See the sights around you. Meet up with friends and ride. You can go uphill, downhill or take more of the straight and narrow path. The choice is yours. Whatever you chose, you'll be getting in some good exercise.
Health
Riding a bike is also good for your health. It strengthens your heart muscles and gets your heart pumping, helps improve your immune system, aids in weight loss, builds strength and muscle, and increases lung health. It can also boost brain power and help you get a better sleep. Due to the release of endorphins and adrenalin you get when cycling, you'll probably find yourself in a better mood too.
Explore New Places In Your Neighborhood
Hopping on your bicycle can give you an opportunity to explore new places in your neighborhood. You can check out local bike paths and trails, ride into the hills, do some off road cycling and more. Cars can't always go everywhere you may want to go, but a bicycle can easily remedy that.
Eco-Friendly Transportation
If you're looking for an eco-friendly form of transportation, look no further than a bicycle. Besides walking, it's about an eco-friendly as it can get. A bicycle can get you to the store, to the bank, to work, to school, and to a friend's house. Should you need to go father than your bike will take you, you can either bring your bike on the train or on a local bus, then keep riding once you've reached your stop.
Family Time and Entertainment
Riding bikes can be a lot of fun and entertainment for the whole family. It's actually an ideal way to spend some quality family time. Everyone hops on a bike of their own, or you can even try a bicycle built for two, and you ride around town. If you want to do a little traveling, you can take your bikes to the park for a picnic, to the beach for a swim or to the hills for a little mountain biking. It's refreshing and gets everyone unplugged, outside and just enjoying each other's company.
Time In Nature
One of my personal favorites, when it comes to riding a bike, is it allows you to spend some quality time in nature. You can get your mind off work or any troubles you may have. You unplug from the electronics we've become so dependent on over the years. You can just focus on the beauty of the world around you. Breathe in the fresh air. Soak up the sun. See what flowers are blooming. Watch the leaves blowing in the wind. Look at the sights all around.
Connect With Like-Minded People
Bicycling can give you a chance to connect with like-minded people. Whether you participate in bike races, attend events like CicLAvia, or just like to ride around with friends, riding a bike offers a way to connect with others. You might not realize it, but there are probably a number of people in your city or town who have similar biking interests to yours. You just have to reach out.
Benefits The Environment
Those who choose to ride their bikes rather than use other forms of emission-heavy transportation are doing something good for the environment. Simply put, riding a bicycle doesn't produce any significant air pollution nor does it require the use of fossil fuels to get you where you want to go. You can't say the same about a gas-guzzling car. This means, in areas where bicycles are a primary transportation method, harmful emissions will be less. You're likely to find improved air quality as well.
Electric Bike Rental Options Are Available
If you live in (or are going to) an area with a lot of hills or you're just worried about how long you'll be able to ride, electric bike rental options are available in many cities around the world. Los Angeles-based company, Bikes and Hikes, has all types of bicycles for rent from city bikes to electric bikes to mountain bikes. In Israel, a company just recently began offering standard and electric bikes for rent throughout the city of Jerusalem.
It's something to consider, especially when you're going to a new area. Instead of renting a car, try renting a standard or electric bike. Just do your research ahead of time to find some good rental and bike sharing options to get around town.
Moral of the Story: Get Out and Ride
Needless to say, as May is National Bike Month, we want to encourage you to get out and ride. Whether you already ride on a daily basis, you hop on your bike only now and again, or you're relatively new to riding a bike, now is the time to #bikethere. It's a great way to get a little fresh air and exercise, Plus, it has all the other benefits we've covered in this article (and more).
See you outside!