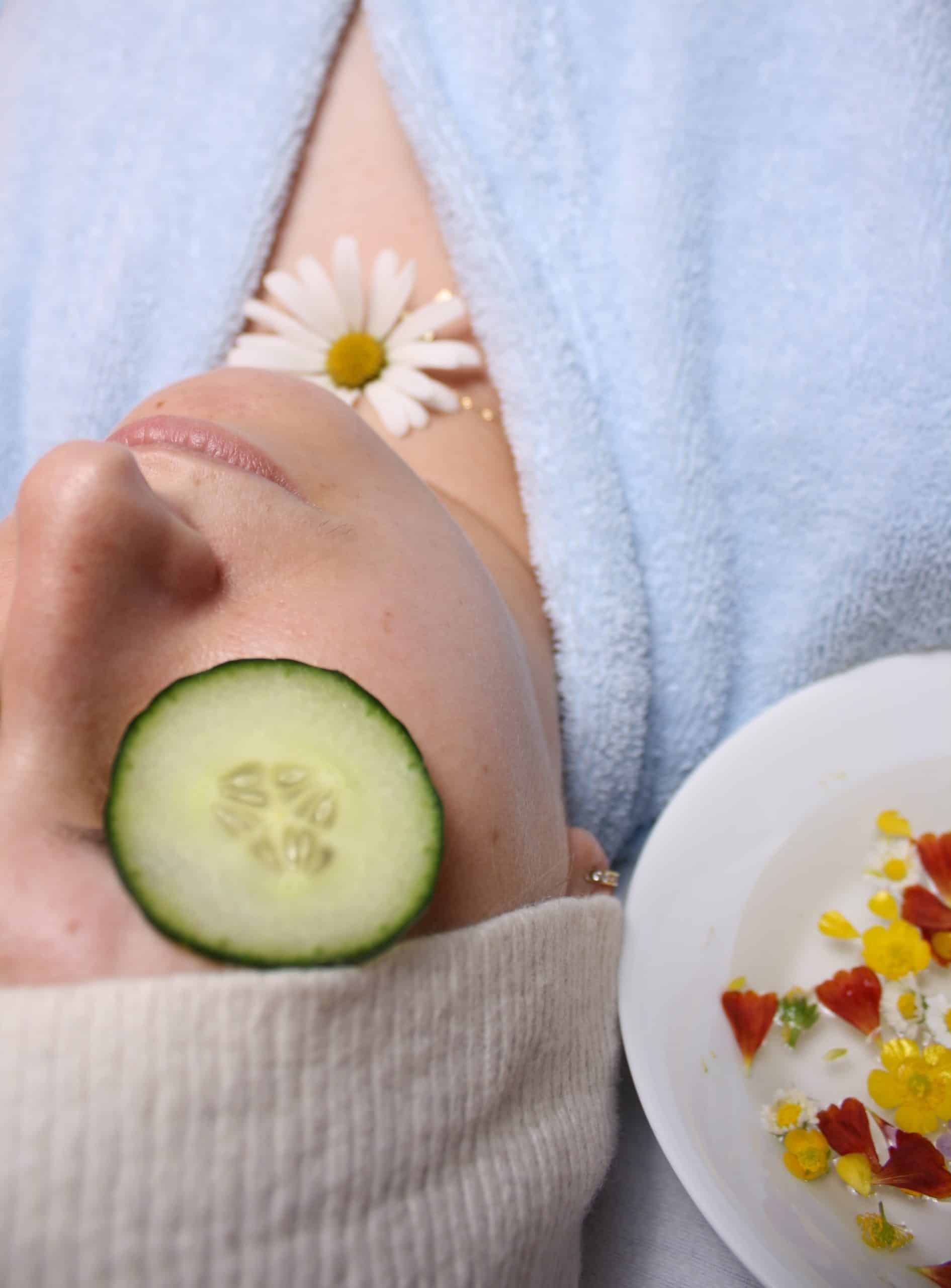 Keep Your Skin Glowing and Healthy with these Natural, Stay-at-Home Skincare Tips
While you've been at home, you've probably heard about the importance of self-care. From stress reduction to mental health breaks, it's essential for us to take time for ourselves during this season. Creating a healthy, natural skin care routine is one form of self-care that can give you immediate results and long-lasting impact. Read on to learn more about the natural skin care solutions you can find in your very own home!
Define Your Skin Care Routine
Many people are using this extra time at home to better themselves, whether learning a new language, making dietary changes, or perfecting their planks. Why not take this extra time to create the perfect daily skin care routine? If you are one of the many people shifting to work from home, you may want to implement no-makeup days. This gives your skin a chance to breathe, resulting in fewer clogged pores and breakouts overtime.
Also, remember the importance of sunscreen. Just because you won't be sitting beachside for a while doesn't mean that you won't need protection from the sun's harmful rays. Before you head outside for some fresh air, be sure to apply an organic sunscreen. Look for the words 'non-comedogenic' or 'non-acnegenic' as these sunscreens are less likely to clog your pores than some other options on the market. Don't forget to wash your face every night, as well. Removing makeup and dirt will allow your skin to refresh as you rest, ensuring you'll wake up to glowing, radiant skin.
Purge Your Skin Care and Beauty Products of Harsh Chemicals
The face cream and lotion aisle of any store is a colorful place, full of beautiful bottles of all shapes and sizes. While we might be drawn in by the bright labels on the front of these lotions, it's important to pay just as much attention to the back of the bottle as we do to the front. Now is a great time to look through your own stash of skin care products, checking ingredients for potentially toxic substances and getting rid of those that could be harmful.
Retinol, for instance, has been promoted as the ultimate wrinkle reducer, but it's harsh and can be damaging to sensitive skin, especially when exposed to sunlight. You'll likely also see many of your skin care products include parabens and phthalates, as well. These are often used to make your lotions and face creams smell great and last longer, but they can also have harmful effects. Studies show both parabens and phthalates may interfere with your hormonal makeup, actually causing more breakouts and potentially leading to other health issues.
Use Ingredients in your Fridge and Pantry to Up your Home Skin Care Routine
Thankfully, you won't have to look very far to find natural, non-toxic skin care products. In fact, you probably have all you need right in your own kitchen! Presoaked facial wipes are a popular choice these days for convenient makeup removal, but they aren't environmentally friendly and could contain harsh chemicals. Instead, apply olive oil or coconut oil to a cotton pad to safely and effectively remove makeup, even stubborn eye makeup, while refreshing your skin as well!
For breakout control, full fat Greek yogurt will reduce redness and decrease inflammation. Apple cider vinegar will also reduce breakouts by tightening pores and killing bacteria. Simply apply with a cotton pad and let it dry. To increase the hydration benefits of your existing moisturizer, just add raw honey, and, if you are willing to part with some of your bubbly, the antioxidants in champagne make a great anti-aging toner.
Cleanse with Natural Face Masks
The right face mask can turn any day into a spa day, even if you're stuck at home. Masks are not only the ultimate self-care experience, they also provide concentrated treatment to problem areas. You can find many options on store shelves, but be sure to check the ingredients. After all, what good is using a face mask if you'll be left with dry, damaged skin afterward?
We recommend making your own mask from ingredients you may already have on hand. Our favorite combines coconut oil, honey, and matcha for hydration and detoxification. Let it rest on your face for ten minutes before removing with lukewarm water. As always, pat your face with a towel instead of rubbing it. This ensures all the beneficial remnants and moisture stay on your skin, not the towel. To turn those ten minutes into a true spa experience, light a candle, close your eyes, and reduce your stress. Not only will your skin be revitalized, but you will too!
Don't Forget to Exfoliate
We all know of the benefits of removing dead, dry, flaky skin through exfoliation. Whether you want to create a more radiant glow or get sandal-ready feet, exfoliation should be a regular part of your skin care routine. Did you know, though, exfoliation has other important benefits not related to your skin? Body scrubs are also known to stimulate the nervous system and improve circulation, both of which can be extremely important as we stay safer at home.  
Some scrubs and exfoliants on the market use synthetic microbeads to get the job done. Not only can they be too abrasive, they are also dangerous to our plumbing and water supply. All natural and homemade scrubs, on the other hand, use sugar to slough off the dead skin, which is not only more effective, but biodegradable as well. Check out some of these scrub recipes with ingredients from your own kitchen!
Exercise and Eat Healthy
Effective skin care is just as much about what we put into our bodies as what we put onto them. As more and more people are now cooking at home, it might be the best time to make sure your diet is rich in vitamins and antioxidants that promote healthy skin. Be sure to eat a variety of fruits and vegetables, and avoid foods with preservatives and fillers. Remember to stay hydrated as well! Drinking at least 8 glasses of water a day can help to flush toxins from your body and give your skin a more supple, glowing appearance.  
While you're staying home, don't forget to get regular sleep, too. Getting 8 hours or more of quality sleep a night helps to reduce eye puffiness and bagging. It's also important to keep up your exercise routine while staying at home. If your gym is closed, a brisk walk and some yoga will help you to stay active and reduce stress. Just remember to wash your face after exercise to remove sweat and dirt before they make their way into your pores.
Give your Skin a Little Love While Stuck at Home
Use this time at home to establish a skin care routine that benefits your skin. Wash your face in the morning and at night to remove makeup, dirt, and pollutants from your pores, and use sunscreen when heading outdoors. Toss products with harmful ingredients like parabens and phthalates, and opt instead for ingredients from your very own kitchen. Coconut oil, Greek yogurt, and even champagne are all beneficial to your skin.
Just because you can't go to the spa doesn't mean you can't have a spa-like experience from your very own home. Homemade masks and scrubs are not only easy to make, they are also more environmentally-friendly and could be gentler on your skin than those you find at the store. Don't forget to bring the spa to your plate as well. A diet rich in fruits, vegetables, and plenty of water could impact the appearance of your skin just like any cream or lotion. Natural skin care is the best self-care when you're safer at home.  
Author Bio: Louisa Quinn is the Regulations Manager at Organic Fiji. She handles all the certification applications, ethics and regulations of products/practices, and ingredient sourcing for their coconut oil products. She enjoys empowering women and men to protect the environment, animals, and people by educating them on practical and ethical ways to shop for personal care items. Louisa also likes hiking in the mountains and sleeping under the stars.