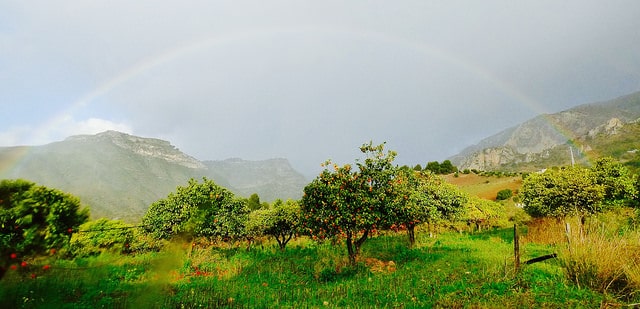 3 Fun, Yet Simple Ways to Keep Your St. Patrick's Day Biofriendly
St. Patrick's Day is steeped in tradition. Some people have the tradition of wearing green (or orange ) on St. Patrick's Day and then pinching those who don't. Others try to take steps geared towards increasing their luck (leprechauns, rainbows and pots of gold). While many believe the day should start with a few libations, move into some general merriment and then end off with a little corned beef and cabbage.
Whatever you believe, and whether you've got Irish blood flowing through your veins or you're just Irish for the day, we've got a few simple, yet fun, ways to keep your St. Patrick's Day biofriendly.
Take a Hike
Since St. Patrick's Day falls on a Sunday this year, why not start your day off by getting outdoors. Take a hike. Get some space. Spend a little time in nature. As the day is all about being green, it's the perfect place to be. I mean, where can you find more green than the great outdoors?
Taking a hike is good for you too. You get in a little exercise, get some fresh air, reconnect with nature, clear your head and who knows…maybe if you're lucky, and look real hard, you could find a four-leaf clover.
You might even consider planning a picnic, weather permitting, and enjoy some traditional (or not so traditional) St. Patrick's Day foods and drinks.
Color Your Plate Naturally
Okay, coloring your food for St. Patrick's Day is another tradition, particularly when you're a kid. Mom or Dad may have added a little food coloring to your favorite dish and….tah-dah…you got to eat a green grilled cheese or some green eggs and ham.
Nowadays we're a little more health-conscious when it comes to the food we put in our bodies. Many people are vegans or vegetarians. Others try to eat as healthy as possible. Some, out of necessity or not, choose to eat gluten-free, keto-friendly, organic or as eco-conscious as they know how.
Well, no matter what your diet consists of, you can get into the St. Patrick's Day festivities by coloring your plate naturally. No artificial food dyes, no chemicals, toxins or pesticides, and not even pre-packaged, straight-up sugar.
If you really have the urge to color your food, we recommend you try something like this all-natural green food dye recipe. A simpler approach may be to tailor your meal plan to include mostly green foods. What's nice about this is you can get as crazy and creative as you wish.
You can make snacks like kale chips, spinach hummus or guacamole deviled eggs. You can also try one of these green food ideas:
Zoodles with an organic pesto or avocado cream sauce
Green power bowl (vegan and gluten-free)
Honey balsamic roasted Brussels sprouts
Avocado toast with micro greens
Green smoothie loaded with organic fruits and vegetables
Green Your Ride
If you're planning to go anywhere on St. Patrick's Day, that's not within walking distance, you should green your ride. Now I don't mean paint your car or bike green for the day. That'd be silly. What I mean is figure out a greener way to get where you need to go.
Those who drive electric or hybrid vehicles already have this step pretty much figured out. Should you drive a gas- or diesel-powered vehicle, a little bit of Green Plus® Smog Reducer can help lower vehicle emissions and make your car less of a pollution-producer.
Public transportation is another way to get around town in an eco-friendly manner. Check our your city's bus, metro train or subway schedule and plan your St. Patrick's Day activities around that. This option is highly recommended, particularly for those who plan on ingesting a little alcohol on St. Patrick's Day and aren't already scheduled for a pedal-powered pub crawl. Plus, when you're celebrating on a day like this, riding green transit is a great way to meet new and like-minded friends. (Please remember to drink responsibly and never ride while tipsy or intoxicated.)
Happy St. Patrick's Day from all of us at Biofriendly Planet Magazine. As the saying goes, "May your day be touched by a bit of Irish luck, brightened by a song in your heart and warmed by the smiles of the people you love."