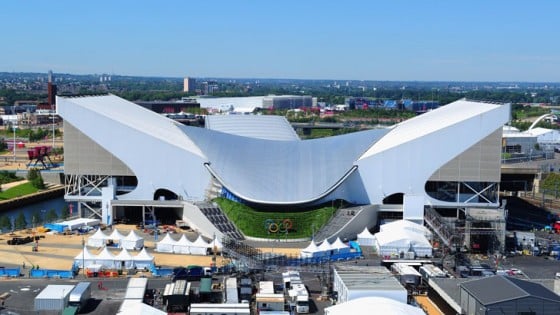 Sustainability 2012: Greening the London Olympics
Image from Inhabitat.com
Well, the summer Olympics are upon us and I'm sure millions, upon millions, of people around the world will have their eyes glued on London and the 2012 Olympic games. As we go into the Olympics, I wanted to share some of the green efforts that have been made to lower the overall environmental footprint of these games.
Here are just a few of the stories I have been reading about greening the 2012 Olympics:
1) Is Green The New Gold In Sustainable Olympics? Well, if it isn't, it probably should be. I mean if you're going to build so many venues to host the Olympics, shouldn't you be using sustainable materials and be building to last?
Image by Government Olympic Communications / Creative Commons
2) London 2012: The Greenest Olympic Games in History? Again, let's hope so. There have definitely been concerted efforts to make these Olympics the greenest on record. What do you think? Has London made the grade?
3) London Leaps Hurdles in Green Olympics Game Bid (Pictures): When you are building something that is not only designed to host the world's athletes, but to be seen and talked about across the globe, you're going to want to bring your A game. Take a look at some of the obstacles London has had to overcome in order to green up these Olympic games.
4) London 2012 Olympic Park – First Sustainable Olympics Ever: Some details on the green transformations London went through in order to bring sustainability and the Olympics together as one.
5) BMW Unveils Armada of Vehicles for London Olympics: One of my favorite parts about this story is the fact that although BMW is the official automotive partner for the London Olympics and planned to donate 4000 cars, it still wasn't enough. London wanted GREEN. BMW had to meet the emission requirements set forth by the committee or no go. So, they did.
6) Going For The Green: Measuring The London Olympics' Carbon Footprint. Okay, this is a new one. There are actual plans in place to measure the greenhouse gas emissions of the Olympic games, in real time. I can't wait to see what it shows.
7) On that note, green groups call on ArcelorMittal to underwrite Olympic carbon emissions. And as the policy officer for one of the green groups states: "…a carbon neutral London 2012 would be a far better Olympic legacy than the [ArcelorMittal] Orbit could ever be."
While there are many more articles, and opinions, about the Olympics and how sustainable they are, I figured these articles would give you a good insight into what is happening on the green front for London 2012.