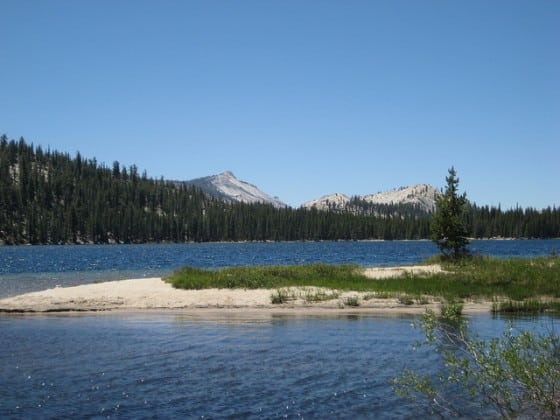 Little Bits of Green in Everything We Do

Recently my kids and I were lucky enough to be able to join my husband on his business trip to Reno, Nevada. Now when you think about Reno, Nevada you don't necessarily automatically think "green" or "biofriendly", but guess what? There are little bits of green in everything we do.
To start, the car his company rented was a Chevy Tahoe FuelFlex. I had never driven in a FuelFlex before and liked, not only the features it had, but the way the car automatically adjusted from a V8 to a V4 (and vice versa) in order to improve fuel economy.
Then when we packed the car up, we brought snacks and reusable water bottles to make sure we could stay hydrated on our trip and didn't constantly have to stop and buy bottled water and more. Plus I have to admit, it's nice to have that convenience when you are traveling, especially with kids in the car.
Image by Alisha Vargas / Creative Commons
The hotel we stayed at was the Peppermill Resort Spa Casino and as it turns out they have a number of measures in place to reduce their environmental impact and operate a little greener. Some of the steps they have taken include:
Being the only resort in the entire United States who has the entirety of their heat source provided by geothermal energy produced right on the property itself,
Partnering up with the "Clean the World" program in order to recycle shampoos, soaps and bottles that would otherwise be headed for the landfill. The Clean the World program processes these bottles and soaps in order to distribute them around the world to children and families in need, with the purpose of helping prevent hygiene-related illnesses and deaths,
Retrofitting all light fixtures with energy-efficient bulbs,
Installing a water recycling system, which is used for their laundry services, to help save millions of gallons of water each year,
As well as encouraging water conservation with all hotel guests, promoting paperless transactions and more.
It was definitely nice to see all the green actions they had in place, especially out in a desert region such as Reno. Our first full day there we decided to head out to Virginia City to ride the old train and walk around a bit.
The day after that, the kids and I went to visit the Sierra Safari Zoo and the Animal Ark. Now, the Sierra Safari Zoo is not your typical zoo, but the kids really enjoyed seeing the animals and feeding/petting the deer. The best though was the Animal Ark, a wildlife sanctuary and education center. While it took us a bit longer to get out there, even traveling along a gravel road, it was worth the trip.

One of the first things I noticed when we got there was the open space. It was quite expansive. The next thing that immediately caught my attention was the various solar panels and the wind turbine. So, of course I had to ask if they were primary using renewable energy. To my delight, I was told the Animal Ark is completely off the grid (and they have been ever since they arrived there in 1981). They did this not only because it's better for the environment, but out of necessity as it would have cost an arm and a leg to get electricity brought all the way out there. So, they opted to do it the green way.
In addition, their water comes from a well and is pumped into a tank so it can be used for irrigation and other purposes. Thankfully though, they have maintained the desert environment and kept to the local plants, which don't seem to require as much water.
Even the caretaker's building is a passive solar building, and a beautiful one at that. Definitely a place I wouldn't mind working. You can learn more about all their renewable energy activities here.

Another place we got to visit while we were there was Lake Tahoe. I can't even begin to describe the natural beauty of Lake Tahoe. We went to Sand Harbor, a very well-kept Nevada State Park beach. It cost us $12 to get into the beach area, but it was worth every penny to help keep areas like that maintained. The kids got to enjoy the water and waves (it was an extremely windy day that day), and my son got a kick out of how many ladybugs were crawling on the sand…and on mommy.
We did a few other sight-seeing trips while we were in Reno, but those were our major ones. The rest of the time was spent walking around, at the pool and yes, I did a little gambling too, leaving Reno with just a bit of my hard-earned money.
On the drive home, we knew we'd regret it if we didn't stop in Yosemite National Park and soak up all the natural goodness it had to offer. In all honesty, if you haven't been to Yosemite, you need to make a point to get there. The trees, the meadows, the rocks, the lakes, the streams, the wildflowers and everything there is simply breathtaking. We've already decided to plan a family camping trip up there next year. Can't wait!
The nice thing about Yosemite too is that the majority of the people who visit are aware of the natural beauty and work to ensure they leave little to no trace while they are there. That way it can be better preserved and maintained for future generations to appreciate and enjoy.
Well, that pretty much wrapped up our little trip. A very nice time was had by all and it really does go to show, even on a business trip we can create (and find) little bits of green in everything we do. Here's hoping your day, week and year ahead are filled with little bits of green!