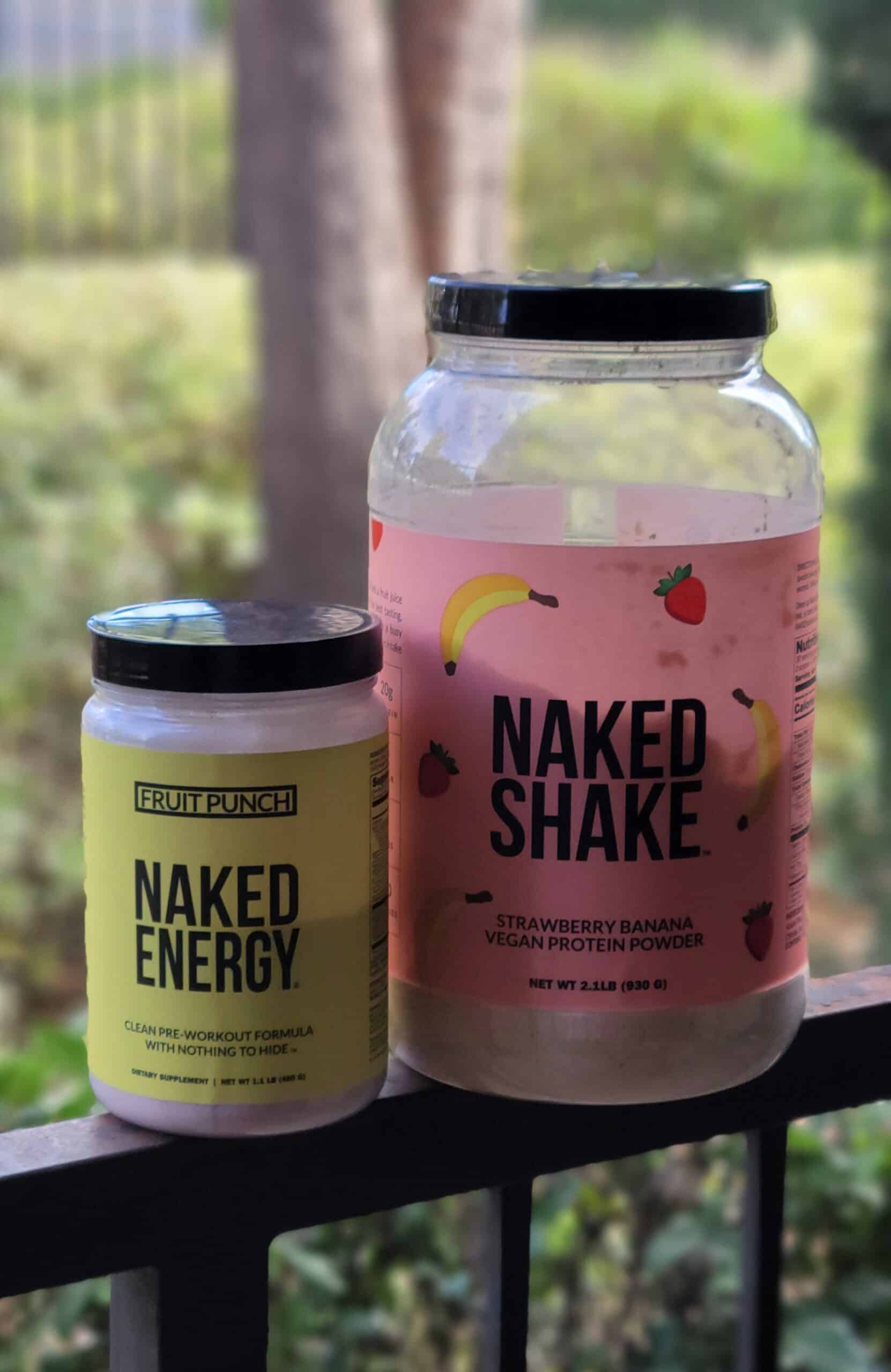 Naked Nutrition: Getting Healthy and Fit the Right Way
When you think about getting healthy and fit, you need to go about doing it the right way. What you put into your body can be just as important as the exercises and activities you incorporate into your daily routine. This is why healthcare professionals recommend you maintain a well-balanced, healthy diet. You should also try to keep your eating habits sustainable. In addition to the food you eat, however, you need to consider the protein powders and nutritional supplements you may be using to boost your energy and improve your health.
Unfortunately, some so-called "health", "nutritional" or "workout" powders contain unnatural or potentially harmful ingredients. Putting these products into your body is counter-intuitive to your ultimate health and fitness goals. This is where Naked Nutrition comes in. Their products are stated to be made using natural and premium-sourced ingredients, leaving out the artificial colors, sweeteners and flavors.
It is for this reason we thought Naked Nutrition would be a good product to test out and include in our product review section. Please note, in the interest of transparency, Naked Nutrition did provide us with the Naked Shake and Naked Energy powders for the purpose of this review. The statements made in the review and the viewpoints we will provide are solely our own.
Why Naked Nutrition?
You, like us, may have wondered how a company comes up with the name, "Naked Nutrition". Is it because of their simple containers? Is it because when you use their products, you'll want to show off au natural? In all honesty, I think their slogan covers how they came up with the name as it says, "Nutrition with nothing to hide".
Naked Nutrition is all about being open and upfront. They want to be clear about what's in their products and they strive to include only the purest ingredients. Nothing to hide. Nothing to cover up. They want you to know exactly what you are putting in your body, and be glad to do so, when you opt for Naked Nutrition products.
Benefits of Using Naked Nutrition Products
Naked Nutrition has numerous health benefits. Both of the products we received, in order to do a product review, were vegan and gluten-free. They were non-GMO and soy-free, as well. The protein powder was made using peas grown on farms in the United States and Canada.
No artificial flavors, colors, sweeteners or mixing agents were used. There were also no unrecognizable ingredients other companies include in their so-called nutritional products. In fact, Naked Nutrition takes pride in having high-quality sourced ingredients so you can get the most out of your workout routines and have the most benefit to your health.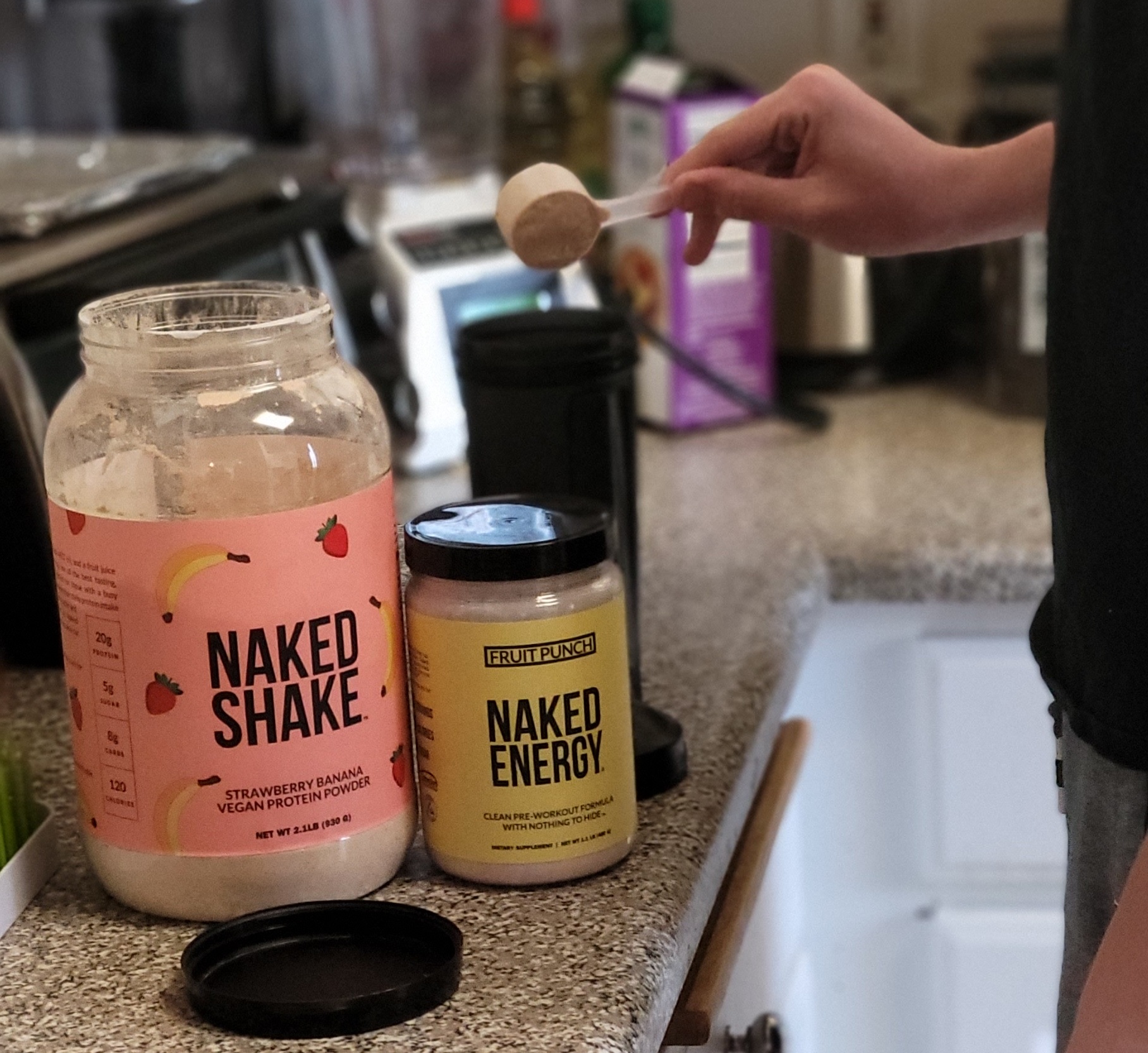 Naked Nutrition Product Review
As my son has been playing high school football this year, and has also been working out quite a bit, he wanted to do the product review with me. So, we opted to to try the Naked Shake protein powder in the strawberry banana flavor and the Naked Energy pre-workout formula in the fruit punch flavor (my son's request). Here's how Naked Nutrition fared in our opinion:
Packaging:
The packaging on the product is very simple. The containers have no fancy labels, simply a see-through container with an outer label detailing all of the nutritional facts, directions and other information about the product inside. You can see the powder and the scoop inside the container.
It's actually nice to see the containers look somewhat minimalistic. No frills or unnecessary components.
Each container is made of PET plastic, so it's BPA-free and 100% recyclable. Just what we like to hear!
Product:
The Naked Shake is a vegan protein powder. As I mentioned, we choose the strawberry banana flavor as it seemed to best suit both our palates. The ingredients in this particular powder were listed as: pea protein, organic coconut sugar, natural plant based flavors, MCT Oil, acacia fiber, potassium chloride, sea salt, monk fruit extract, vegetable juice (apparently to provide natural color, as compared to artificial coloring) and fruit blend (banana juice, freeze dried strawberries and maltodextrin).
The Naked Energy is a pre-workout powder. We choose the fruit punch flavor as my son used to use another pre-workout powder in the same flavor and figured it should taste okay. The label lists other ingredients as: cane sugar, natural plant-based flavors, citric acid and vegetable juice (for color). It also notes on the label, the product contains no wheat, gluten, soy, dairy, preservatives or artificial sweeteners, colors or flavors. Please do note: This particular product, as others like it, does contain caffeine and so should not be consumed with other stimulants (coffee, etc.). One good thing about the caffeine in this product is it comes from 100% organic green coffee beans.
As I mentioned, each of the two products we received are vegan and GMO-free.
Quality:
Both powders seem to be high-quality and well-made for nutritional and pre-workout powders. They contain natural, well-sourced and premium ingredients, which puts them above competitors when it comes to quality.
The Naked Shake contains 20g of protein and only 3g of added sugars. This definitely makes it an easy way to get some extra protein in your diet without having to worry about making a whole meal.
The scent of the powders are a little strong for me, but my nose tends to be quite sensitive to smells. Neither bothered my son at all. He thought both powders smelled like the flavors he expected.
It would be nice, speaking strictly from a biofriendly point of view, if the containers had bamboo or stainless steel scoops instead of plastic. That being said, if the existing scoops were a tad bit longer, there would be less chance of them getting lost in the powder during shipping. We had to dig around to find both scoops, especially the one in the larger container of protein powder.
Taste/Texture:
The texture on each of the powders was good. Neither was full of clumps or super grainy. Both were smooth and had a nice consistency. Both were relatively easy to shake up and consume.
With the Naked Shake, I preferred putting mine in a NutriBullet-type blender with some water and a few extra, frozen fruit pieces thrown in. My son, on the other hand, didn't like how frothy the powder got in the blender, so he preferred to put his in a shaker and consume it that way. Both of us were fine shaking or stirring the Naked Energy powder with water or juice.
Cost:
Price is around the same or better than many similar products, with the added benefits of the high quality ingredients and no hidden additives. I'd say, since both products are intended to help you improve your health, it is worth the investment.
Overall rating:
Overall, I think Naked Nutrition has a very good product line, especially for those looking to better themselves using quality ingredients. The fact they make their powders using only premium ingredients from farms that don't use pesticides and other harmful toxins, their products aren't loaded with fillers and other ingredients you've never heard of and their containers are BPA-free are all positive aspects in my viewpoint. I'd say Naked Nutrition is definitely a product worth trying.
Check it out for yourself and once your do, let us know what you think.