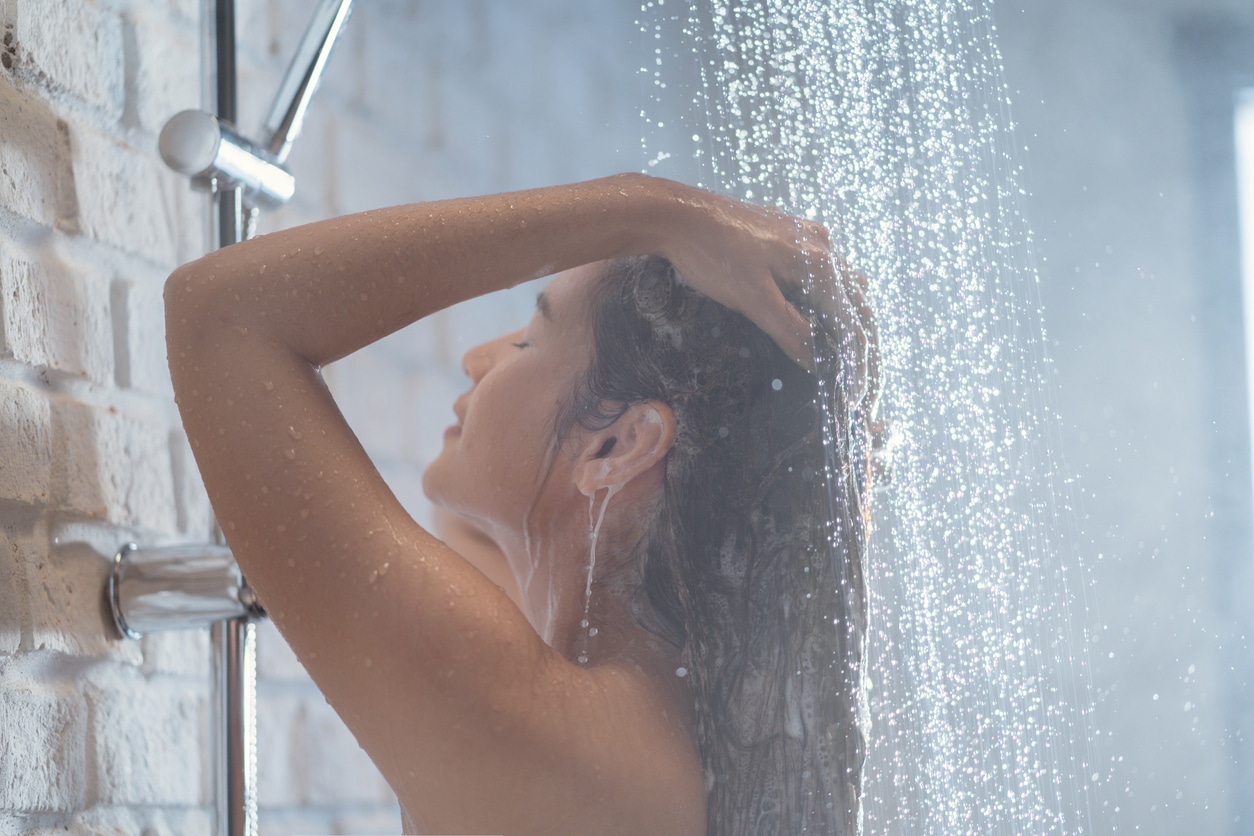 Showery® Eco-Flow – Good For You and the Planet
Regardless of where you live, investing in products designed to help you conserve water can be beneficial to both you and your budget. It's for this reason, we wanted to test out a water filtration and conservation showerhead to see if it would be worth your while. Fortunately, the Showery® Eco-Flow showerhead fit the bill.
As I'm sure you are well aware, water conservation is an important step for those who are trying to live a more sustainable life. It's also essential for the planet, as fresh water is a resource not always readily available in certain parts of the world. For those of us living in areas prone to drought, like here in Southern California, water conservation has become a way life.
So, let's take a look at the benefits of this particular showerhead.
Please note, in the interest of transparency, Showery did provide us with an Eco-Flow showerhead to test out ourselves. However, the review and viewpoints are solely our own.
Improving the Way You Shower
While adding a simple aerator to your shower is definitely an option, the Eco-Flow showerhead does so much more. Not only to you get the benefits of an aeration device to help save water while boosting water pressure, you get a built-in filter and a start/stop button to further prevent water waste. With such a device, you save water, save gas or energy (used to heat the water) and save money.
This particular showerhead also comes will a built-in filter designed to soften your water and filter out harmful toxins, both of which are beneficial to your body and hair.
On top of all that, multiple shower modes makes it so you can enjoy either a relaxing flow of water, a more targeted, combination stream to help massage out aches and pains or a concentrated jet to help give you the wake up call you need.
With all of these features, there's no doubt adding a Showery Eco-Flow showerhead can improve the way you shower.
Every Sale Plants a Tree
Showery has numerous sustainability actions they take. In addition to their product packaging being made from 100% recyclable materials, which is a biofriendly benefit in and of itself, every purchase of an Eco-Flow showerhead results in a tree being planted. We love this!
As the saying goes,
"The best time to plant a tree was 20 years ago. The second best time is now."

– Chinese Proverb
Showery Product Review
Since we've now covered some of the highlights of a Showery Eco-Flow showerhead, let's get into our product review. This product review was provided by Jacob Givens, Biofriendly's Director of Promotion and Marketing.
Packaging:
The packaging is simple, yet eco-friendly. It is made from 100% recycled materials. There are no frills or unnecessary additives, yet it was packaged well so the product arrived safely and without damage.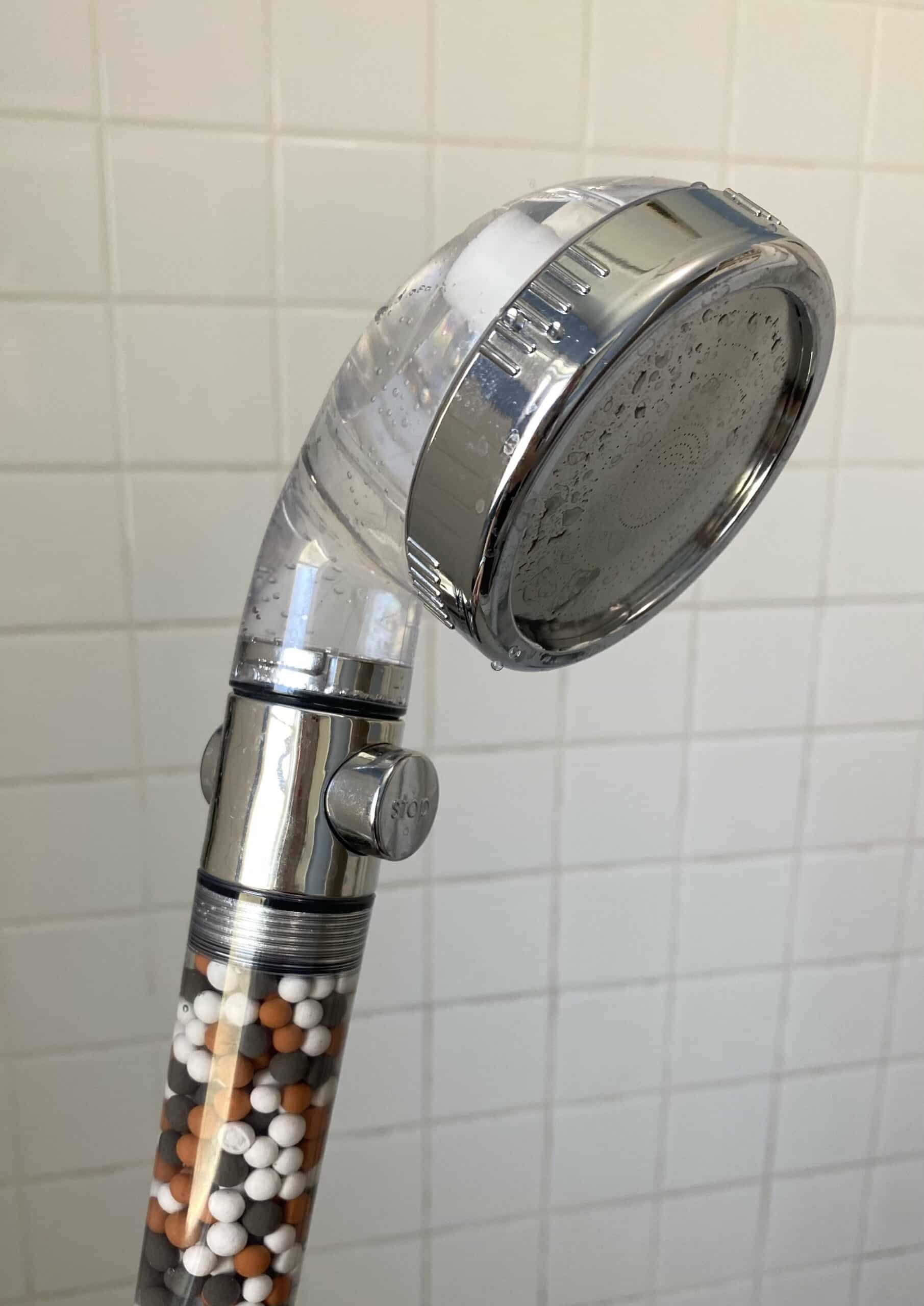 Product:
Right out of the gate I was impressed by the ease of installation! Instructions were super simple and straightforward so I could get the showerhead up and running right away.
The showerhead itself feels light in hand, but still sturdy. I liked the fact it has three different settings of mist, power stream and a combination of both. My kids said they liked how gentle the mist setting was, where I personally liked the combination setting. The stop button worked well, too, so you can pause the water flow while you soap up without having to turn off the faucet and potentially get blasted with a burst of cold water. Nobody wants that.
The water pressure itself was balanced, although a little bit less pressure than I was used to from my previous shower head. It did feel like it was conserving more water, though, so I liked that aspect.
Another environmental benefit is the Showery EcoFlow is apparently made in part with recycled materials. We love this fact and appreciate companies recycling and repurposing materials in order to minimize their environmental-impact.
Quality:
The quality is very good. The showerhead seems to be well made and functions the way you'd expect.
What's nice about this particular showerhead is it comes with a built-in mineral stone filtration system to help filter out dirt, silt, algae, chlorine, pesticides and other toxins you don't want in your water. So it's not only good for the environment, it's beneficial for you, too.
Another key benefit is you get increased water pressure while still reducing overall water consumption.
According to Showery, the showerhead comes with a two-year warranty should you have any issues. So far, we've had no negative issues with the product.
It's relatively easy to clean and hasn't gotten clogged up yet.
Feel:
As mentioned earlier, the showerhead is light, yet sturdy. It installs easily and fits well in the shower. It is easy to use for both kids and adults. Not awkward, easy to manage. Aerodynamic – design feels great in hand.
Cost:
The Showery Eco-Flow is usually £60.00, but at the time of this review is on sale for £25.99. Overall, the cost isn't too bad for the product and seems to be right in range with similar products.
One major downside is, according to their website, the showerhead is not currently available for shipping to the United States. So, for now, our U.S. readers will have to wait.
Overall rating:
Overall, we'd say Showery Eco-Flow is worth the investment. The company is somewhat of a new start-up, but in the four years since their conception, they've apparently sold more than 250,000 showerheads and we can understand why. If you're looking for a new showerhead, a way to clean up and filter the water in your shower or a way to conserve water while still benefitting from increased water pressure, we think Showery is definitely worth checking out.