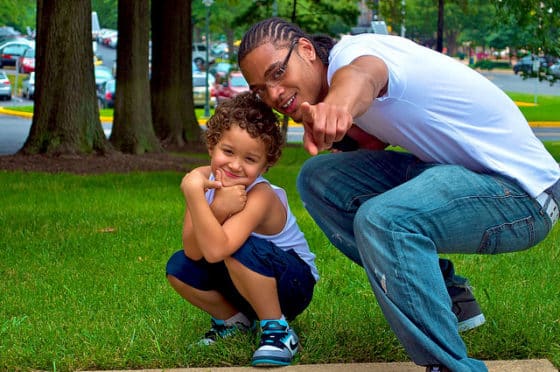 Green Father's Day in 3 Easy Steps
Celebrating dad doesn't have to be difficult. You can always go traditional with a store-bought card, maybe a new shirt or tie, a fine cigar or something along those lines. Our suggestion is you go a little greener. Do something different. Make a true day of it. Fortunately, greening your Father's Day couldn't be easier. Most dads love being outdoors, so giving your dad a "green" day isn't going to take much work. In fact, you can green your Father's Day with these 3 easy steps:
Step 1: Get your dad outside.
Go on a hike together. Go for a bike ride around town or out into the country. Head out for a day at the beach or lake. Take your dad to the driving range to hit a few balls or better yet, treat him to a round of golf on you. How much greener can you get by being on the green? Besides, walking around the golf course for a few hours is a nice way to get a little exercise. Get an early start though, particularly if you're expecting hot weather like we are here in Southern California. The key is to get outdoors.
Step 2: Make your dad his favorite meal.
Dads like to eat too. No reason to brave the lines by going out for a meal. Besides, don't you think dad is going to love a home-cooked, organic or locally-sourced meal? I think so! You can even keep up your outdoor theme by grilling. It's almost the official start of summer, which makes it a great time to fire up the BBQ. Whether your dad is a vegan, vegetarian or a meat-eater, I'm sure you can find a recipe or two he'll really enjoy. The fact you are the one manning the grill makes it even more special.
If you need help with recipes, try starting off your meal with this grilled watermelon caprese salad, then moving on to burgers, chicken, salmon or grilled veggies with a side of the best damn guacamole ever. You can wrap up your dad's meal with any of these 7 popsicles made with real fruit. Perfect for a hot day!
Step 3: Give dad a sustainable gift.
Although traditional gifts may be what your dad is used to receiving, we think most dads would be pleasantly surprised with a sustainable gift. Buy your dad a recycled glass water bottle or stainless steel, reusable coffee mug. Give him a bag of sustainably-farmed coffee beans. Find an eco-friendly winery or local brewery in order to treat your dad to a bottle of wine or case of beer. Find a solar-powered camping lantern, solar lights for the backyard or another solar-powered gadget your father might enjoy. SolarTab has solar chargers ideal for the dad who likes to be out in nature, but still wants to remain plugged in. The list goes on and on.
Of course, the greatest gift of all is simply spending time with your dad. No matter the circumstances, being able to enjoy each other's company and make a few more memories together is priceless.
Green Dad's Day
In all honesty, most dad's are pretty easy to please. This is why greening your dad's Father's Day is about as simple as it gets. Even if you don't have a dad, or your dad has passed on, you can still honor him by getting outside, making your dad's favorite meal (or yours) and focusing on sustainability for the day. Planting a tree in your dad's memory is another way to green the day and make a lasting memory.
Happy Father's Day to all the wonderful dads out there and the wonderful moms, grandparents, siblings and others who have filled that role. May your day be truly memorable!