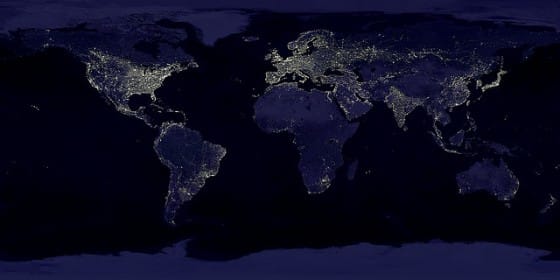 Earth Hour 2012: Joining the "I Will If You Will" Challenge
Image by Craig Mayhew and Robert Simmon, NASA GSFC / Creative Commons
Saturday, March 31st at 8:30pm marks Earth Hour 2012. Will you be there? Will you be joining in? Will you be going dark for an hour to show that when we, as individuals, ban together we can make a difference? Well…I will if you will.
First of all, for those of you who are unfamiliar with it, Earth Hour started back in 2007 as a way to show parents, kids, entrepreneurs, employees, businesses, politicians, governments and others that we can make a difference and change the world we live in. Last year, hundreds of millions of people, in more than 5000 cities and towns, in over 135 countries across the globe participated in Earth Hour.
Although Earth Hour is only for one hour, it gives the world a chance to unite under one common purpose to fight man-made global warming and climate change.
No matter what your views are on climate change or whether or not you feel mankind plays a role in global warming, you probably have noticed that things are continuously changing on this planet we live on. Knowing that, it is kind of hard to argue with the fact that there are changes we too could make to lessen the impact, so to speak.
This year's Earth Hour is a little different however, because in addition to joining the millions and millions of people around the globe who will be turning their lights off at 8:30pm on Saturday, March 31st, people around the world are daring others to make a difference that goes beyond Earth Hour.
Take a look at this challenge from supermodel and Earth Hour global ambassador, Miranda Kerr:
Then there is this one from Australian actress, Isabel Lucas:
This one comes from Guinness World Record holder, base-jumper, Heather Swan:
Here's another one, this time from foodie, environmental writer, wine enthusiast and a personal friend, Jerry James Stone:
Go here to take a look at some of the other challenges and then either accept one of the "I will if you will" challenges to go beyond one simple hour and do something that will make a difference., or upload your own challenge. As WWF says "Do something awesome for the environment. Get something awesome in return."
Even the kids can get involved! The Lorax says he's going to change his moustache green for a whole day if at least 500 children promise to turn their lights off during Earth Hour. And as The Lorax tells us, "Unless someone like you cares a whole awful lot, nothing is going to get better. It's not."
I look forward to seeing some of the other challenges. If you have a good "I will if you will" challenge either share it in the comments below or send it to me on Twitter so I can retweet it for you. Remember to use the #earthhour hashtag when you do. And remember to spread the word.