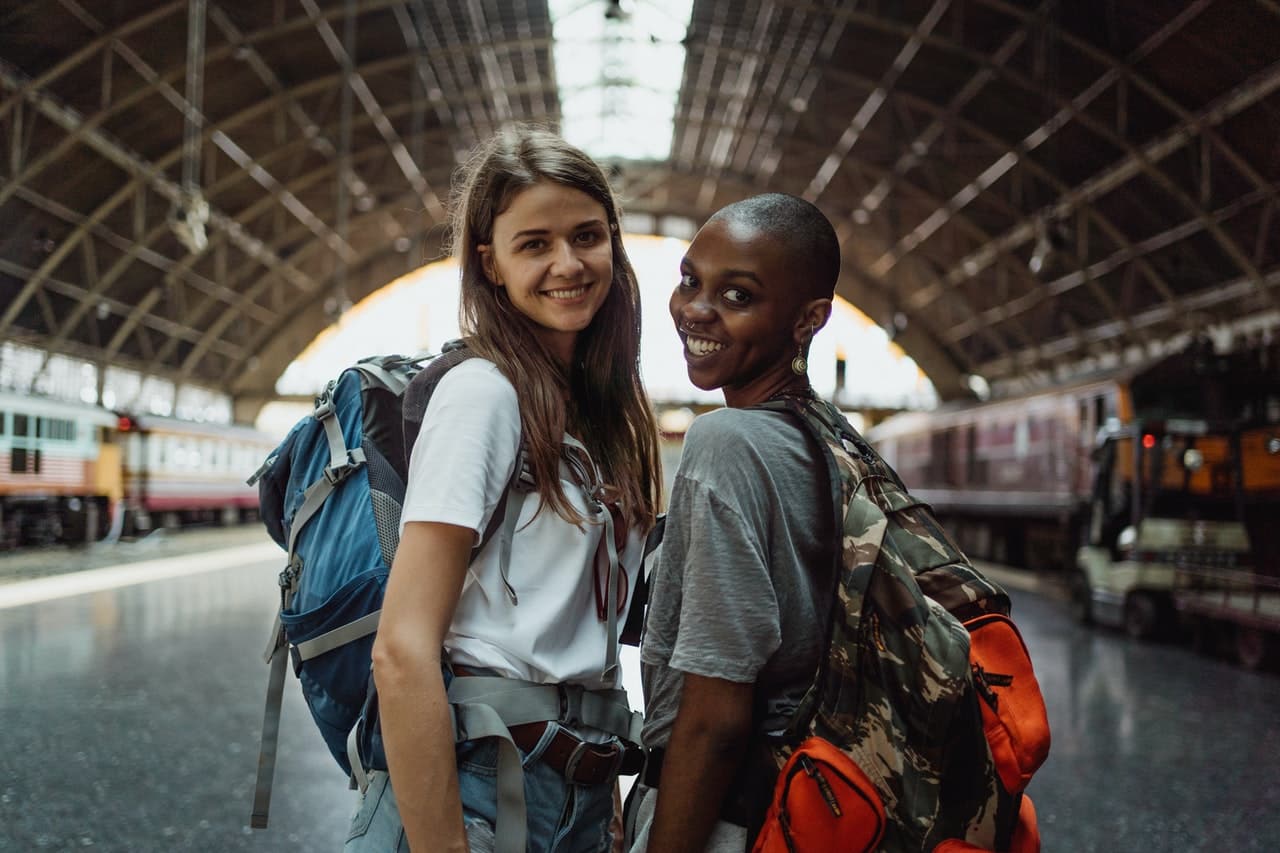 DIY Hacks to Make Your Travels More Biofriendly
As summer will soon be coming to an end, we wanted this month's Biofriendly DIY to include some DIY hacks you and your family can use to make your travels more biofriendly. Whether you're heading out for a last minute trip, you want to fit in another quick adventure before the kids go back to school, you've been meaning to travel for awhile (but just haven't been able to do it) or you simply want to take a quick, weekend road trip, these easy hacks can help. Use them to save time and money, as well as minimize your environmental impact.
Packing Light
The first in our DIY hacks is how to pack light. In all honesty, the simplest way to do this is to share bags. Instead of everyone packing their own bag, plan to share a bag. You can share one bag for all family members or one for every two. Either way, this is an easy way to cut down on your luggage. Plus, if you need to fly to your destination, packing light can help minimize luggage costs.
If you don't want to share bags, then I recommend using a backpack or other carry-on built to meet the airlines requirements for size and weight. It may take a little planning for you to limit the number of items you bring, but it will save space and money.
Speaking of planning, figuring out ahead of time where you want go, what you want to do and what you want to wear to each of your activities can also help you pack light. Instead of bringing five shirts because you aren't sure which you want to wear, you bring two as you know what you want to where and when.
Those traveling in a vehicle to their intended destination can also benefit from this tip, as a lighter load is safer, requires less fuel and is more environmentally-friendly.
"Packing too much into your vehicle will load it down and as a result, increase your fuel consumption and increase emissions."
Traveling Green
While driving your car, or flying, may be a travel option you've used in the past, there are greener options. You can rent (or borrow) a hybrid vehicle and use it for your travels. Book a hiking or biking adventure, where you don't need to use any gasoline or diesel-powered vehicle at all, is a very green travel option. Ride the rails or take a bus where you want to go. Many cities and states have electric and/or solar-powered transportation options that'll really help lower your environmental impact. Some people may even be interested in a sailing adventure, where they can let the wind move them along.
If you plan your trip well ahead of time, public transportation is another eco-friendly way for getting you to and from your destination. Public transportation can (and should) also be used once you get where you're going. An alternative to renting a gas-powered vehicle is renting electric or human-powered bicycles to use while sight-seeing and getting around town. Walking allows you to travel green, too.
Bringing Your Own
In addition to bringing your own food, and a reusable water bottle, there are many other items you can bring to minimize plastic and other waste. Bringing these items along with you can help you avoid the need for single-use items. It can also help reduce the amount of plastic you use. Here is a list of just some of the items I recommend bringing with you when you travel:
Shampoo and conditioning bar
Soap bar
Reusable coffee filter
Utensils and dinnerware (for use in your room). Bamboo or stainless steel are a few biofriendly choices.
Reusable bag(s)
Reusable straw(s)
Laundry strips (a zero-waste, eco-friendly choice). This means you can wash clothes while away and not have to pack so much.
Reusable razor
Bamboo toothbrush
Toothpaste bits
Bringing own means you won't have to use the single- or one-use items the hotel provides. It also means you get to use your own, sustainable options.
Eat Wisely
Whenever you eat away from home, it can be quite costly. If you have to eat out every meal while you're on vacation, those costs will add up quick. It's not always eco-friendly, either. Just think about it. You go out to eat, take uneaten food back to your hotel in a "to-go" box, get plastic utensils, plastic straws, non-reusable cups for your drinks and the list goes on. This applies to whether you drive-thru or dine in a restaurant.
Now, yes, some restaurants will have eco-conscious policies in place to minimize plastic and other types of waste. Regardless of this fact, here are a few DIY hacks to help you eat wisely while on your trip.
If you're driving, I recommend bringing a water cooler with you. Fill it up with ice and water. Then use it to refill everyone's reusable water bottles throughout the trip. This saves time and money. It also helps keep everyone hydrated along the way. Should you be flying, I still recommend bringing a reusable bottle with you. While you likely won't be able to use it on the flight, you can use it to minimize plastic waste once you reach your destination.
As for food along the way, I recommend packing some snacks for you and your family. This way, you can eat healthy and avoid pre-packaged or processed food. If you pack your snacks in reusable containers, you'll prevent a lot of unnecessary waste. Nuts, dried fruits, as well as fresh fruits and veggies, are all great options for travel snacks. None of these require a lot of room and all are healthy options.
Another benefit of packing snacks in reusable containers is you can refill those containers for snacks on the way home. You can also, if you so choose, use those containers to bring home gifts or presents you've bought along the way for family and friends.
Booking a Room to Allow You to Eat Wisely
Another one of our eating wisely DIY hacks is to make a reservation at a place where you will be able to have a kitchen or kitchenette. Many timeshares, as well as a number of hotels, have such an option. This will allow you to buy the type of foods you like to eat. Then you can make your meals (or at least some of your meals) in your room. Making your own food while traveling can save you a lot of money, minimize waste and lower your environmental footprint. Camping is a fun option when it comes to eat wisely while traveling. While camping, you'll be making all of your own food, all of the time. Just make sure you focus on minimizing waste.
Last, but not least, is to make some healthy meals ahead of time and bring them with you. Food prep is an economically, eco-friendly option, especially if you know you won't be able to make meals in your hotel room. You can pack meals in stainless steels meal prep containers or opt for some jar salads. You might also want to consider some overnight oats recipes, too. Simply pack the dry ingredients in reusable containers and bring a mason jar (or two) with you. Before going to bed, you add in the wet ingredients and store in the fridge (even a tiny hotel fridge) overnight. The next morning, you'll have a tasty and healthy meal ready and waiting.
Unplugging
One of the benefits of travel is you get to be out of the house and away from school or work. But, in this day and age, being plugged in all the time can hinder your travel experience. This time, I recommend you unplug as much as possible. Try to full immerse yourself in your vacation. A few DIY hacks to help you with unplugging while on vacation include:
Take a trip down memory lane. Rather than everyone being on their phones, get your family to play the car games you used to play as a kid.
If you're traveling by plane, pull out a deck of cards or a good book. You can even have crosswords, word searches or sudoku at hand. Tic-tac-toe works in a pinch, too.
When you go out and about sightseeing, turn it into a scavenger hunt. This way, you and your kids will be less likely to get on your phones. You'll also be more likely to see things you wouldn't necessarily have been before.
Let each of your family members pick a destination or activity. This way, they'll be interested and excited to go there instead of being on their phone.
Get outside. Being out in nature has numerous health and mental benefits. It's also a simple way to help you unplug. If you need ideas, we've got some biofriendly ways to reconnect with nature you might want to try.
Happy Travels
Regardless of where you are going, or when, using these DIY hacks can help lessen your environmental impact and make your travels more biofriendly. I hope you'll share some of the eco-friendly hacks you use while traveling, so others can do the same. Happy travels!