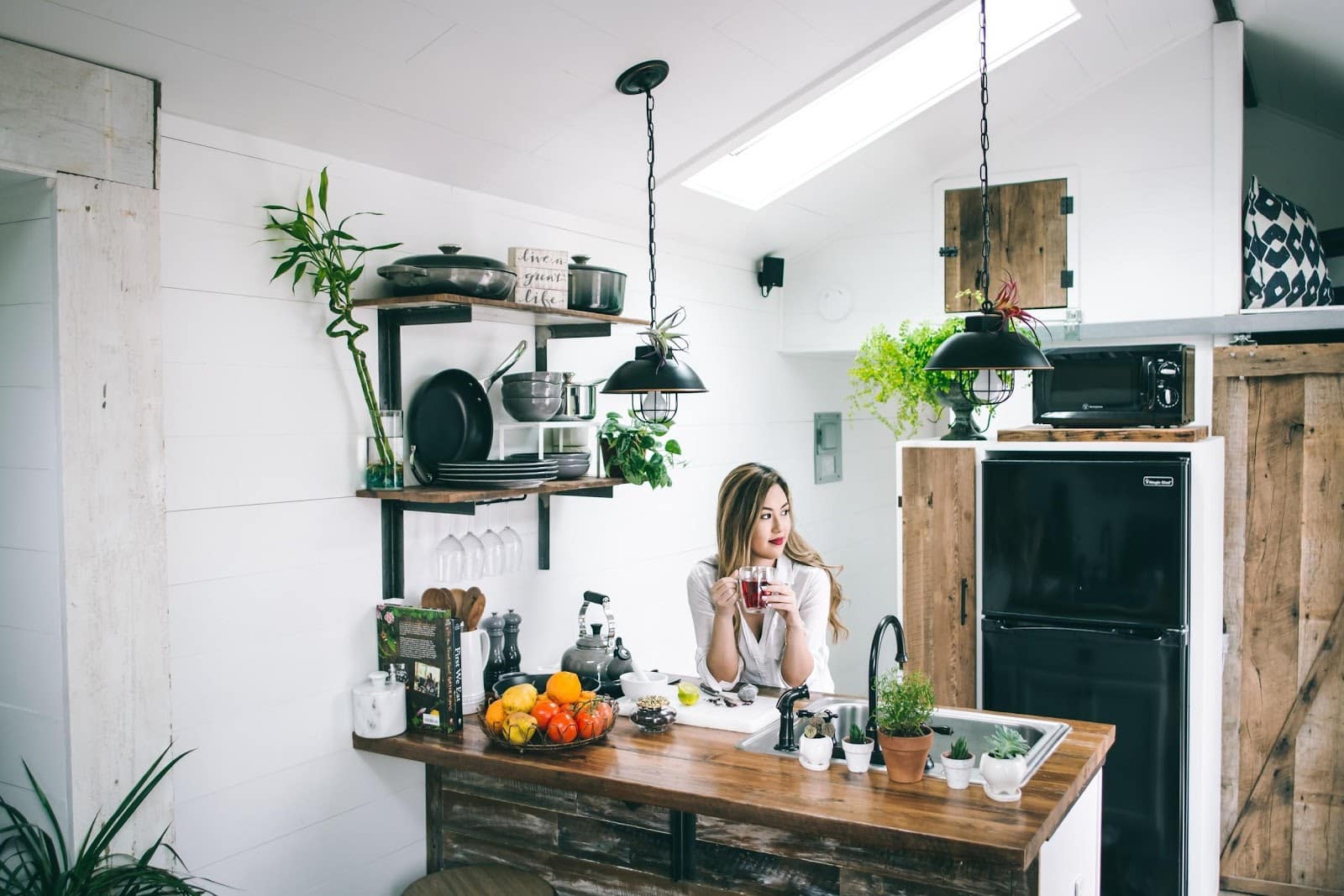 6 Easy Steps to Creating an Eco-Friendly Kitchen Décor
Everyone knows by now that solar power, walking or cycling to work and replacing single-use plastic bags and packaging with reusable ones helps in lowering our carbon footprint, but there's still much more we can do inside our homes to take it all a step further. Out of all the rooms in the house, kitchens probably drain the most energy so it's a good place to start.
There are plenty of ways to make your kitchen greener and more sustainable while not compromising on its style. Using eco-friendly and recycled materials, lowering water consumption, shopping locally, reducing your waste and switching to energy-efficient appliances are just a few things to consider when planning your eco-friendly kitchen.
The Kitchen Design
A great contribution to your kitchen's eco-credentials is the materials you use in its construction and the design of units, surfaces, floors, and walls. One popular choice for units and cabinets is using birch plywood made of very thin sheets of timber glued together for additional strength and produced with minimal waste using non-chemical-based adhesives.
Go-to materials for eco-flooring are bamboo and engineered boards made of sustainably sourced timber, but you might also consider resin which is greatly undervalued but an excellent option for both wall and floor coverings. It's water and heat-proof and it contains no VOC, BPA or heavy metals.
Finally, when painting your kitchen walls, make sure you use water-based environmentally safe paints with low-VOC as this will greatly benefit both you and the environment by reducing allergy-causing toxins and air contaminants that damage the ozone and groundwater.
Energy-Efficient Appliances
With constant technological advancements, appliances have also become more energy-efficient, enabling our homes to lower their typically high energy consumption. The advantages a number of appliances have today are improved thermal insulation, better door sealing, LED light fixtures with a longer lifespan and electronic or mechanical controls to help regulate power consumption.
When you decide to finally replace your old faithful appliances for more energy-efficient ones, it's not just the ENERGY STAR label that matters. Look for a better make and higher quality craftsmanship, possibly even sturdier models which will last longer, especially when buying bigger appliances such as a stove, refrigerator and freezer. Even when choosing a humble kettle or a quality dedicated coffeemaker try to look for a simple, professional design that is efficient and robust as they typically perform better and use up much less energy than conventional, lower quality plastic models. Be sure to recycle or donate your old appliances when possible, though, as there's no reason to generate unnecessary waste.
Shop Locally
The food you bring into your kitchen matters just as much as your appliances, so make an effort to shop locally whenever you can. As tasty as those organic Chilean grapes may be in the dead of winter, the fewer miles your food goes from the farm to your table, the better. Moreover, all that exotic organic food uses no preservatives or biocides, so it can spoil faster, which only means the more it spends in transit, the worse its condition will be by the time it reaches you. On top of that, flying or shipping food over to where you live only increases pollution. So, whenever possible, support your local agricultural community and shop at the nearby farmers' market. If you look, you can find organic options close to home.
DIY
You can also make a big contribution by making some lifestyle changes and doing a bit of DIY. Start by avoiding buying pre-cooked and frozen foods in plastic packaging and make your meals yourself at home from fresh ingredients. You'll save time and energy by not having to thaw, rehydrate and reheat food, plus, you'll have a healthier and more balanced diet. You'll know exactly what's in your meals and the food lifecycle will be drastically cut since there was no energy spent in processing and transportation that typically goes with pre-cooked and frozen foods.
If you have space, your next step in DIY could be growing your own herbs, fruits and veg, and composting your kitchen waste. Furthermore, you can make your own eco-friendly cleaning products with easy ingredients such as vinegar and baking soda thus saving money, reducing your plastic waste that comes from store-bought cleaning products packaging and reducing environmental pollution from harsh chemicals.
Save Water
According to the EPA, by installing an aerator to every sink in your home, you can save around 700 gallons of water per year and about $48 a month on your water bill. Also, instead of wasting your money on buying bottled water, setting up a water filtration system is a great way to save money and ensure your family's better health. You can also opt for an easier solution and use a filtered water pitcher. In each case, you'll cut down on plastic bottles and drink cleaner and tastier water.
Reduce Your Waste
The kitchen typically produces the most waste in the house and it's mostly due to excess plastic packaging on supermarket shelves. One way of avoiding that is buying from bulk bins – this means less packaging, fewer shopping trips and more money in your purse.
It might be initially hard to reduce your kitchen waste all at once, but you can start with a few smaller steps. Firstly, bring your own cotton or recycled bags, containers and glass jars or bottles when going shopping, and buy fresh, unwrapped produce. Also, avoid oversized portions so you don't end up throwing away excess food. Finally, if you want to compost your uncooked organic waste but you don't have any space for it, swing by the local farmers' market and find organizations that accept compost material.
Creating a more eco-friendly kitchen will take some time and effort but it doesn't necessarily include an expensive, floor to ceiling renovation. By combining green materials and products, upgrading your appliances and making a few simple changes in your cleaning routines, shopping and cooking, you can have an environmentally-friendly kitchen that is also comfortable and stylish.