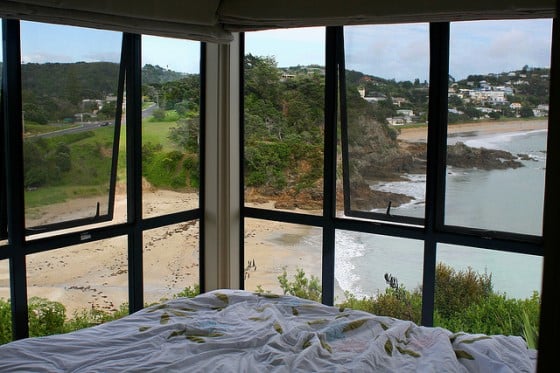 5 Natural Ways to Fight Indoor Air Pollution
Image by Missy S / Creative Commons
When the days get hot, many people feel they will find solace in the cool indoors. While going into an air conditioned house or building may seem like the ideal place to hunker down and hide from the sun and heat, indoors air pollution is a factor many people do not account for, or even consider. This is despite the fact that poor indoor air quality has been known to contribute to headaches, asthma trouble, respiratory problems, dry eyes, coughs, fatigue and more.
[my_ad_code]
The best, and most immediate, cure for indoor air pollution is to go outdoors. That will get you the fresh air you need on a right-now basis. In order to combat your indoor air pollution on a longer term, and for when you inevitably must go back indoors, here are some natural ways to clear out the toxins in your home or office:
1) This is one of the simplest steps I have ever tried, and I've used it many times. Take a small bowl, fill it about half way with vinegar. Add a wadded up paper towel to the bowl and place it in any room where you have noticeable smells or odors.
Although the vinegar may have a strong smell initially, you will quickly find that the vinegar and paper towels will soak up bad odors and help freshen up the room.
2) Next you could try making your own air freshener. Having a more natural air freshener handy will allow you to remove bad odors and clean up the air. There are a variety of natural unscented air freshener options, as well as natural scented air fresheners. The choice is up to you, but either way, getting rid of the odors naturally will allow you to have fresh scents without the use of chemicals or store-bought products.
Image by Andrew Michael Smith / Creative Commons
3) While you are at it, why not make your own cleaners in order to help eliminate (and remove) toxins from your home, thus further cutting down on the indoor air pollution. My personal favorites are those which have a citrus base, like these 10 homemade cleaners from citrus. From a citrus vinegar "all-purpose" cleaner, to a powered citrus cleaner geared to really help remove the grime, to a citrus degreaser and more. These cleaners will help keep your home looking and smelling great, without adding chemicals or toxins to the air.
4) This one requires no real hard work, although some would argue that a green thumb may come in handy. Add some plants to your home. Plants have been shown as a great way to naturally remove toxins from the air, and some will even double as living air purifiers. Here are 10 fabulous houseplants that you can put to work cleaning the air in your home.
Image by Ray / Creative Commons
NOTE: Those with children or pets need to be cautious, however, as some plants have shown to be toxic to young kids and small animals. So find the right plant for you.
For those people who love the scent of fresh flowers, bringing potted flowers in to your home is also a nice way to brighten any room and provide a pleasant scent the whole day through. You can also check out this tiny, indoor greenhouse to grow your own little garden.
Image by Taz / Creative Commons
5) Last but not least, do not forget the power of opening the windows and letting some of the fresh outdoor air in. Now during the summer, it might not be the smartest idea to open the windows during the peak heat of the day. Instead, open the windows at night when sun goes down, or in the morning before, or as, the sun is coming up. I try to open our windows every morning and with daily temperatures getting over 100° F, it's a wonderful way to cool down the house without using the A/C as much. Of course the real bonus is that I get rid of some of the stuffy, nighttime air and get some fresh, clean air in to start off the day.
[my_ad_code]
Here is a little more information on what products can contribute to indoor air pollution, what chemicals you may have in your home, and a few additional tips on how to eliminate chemical toxins from indoor air. In my experience, it never helps to try and remove toxins from the air by adding more toxins. Natural is definitely the way to go!