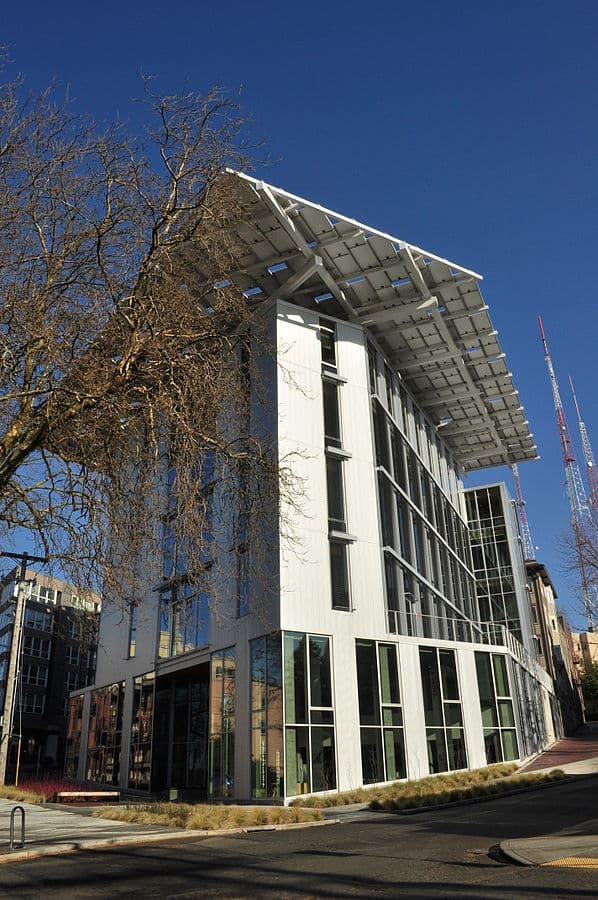 What the World's Greenest Building Would Look Like
Seattle Bullitt Center image by Joe Mabel, CC BY-SA 3.0 via Wiki Creative Commons license
The first thing you see when approaching my house is not the house.  It's the twin solar panel arrays, pivoting toward the sun. You might momentarily be fooled into thinking that my century-old farm house is also a green house.  Sadly, it is not.
This is 2016, and if you want a glimpse at how green your future home or office might be, it helps to look not at my 1888 house, but at some of America's greenest buildings listed on this Infographic, reproduced below.
The Bullitt Center in Seattle, WA
The Bullitt Center proclaims itself to be "the greenest commercial building in the world", built specifically to "drive change in the marketplace." If any building simulates what your home or workplace might look like in a greener future, this is it.
The roof is made from 575 solar panels that generate 230,000 kWh of energy each year, making the building 100 percent electricity-neutral.
Exterior blinds reduce computer screen glare.  They are fully retractable, so that the floor-to-ceiling windows maximize natural light.  Yes, I said exterior blinds.
Skylights between the solar panels usher in even more natural light.
Water from sinks and showers is filtered through a micro wetland on a ledge before returning it to an underground aquifer.  Rainwater is collected and filtered through three ceramic filters, UV light and activated charcoal. The 500 gallon tank holds enough potable water for day-use. Tenants get fresh water, without fluoride or chlorine, just like living in the country.
Architects from Miller Hull Partnership designed the stairway to be "irresistible", so that people would be inspired to walk rather than use the elevator. As an avid stair climber. I can attest to how desperately most cinder-block and concrete stairwells need an overhaul to make them even palatable to most people, never mind irresistible.
The lobby features educational elements to spread the word about green building.
The construction specifications were clear: the 362 common toxic chemicals on the materials "red list" are not allowed.
Bank of America Tower in New York City, NY
Who would have figured that a bank building would be one of the greenest in the United States. The Bank of America Tower, otherwise known as One Bryant Park, fits the bill.  The titles of the research papers on the building speak volumes:
Efficient Energy Production for High-demand Tenants of Tall Buildings
The Fifth Façade: Designing Nature into the City
Tall Buildings in Numbers: New York: The Ultimate Skyscraper Laboratory
Provocations: Sustainable Architecture Today
The building is known for pioneering a construction process that minimizes both carbon dioxide and Volatile Organic Compounds (VOCs), and ensures that almost all construction materials are recycled. It was the first high-rise office tower in the country to achieve an LEED Platinum rating. Insulated wall-to ceiling windows fill the offices with natural lighting while keeping winter's cold and summer's heat at bay.
The dedicated, on-site natural gas power plant is designed for maximum efficiency.  That's something not every office building has to offer.
Tesla's Gigafactory 1 in Storey County, NV
If there is a company that can lay claim to the Green-is-our-middle-name brag, it is Tesla.  Best known for building electric vehicles and only electric vehicles, it does also dabble in other electric items. Its Powerwall home battery system draws electricity from solar power or from the grid at low-priced periods, and stores it for use later on.
The Gigafactory will not make cars.  It will make batteries. For now, however, batteries are being made elsewhere. Powerpacks are being assembled here, even as construction on the plant continues.
Not surprisingly, the solar-panel coated Gigafactory is designed to run completely on renewables.  When the building is complete in 2020, it should be the biggest off-grid complex in the world. The entire building process up to last December is chronicled by the Reno Gazette-Journal.
My house is already envious.
Tassafaronga Village in Oakland, CA
The development of town homes and low-rise apartments in Tassafaronga Village was designed as affordable housing.  Part of its affordability is to cut energy costs almost in half with solar powered water heating, low flow lighting and premium insulation.
Both the land and the structure of a defunct pasta factory were reclaimed to build some of the apartments and an on-site medical clinic. The development also includes an urban farm, saving grocery money for the tenants and helping reduce the cost of shipping. Solar panels and "pocket parks" are also sprinkled liberally around the Village.
Collaborative Life Sciences Building in Portland, Oregon
Shared by Portland State University, Oregon Health & Science University and Oregon State University, the LEED Platinum certified Collaborative Life Sciences Building is best known for its water conservation. The green rooftops include rainwater collection for non-potable use.
Ample natural lighting (80 percent of the building has outdoor views), atrium heat recovery and low ventilation fume hoods make the building highly energy efficient. Energy-efficient lighting and climate control further reduce energy use.
Three of the buildings mentioned above are among the American Institute of Architects top 10 best green buildings of 2015: The Bullitt Center, Tassafaronga Village and the Collaborative Life Sciences Building.
Your future home or office could be as green as these office buildings by:
·         Reducing the need for electrical lighting with floor-to-ceiling windows.
·         Reducing heating and cooling needs with better insulation.
·         Reducing water use by harvesting and treating run-off on-site.
·         Recycling old building materials instead of buying new ones.
·         Generating power through wind and solar, and storing it for when it is most needed.
·         Generating heat through geo-thermal.
·         Automatically adjusting lighting according to needs.
Keep watching as the future ushers in even more green technologies, and see how my house also turns green…with envy.
We, at the Biofriendly Blog, would like to thank David Leonhardt for his guest blog. David is a freelance writer with an avid interest in healthy lifestyles, including green energy, reducing waste, nutrition, fitness and frugal living.  You can find him at his writing site or on Twitter.