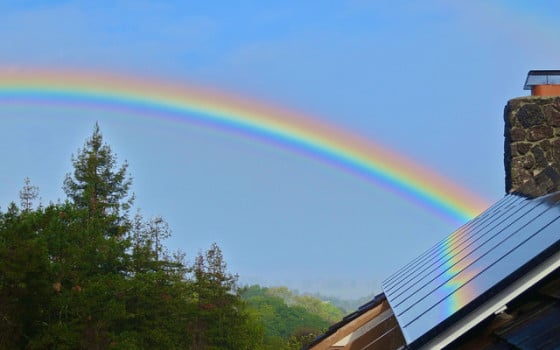 What Can Be Powered By Solar?
Renewable energy innovation is at an all time high as people look for opportunities to become less dependent on fossil fuels and other nonrenewable energy sources. Even energy companies are realizing the benefits of mainstreaming solar power and other renewable options. One of the most talked about solar inventions is the solar powered roadway. While some may dispute its validity and practicality, Solar Roadways recently raised an impressive $2,200,000 on Indiegogo to begin production on its "solar panels that you can drive, park, and walk on." They even tout the panels' ability to do things like melt snow and cut greenhouse gases by up to 75 percent.
Here are some other every days things that can be powered by solar:
We have hybrid cars, electric cars and even electric cars that draw their energy from a solar-powered source. Now, Aston Martin is planning to equip its race cars with solar-powered air conditioning. Georgia Tech has been credited with developing a solar powered hybrid car for Ford. Rather than plugging this vehicle in, you simply have to leave it out in the sun and allow the roof-top solar panels to power up. Then take a look as this practical solar car hits the road in Sydney, Australia:
Individual aviators and others in the aviation industry are beginning to consider using the sun as a way to power their planes. One such plane (Solar Impulse) has already successfully taken flight and its creators have now built the Solar Impulse 2 which they plan on using to circumnavigate the globe at some point next year. This particular plane does not have a fuel tank. It simply has a bank of electric motors which will be powered by 17,000 solar cells built into the plane's expansive wings.
Solar panels are also being used to power various pieces of equipment. In Australia, "a new solar-powered robot has been designed for farms to collect data on pests and plant disease, pick weeds, and someday even harvest crops." Apparently it is self-driven and guided by lasers. You simply have to put this solar powered farmbot out in the fields and let it get to work.
Ladybird farmbot image from The University of Sydney
The city of Baltimore, MD has recently started using a solar-powered water wheel to help clean up the area's Inner Harbor. According to the machine's creator, it has the capability of collecting up to 50,000 pounds of trash every day. Based on their trash and debris removal statistics, it looks like it is doing a pretty good job so far.
As solar can be used to power motor vehicles and other pieces of equipment, wouldn't it be logical to think that the sun could also be used to do something like convert carbon dioxide into an alternative fuel? Well, it appears that may be coming to fruition. This particular innovation could be key to helping not only counteract harmful greenhouse gas emissions, but it would allow us to reuse or repurpose the carbon dioxide so it becomes a viable alternative fuel source.
Continuing to be innovative in regards to what can be powered by the sun has proven essential to survival in many developing communities. This SolSource solar oven is a "portable parabolic solar concentrator that requires no cleanup. It can ignite wood within seconds, and can grill, steam, bake, boil, fry, and barbecue food. It can cook a steak at 'searing temperature' (287 degrees Celsius) in 6–7 minutes." Individuals in third world counties who were previously exposing themselves and family members to toxic levels of carbon monoxide by using indoor stoves, now have a safe way to cook using solar power. These solar ovens may also come in handy for campers and other individuals who are interested in using renewable energy to do the things they love.
Keeping food items cold in the heat is not a simple task. A new invention, however, seems to have made this task feasible. The "Anywhere Fridge" is a portable, collapsible and solar-powered refrigeration unit that uses the sun's power to keep the inside temperature at a constant level, thus allowing the food stored inside to stay cold. This means people without access to another energy source could still be able to keep food cold and prevent it from being exposed to hot weather temperatures.
In many parts of the world, people do not have access to computers or the internet. Much of this is due to lack of reliable energy sources. To combat this problem and "bridge the digital divide", Samsung Electronics has been creating and installing solar-powered internet schools in 11 different African countries. These schools not only use the power of the sun and repurpose shipping containers to give students the opportunity to connect to the internet, but they also give these children a chance at a better education.
Think a park bench is just a place to sit down? Not anymore. The city of Boston has recently begun testing out solar powered park benches which allow people to charge phones and other electronic devices while they sit down and relax. These benches will be able to collect key information pertaining to air quality levels, noise levels and energy usage as well. Bricks, backpacks, furniture, flashlights, road studs, watches, clothes lines and hats are other examples of average things solar makes cool.
The above are only a few of the creative ways people have been able to harness the energy of the sun so that we can use it to help us power our day-to-day lives. No longer does solar energy have to be restricted to solar panels on houses, water heaters, cell phone chargers and other devices. The sun's power is infinite and there are countless ways we can tap into this renewable energy source.
Solar panel rainbow image by Steve Jurvetson via Flickr Creative Commons