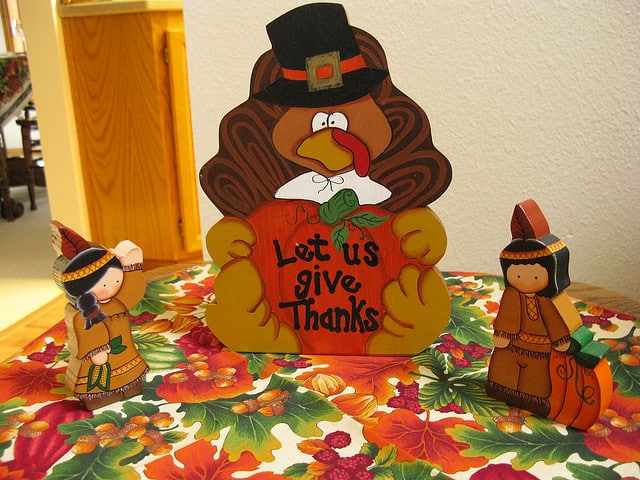 Infusing a Little Green Into Your Holidays
The holidays are upon us, so I thought it would be a good time to highlight a few of my favorite ideas on how to infuse a little green into your holidays. It doesn't matter where you are going, what your plans are or if you are planning on celebrating at all. These tips can help you make your day, weekend and the entire holiday season a little greener.
Image by Justin and Elise
The holidays have arrived so quickly this year. Yes, it's been busy, but there are many wonderful people and things for which we can be thankful. As a thank you for all you do, I'm sharing some simple tips to green up your holidays so you have a biofriendly and happy holiday weekend!
If you're looking to spare a turkey (or forgo meat all together this holiday weekend), you might want to check out some of these tasty recipes. I have to say, I think these appetizers, drinks and other dishes would be a tasty part of any meal. My friend Jerry James Stone also has a free Vegan E-Cookbook you can download to help you survive the holidays.
You'll probably want to keep these 11 brilliant kitchen hacks to reduce waste in mind too. While many people like to do holiday meals in abundance, that doesn't mean there needs to be a lot of unnecessary waste.
Image by gotashot
Many traditional holiday candles are known to cause indoor air pollution. This year, opt for more environmentally-friendly candles. If you want to use candles to add to your holiday atmosphere, that is fine, but it is safer to use beeswax or soy candles. Indoor air pollution is a problem most people are unaware of or ignore. Learn more about indoor air pollution and candles before you add candles to your holiday decor.
Speaking of indoor air pollution, toss those canned air fresheners. If you want your home air crisp and clean, with wonderful holidays scents filling the air, do it naturally. Open your windows. Air out your home before guests arrive. Cooking and baking can not only fill your kitchen with beautiful scents, but it can also make your house smell like the holidays. Natural air fresheners are the way to go.
7 Ways to Burn Calories on Thanksgiving Day: Now…before you even start on those holiday meals, take a look at these simple ways to burn calories on Thanksgiving Day. You'll be glad you did. Also, if the weather permits, there is nothing better than spending a little time outdoors with family and friends. We can all be thankful for the beauty and inspiration nature provides.
Image by Loren Javier
10 Ways to Go Green on Black Friday: I've said it before and I'll say it again, I am NOT going shopping on Black Friday. I really do love a good deal, I just don't want to deal with all the traffic, crowds, congestion, etc. For those of you who are going to brave the crowds, you will want to check out these ways to go green and save green. This year, there are countless cyber sales you can take advantage of before Monday even arrives.
Image by NNSANews
20 Selfless Things to do This Holiday Season: The holidays are a time for giving, so this Thanksgiving weekend and throughout the holidays, take some time and do a few selfless acts of kindness. Even the "little" things can have a big impact on a person's (or animal's) life. Give forward, give to the less fortunate, give your time…just give. Many people have no idea the impact a random act of kindness can have on an unsuspecting individual. Try it. It's well worth it!
I hope you find these tips useful in your efforts to have a green holiday weekend. Since I'll be spending time with family over the holiday weekend, I will catch you next week. Wishing each of you a safe and happy holiday!