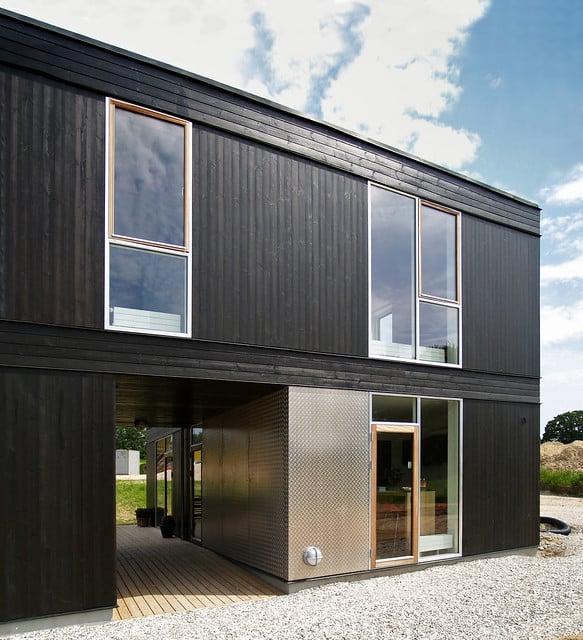 How Modular Housing Has Evolved Into a Green Housing Option
With the rising popularity of modular housing, homebuyers across the country are beginning to view it as a viable option. This modern alternative to traditional housing has gained momentum, propelled by the low cost and rapid pace of the construction process. However, modular housing isn't exactly "modern."
The concept of prefabricated homes dates back to the turn of the 20th century with the introduction of "kit homes." With the advances of the Industrial Revolution and the expansion of the postal service, manufacturing companies started to advertise mail-order homes people could assemble from a kit.
The idea was simple: You would find what you wanted in a catalog, magazine or sales office, then write a check. The components would arrive at the nearest train depot, and a horse cart or truck would deliver the parts to a specific location for assembly by either you or a contractor. It was a quick and easy way to secure affordable housing.
Though the process has changed quite a bit since then, the benefits have remained the same. The process is still fast and comparatively affordable, but homebuyers have started to shift in their priorities. They now see the environmental value in modular construction, which is far superior to former methods.
So, what can you expect when you invest in a modular home? How is your decision affecting the environment? This article will walk you through the details, looking at the top three environmental benefits of modular construction.
1. Streamlined Process
Traditional methods of construction are inefficient and subject to specific issues. Many of the problems are inherent to the process, as a crew has to construct a "stick-built" home entirely from scratch on site. They're called "stick-built" homes because the builders have to assemble them board by board — or stick by stick.
Naturally, this stick-by-stick approach to construction is energy-intensive. You won't enjoy the same degree of efficiency you'd find in a factory setting, where a team has access to different kinds of equipment. As context, modular construction reduces energy consumption in the building process by around 67%.
This substantial drop in energy usage is possible because almost 90% of modular construction occurs off-site. In a controlled environment, a company can focus on the effective allocation of its resources. They can identify and address problems with far less difficulty than a construction crew under constant pressure.
2. Shorter Timeframe
The average time it takes to build a home is six and a half months, but nothing is a guarantee. Even with an estimated timeline, a project may extend due to weather or unforeseen circumstances. These delays can postpone the completion of a traditional build, placing a strain on your limited resources.
On the other hand, modular construction takes almost 50% less time than traditional construction to finish a project. You won't have to manage any issues with inclement weather due to the safety and security of a factory setting. A team can continue their work through rain, snow, sleet or hail.
With a reduced risk of delays, a homebuyer can feel confident in the timely completion of their build. They'll have to account for far fewer issues and setbacks. This efficiency in the modular construction process reflects in efficiency elsewhere, decreasing the overall footprint of the project.
3. Sustainable Design
The unique construction of modular building components allows for more customization in design. You can select a range of eco-friendly materials for your build, like recycled steel, wood and glass. Some companies even provide 100% recyclable glue-less carpet tiles made from post-consumer materials.
In short, you have a diverse variety of options when planning your modular home. Beyond materials, you can also install energy-efficient systems during construction, with solar panels and other green features like energy-efficient glass. Modular housing has clearly come a long way since its humble beginnings.
As an example of its potential, a construction company created a modular building to house employees over a five-year agreement. They made a 2,160-square-foot structure with a reflective, energy-efficient roof, recycled materials for floor coverings and insulation, LED fixtures and specially designed plumbing for reduced waste.
Modular Housing Goes Green
Modular housing has a broad spectrum of economic and environmental benefits. Regardless of your motivation, you'll find this type of construction is far superior to traditional methods, rich with possibility for eco-conscious homebuyers.