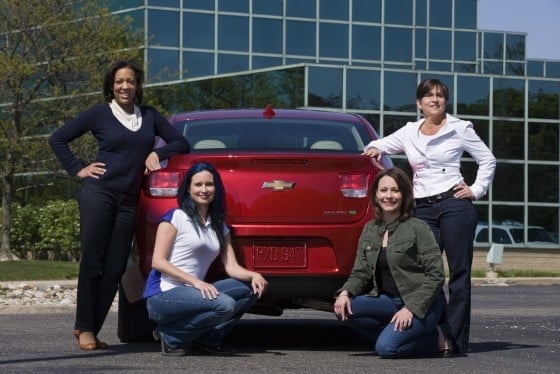 How Four Moms Have Shaped the Future of GM and the Malibu Eco
Most people have a certain vehicle in mind, or at least an idea of what they are looking for, before they go car shopping. In fact, many people already have the make and model picked out before they even step foot on the lot. But who is to say that particular vehicle is going to be what they really need and want? Who is to say that vehicle was made with their particular needs in mind? Does it have eco-friendly features and technology designed to assist them on the road to fuel efficiency? Well, that's where four moms from GM come in with the Malibu Eco.
Never before has a vehicle like the Malibu Eco been designed from the get-go, not only based on what the company feels the consumer is looking for, but with direct insight, input and hands-on engineering expertise from real-life moms. With safety, comfort, eAssist technology, fuel-efficiency and the peaceful quietness that all moms long for, the Malibu Eco is a truly joint effort on behalf of moms (and dads) everywhere.
First let me cover just a few of the features of the new eco-friendly Malibu Eco:
eAssist technology which aids in increasing fuel efficiency by cutting off fuel to the engine during deceleration,
a regenerative lithium-oin battery pack recharges when the vehicle brakes and powers the vehicle during stops,
the battery then starts the vehicle's engine when accelerating from a stop,
the energy from the battery also provides a boost to the engine in order to increase fuel economy,
the entire exterior of the vehicle is designed to deflect the wind and thus increase the vehicle aerodynamic capabilities,
there is an eco-efficiency gauge so you can tell how well you are doing on staying "green",
an electric auto stop indicator lets you know when the vehicle is running on the battery during the stop/start mode and more.
Although the Malibu Eco is not 100% electric, with the technologies it incorporates, it allows owners to travel approximately 580 highway miles between fill-ups, despite having only a 15.8-gallon fuel tank. That's close to 37 mpg, not too shabby for a combustion engine. I'd even add a little Green Plus® to further assist in decreasing my harmful emissions and increasing my fuel economy.
Now let's get to the four moms, in particular, who have had a direct hand in bringing the new Malibu Eco to life:
First we'll start with rocket scientist, Aerodynamic Development Lead Engineer, and roller derby skater Suzanne Cody. Suzanne is one of GM's aerodynamic engineers and, just as importantly, she is a mother of two. While Suzanne has worked on a number of GM vehicles, she had an intrinsic role in directly shaping and forming the Malibu Eco in order to reduce wind drag and increase fuel efficiency. Her chosen field and desire to make sure the Malibu Eco is exactly what moms (and dads) alike are looking for is what drove her to combine her passions to bring the Eco to a whole new level.
Next comes Kara Gordon, mother of two and Noise and Vibration Performance Development Engineer. Kara brought a unique feature to the Malibu Eco in the fact that she brought the gift of silence. Although having two young sons doesn't necessarily bode quiet, Kara did a tremendous job of incorporating the calmness of her daily yoga routine and the peacefulness of her organic garden into the Malibu Eco. She went to extremes to identify then eliminate the wind, tire, road and other vehicle noises in order to make the Malibu Eco one of the quietest vehicles ever.
Now we come to Julie Kleinert, mother of four, grandmother of two and the North American Child Safety Technical Lead for the new Malibu Eco. As you can imagine, Julie has one of the most important roles at GM, and in particular with the Eco. She is in charge of integrating key vehicle safety technology into the vehicle in order to make it safer for children. As a parent, I value her work tremendously, because I know there is nothing more important to me than the health and happiness of my two kids. That is why I'm glad Julie is on the job. She has authored three technical papers and has an industry-first patent for a safety technology currently under review. She has also co-authored two technical papers comparing real-world crash conditions with those in manufacturer crash tests. Needless to say, she has really made a difference in the industry and specifically with the Malibu Eco.
Last but definitely not least is Tracy Mack-Askew, international traveler, mother of two and the Vehicle Line Manager on the global platform for the Malibu Eco. Tracy has worked at GM for 13+ years and has played a role as a design engineer, mechanical engineer and harmony engineer for a number of GM vehicles. On the Malibu Eco she was fully responsible for bringing engineering and manufacturing together to see to the end product available today.
With their combined skills, hard work, dedication and commitment these four women have truly shaped the future of GM and the Malibu Eco.