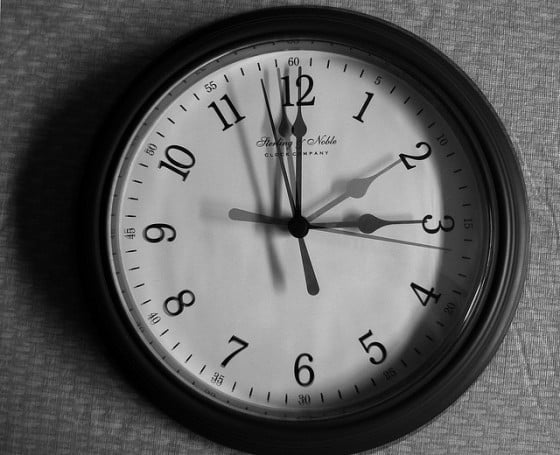 5 Eco Tips for Taking Advantage of Daylight Savings Time
March 11th is the day. Time to turn those clocks forward an hour and spring into Daylight Savings Time. Now, in my book, there are pros and cons to people having to move their clocks forward an hour. In all honesty, I think the pros outweigh the cons, but to each his own.
Image by Sarah / Creative Commons
Here are few tips I thought I'd share for those of you who are looking for some eco-friendly ways to take advantage of Daylight Savings Time:
1. Go for a walk. It's going to be lighter much later into the evening now, so rather than spending that time cooped up indoors, get outside and enjoy the great outdoors.
2. Get into the garden. Whether you have an outdoor or indoor (small kitchen-type) garden, you might as well get in the Spring spirit and do a little gardening. If you need advice on how to get started, check out my friend Mike's site: Urban Organic Gardener.
3. Have dinner outside. Why sit inside, when you can enjoy a nice evening meal on the patio, deck, backyard or if you're feeling a little more adventurous…head out to a local park. The sun, fresh air and new setting will do you good.
For those of you who are still feeling the chills of Winter, try opening your windows for a bit and at least getting some fresh, clean, crisp air into your home. Nobody likes eating in a stuffy room. Besides, you'll probably find the sunlight will not only brighten the room but lift your spirits as well.
4. Remember that you can save energy by adjusting anything you have set on a timer; lights, thermostat, etc. With the sun being up later into the evening, automatic lights, heaters, fans and more will all turn on before they are actually needed. Also, in most cases you'll find that you will need your lights on a lot less. Adjust your timers and let Mother Nature cover it for you. Who knows, the money you save may come in handy.
5. Do some pre-Spring cleaning. I know this one is not necessarily on the top of your list, but Spring is coming and you know as well as I do that some cleaning is probably in order. Why not get a little head start? I've got 10 eco-friendly Spring cleaning tips that can help you out.
Image by Denise Mattox / Creative Commons
There are many different tips, household chores, and fun activities you can plan in order to take advantage of Daylight Savings Time. The above are 5 simple ones I thought might help you get through at least the next week or so. Oh…and don't forget to move your clocks forward!