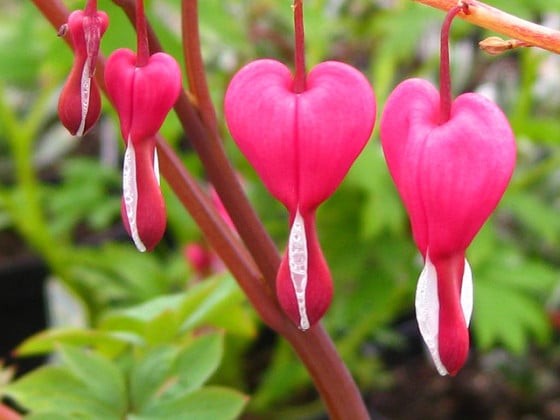 Green Your Valentine's Day in 5 Simple Steps
Want to green your Valentine's Day? Excellent! We've got a way for you to do just that in five simple steps. Even those who may not realize it could benefit from greening their Valentine's Day (or birthday, anniversary or any other celebratory-day). Fortunately it doesn't take much, but it is good for the environment and for you.
Think about it. Valentine's Day doesn't have to be all about buying candy, flowers and cards. Although it has been seriously commercialized over the years, Valentine's Day should be a day to show your love and appreciation to your spouse, significant other, kids, family members and friends. You don't HAVE to buy gifts to do that. You can if you want, of course. It's not a necessity though. In some instances, a home-made meal or a drawn bath are even more heartfelt than anything you could buy in the store. Should you choose to buy gifts, be smart about it. Choose environmentally-friendly companies, as well as those who promote sustainable business practices.
5 Ways to Green Your Valentine's Day
How you choose to show your love is up  to you. The ideas we provide are simply some tips or ways to help you veer in the right direction towards a greener Valentine's Day. You can decide to use one, two or all of these ideas. Whatever you do, think about not only the immediate benefits of your gifts, but the longer term impact as well.
Let's make it even more simple. Do these five things and you'll have green and happy Valentine's Day:
1- Gift-giving. If you want to give a gift, find a company whose owners take pride in using natural, organic and environmentally-friendly products and materials. Some of our favorites include: No Tox Life (These ladies make their own products and use non-toxic materials to do so. They also have a great variety and selection of products for both men and women. We'd be surprised if you couldn't find at least one gift to give or even keep for yourself.) Next is Tiny Yellow Bungalow. (This eco-conscious company focuses on products which are sustainable, reusable and zero-waste.) Looking for a bottle of wine? Food&Wine has an International Eco-Friendly Wines list you'll want to check out, regardless of where you live.
2- Flowers. Flowers are quite traditional on Valentine's Day. If you think your loved one would love some flowers, opt for potted flowers instead of cut. Buy a potted rose bush or orchids. Lavender or tulips would be nice too. Even a bonsai tree or potted bamboo is a good option. The extra benefit of these is they'll grow and give continued happiness long past the day itself.
3- Chocolate. Does your loved one have a sweet tooth? No problem. Buy some fair-trade chocolate. You can check out a wide variety of options on The Good Trade's "Guide to Fair Trade Chocolate" or head over to The National Wildlife Federation (NWF) website for places to purchase sustainable and organic chocolate. Lots of options!
4- Dinner. We all know how crowded restaurants can be on Valentine's Day. Rather than having to make reservations and fight the crowds, why not make a home-cooked meal? Find out what your loved one likes to eat and then make it yourself. Even if you're not a gourmet chef, a home-cooked meal says a lot about a person and is a very person gift you can give. Go online. You'll find no shortage of recipes. Besides…who wouldn't want an intimate dinner at home?
5- Relaxation. Give the gift of relaxation and stress-relief. In the hustle and bustle of today's world, having a little time to relax and alleviate a bit of stress is much needed. You can either make and give some DIY spa products to the one you love, or you can set him or her up for a night of relaxation. Draw a bath. Lights some non-toxic candles. Add in some bath salts. Then it's time to relax and let the stress melt away. If you don't want to make the spa products yourself, Serendipity Doo's has candles, bath salts, body scrubs and more with a variety of scents from which you can choose.
Think Green. Be Green.
Thinking green leads to being green. Instead of simply going through the motions this Valentine's Day. Get creative. Take the extra step to give you loved one a memorable day with minimal environmental impact. It shows you care.
Happy Valentine's Day to you and yours!