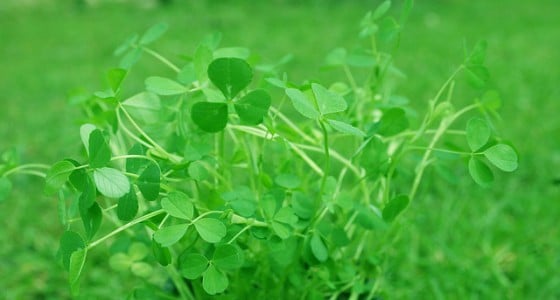 Green St. Patrick's Day Traditions
Image by Joe McCarthy / Creative Commons
St. Patrick's Day is one of those holidays where it doesn't really seem to matter whether you are of true Irish decent or not. People from all across the globe love to join in the celebration when it comes to St. Patrick's Day. Of course there are people who have their Irish traditions, handed down from generation to generation, while there are others who are fully content to go hopping from bar to bar in search of the greenest beer in town.
In order to give you a little head start on your holiday plans, and to instill a bit of the Irish spirit in you, here are a few green St. Patrick's Day traditions:
1) Drinking green beer. Although Guinness beers are not commonly dyed green for St. Patrick's Day, mostly because their dark color doesn't allow the green dye to show through, Guinness does have a fairly "green" beer in that their Guinness Extra Stout – North America is vegan-friendly. That makes it a nice addition to one of your St. Patrick's Day meals.
Image by Lynn Fennell / Creative Commons
2) Planting shamrocks. One of the more traditional symbols of St. Patrick's Day is the shamrock. Legend has it that St. Patrick used to use the shamrock, also known as a clover, in illustrating The Holy Trinity. Today the Irish, and many others around the world, consider the shamrock (especially the four-leaf clover version) to be a symbol of good luck.
3) Eating your greens. Bacon (nowadays corned beef) and cabbage is a tasty Irish meal that is often served on St. Patrick's Day. If you haven't eaten it yourself, I'm sure you know of someone who has has eaten it. For those meat-lovers, it is a great way to combine meats with your greens and have a relatively well-balanced meal. For those of you who would rather have a vegetarian or vegan option, here are 10 Vegetarian and Vegan Dishes for St. Patrick's Day.
4) Last but definitely NOT least, getting outdoors. People love an excuse to celebrate and if you're going to celebrate St. Patrick's Day, regardless of whether or not you are Irish, what better place to do it than outdoors? The backyard, a local park, the beach, a campground, or another outdoor destination of your choice.
Image by Nina Matthews / Creative Commons
Whatever you decide to do, I hope your day is filled with green from morning to night. Here's to a happy and truly green St. Patrick's Day!