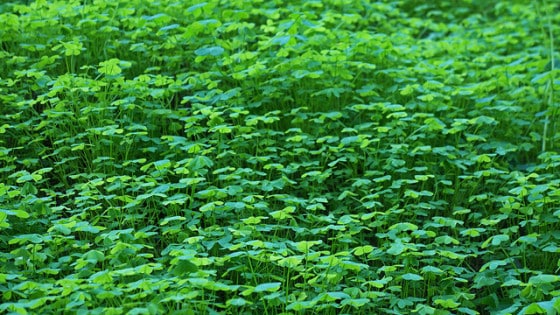 Green St. Patrick's Day, Sans the Dye
Like many holidays celebrated here in the United States and around the globe, St. Patrick's Day is steeped in traditions. While many people may be entirely unaware of the religious and cultural traditions on which St. Patrick's Day is based, there are still elements of this holiday we all know and love.
One of the most common traditions associated with St. Patrick's Day is the wearing of green clothes, decorating with green-colored paper and fabrics, dying food or drinks green, and even dying rivers green. While this many all seem like a great idea to help get people in the spirit of this Irish holiday, there are ways to green your St. Patrick's Day sans the dye.
Drink green beer and wine: Choose a sustainably-brewed or ecofriendly-made alcoholic beverage. Don't add green dye to a regular beer, wine or other cocktail. Those who care about the climate, may want to give one of these "green" beers a try. If you are more of a wine person, and would rather skip the dyed green beer this St. Patrick's Day, you can opt for green wine instead.
Eat some traditionally green Irish food: If you are looking for a tasty, traditional Irish meal to enjoy on St. Patrick's Day, you can always prepare corned beef and cabbage. You can also try a wholly vegetarian dish or choose to make one of these 5 vegan Irish recipes.
Add green decorations: Those who plan on hosting St. Patrick's Day celebrations can green their decor or add in some green decorations by using natural materials. Buy some potted clover or shamrock to put around the room, or outdoors if you really want to green up your party. You can also recycle old fabric or re-use materials you have in your home, to make cool decorations. Bottles can be turned into flower vases or lights. Jars can be used to serve drinks, put serving utensils in or as potted plant holders.
Wear green, eco-friendly clothes: As you probably don't want to get pinched on St. Patrick's Day, make sure you wear something green. Avoid the dyed t-shirts and other chemically-laden clothing items though. Instead, choose a green or eco-friendly clothing option. If you aren't sure whether the clothes you want to buy are made in a sustainable manner, here are 4 ways to be certain you're investing in eco-friendly clothing.
Use a green form of transportation: If you are planning to celebrate St. Patrick's Day by going out to a parade, a party, a bar or other locale, use a green form of transportation. You can take the bus, hop on the metro or even carpool with family and friends. Depending on the distance you have to travel, walking or riding your bike could be an option as well.
Even those with gas-guzzling vehicles can green up their rides by adding in some of Biofriendly Corporation's Green Plus®. Green Plus is a patented liquid fuel catalyst designed to help harmful emissions, increase fuel economy and increase engine power. It is a clean, viable solution any vehicle owner can use to green their ride.
Whatever you choose to do, there are ways to celebrate this green holiday sans the dye. Wishing you and yours a safe, happy and eco-friendly St. Patrick's Day! May the luck of the Irish be with you.
Green field of clover image by Damian Gadal via Flickr Creative Commons license.