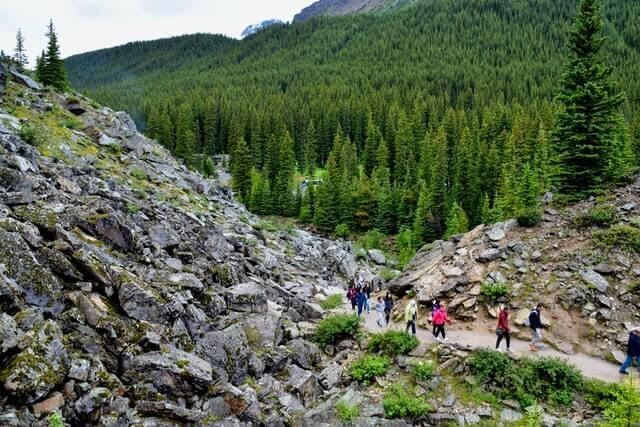 Environmentally-Friendly Tips to Help You Make the Most of Your Next Outdoor Adventure
Whether you're embarking on a camping trip or just going for a walk in the park, it's important to understand how your actions – no matter how big or how small they may seem – can impact the environment, both positively and negatively. In an effort to preserve our beautiful planet for generations to come, it's important we each do our part wherever and however we can. Keep reading to learn about some easy and eco-friendly tips to use whenever you interact with the outdoors.
Leave No Trace
One of the easiest ways to help the environment is to leave no trace. This isn't really a specific action, but more of a state of mind. Always remove everything you brought with you on your adventure. If there aren't separate bins for compost or recycling, bring some reusable trash bags along with you. This way, you're able to properly separate your trash, compost, and recycling to bring home with you and dispose of properly. Remember: if you pack it in, you pack it out. Even fruit peels can take a long time to degrade out in nature (two years for a banana peel) and can pose as a threat to wildlife, so make sure to properly remove these items as well.
Rent or Repair Your Gear
To make the latest and greatest outdoor gear, it takes a lot of energy, chemicals, water, fuel and raw materials. If you're able, look for ways to repair your old gear. If you're taking a destination adventure and it's an item you think you'll only use once or twice, try renting the gear from a local vendor or borrowing from a friend, if possible.
Pack Biodegradable Soap and Toothpaste
Some toiletries can have a negative impact on the environment because they take a long time to degrade. Bringing biodegradable products with you is an easy way to help out. Be advised you should always make sure you are at least 200 feet away from any water source when using these products. Also, consider buying a bamboo toothbrush which is 100% eco-friendly.
Ditch the Single-Use Plastic
Single-use plastic is one of the biggest problems impacting the environment. Luckily there have been a number of bans on single use plastics in local municipalities, with the most prominent being Seattle. Likewise, there are many steps you can take to minimize your plastic dependency.
Instead of packing your food and other items in numerous plastic baggies, try using reusable sandwich bags. These are great for snacks and they come in various sizes. They are also lightweight in comparison to other reusable food containers.
Another idea for dry food storage is a bandana. This common item offers a ton a utility outside of food storage (think holding nuts or jerky) and is equally lightweight on lengthy treks.
Minimize Fire Production with Portable Stoves
It's also important to leave no trace when it comes to fires. It's not always environmentally friendly to start a fire. Burning trash or aluminum cans can release pollutants into the air and soil. There's also been wildfires all over the country, so many areas have a fire ban. Instead, look into bringing a portable stove. These are much easier to manage and you can purify water or prepare hot beverages and nutritious meals with them. However, the type of fuel you use matters depending on your environment. Make sure you do some research on whether a butane or propane fuel source is best for your adventure, depending on your expected climate.
Enjoy Your Eco-Friendly Adventure!
These are just a few ways to enjoy the environment without destroying it. There are many other small ways to have an adventure that is eco-friendly, but this is a good place to start. Always do your research on products you buy and other things you can do to protect the outdoors. Remember this is our home and we should protect it the best we can.
Author Bio: Derek Edwards is a budding outdoors enthusiast based out of Southern California. From the dusty plains of Joshua Tree to the towering skyline of Sequoia National Forest, you can follow along Derek's adventure over on his blog Outdoor with Derek.