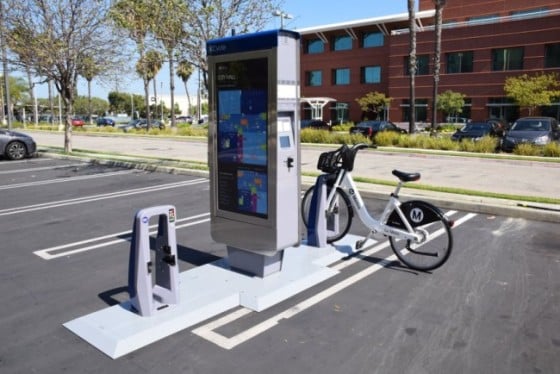 Eco-Friendly Transportation: Bike Sharing Coming to L.A.
(Photo from Metro's The Source)
For years, the City of Los Angeles has taken pride in being able to offer various eco-friendly transportation options to its residents, visitors and guests. Now it appears a new form of eco-friendly transportation is on the way. According to the official Metro news release, 65 bike-sharing stations are going to be placed in and around downtown Los Angeles starting in 2016, making 1,100 bicycles available for people to rent on a short-term basis to get around the city. Some of the places where people will be able to find these bikes include:
Union Station,
L.A. Convention Center,
Staples Center
Grand Central Market,
Pershing Square,
The Arts District,
Grand Park/Music Center
The University of Southern California (USC) area, and
Various downtown Metro rail stations and local attractions.
As the Metro CEO said in a recent statement, "Bikeshare can be a key element of the first-last mile and balanced transportation solution, expanding the reach of transit and providing our transit users with another mobility option."
The hope is, once the bike-sharing stations are in place, more people who live outside the city will take advantage of public transportation to get to and from work. Even those who do not work in close proximity to Metro, rail or bus stations will be able to bike share in order to get around town. Tourists may also find the bike-sharing stations offer a fun way to get up close and personal with the city, and see the sites. College students can opt for bike sharing to get around the vast USC campus or simply explore the surrounding city. Following this roll out, Pasadena is next on the list of cities to receive its own bike-sharing stations.
Some of the benefits riders can look forward to enjoying with these new bike-sharing systems are:
Low-cost rental
Self-service stations
Ability to pick up and drop off at any station
Unlimited, short-term access to bikes 24/7, 365 days a year
Smartphone apps will give riders the ability to find stations with available bikes or open dock
Once people start using these bicycles, other eco-friendly benefits will hopefully be seen as well: fewer cars on the roads, less harmful vehicle emissions polluting the air, and people's individual carbon footprints shrinking. I look forward to trying out the new bike-sharing stations!