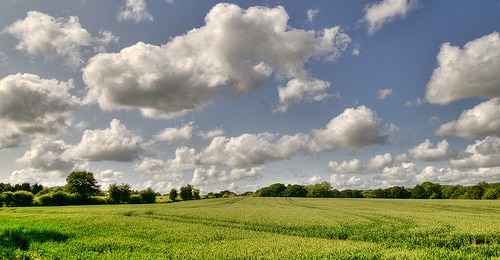 Checking In On The World Of Green
Well, it's that time again. Time to wrap up the week with a few of the green and environmentally-friendly articles that caught my attention this week.
Image by Tee Time Tony/Creative Commons
Of course there are so many great articles and a wealth of information I haven't included, but I thought these might be of interest to you, as they were to me. So, before you head out for the weekend, let's do a little checking in on the world of green:
Test Driving the Fisker Karma Electric/Gasoline Hybrid Car: You've probably heard this one, but the Fisker Karma hybrid sports car has finally started rolling off the assembly line. What do you think? Could you see yourself in one of these? A little rich for my blood, however I do like the look of the Fisker Karma.
Sun-Powered Solaris Car Wins Mazda's Aurora Survivor 2050 Competition: Looking a little further into alternative energy vehicles, check out this sun-powered car. Using solar electric power, this vehicle seeks to bring the future of transportation to the here and now.
Electric Vehicles to Total 14 Million by 2014: Whether you're talking electric (EVs, PEVs, PHEVs) or hybrid vehicles, estimates show that public interest is increasing and these types of alternative vehicles will total 14 million by the year 2014. That's only a few years away. Do you own an electric or hybrid vehicle? If not, do you think you will in the next few years?
Living Off the Grid with Alternative Energy Sources: There are many different options when it comes to using alternative energy to help power your home. But it's going to take more than one option in order to live off the grid. Take a look at some great ideas and information on how you too can begin living more sustainably.
You May Soon Be Drinking Your…Urine? Yep: Your first reaction, if it was anything like mine, is probably "Not on your life!". Well, besides the apparent health benefits from drinking urine, since urine is about 95% water, there is no reason is couldn't and shouldn't be recycled to meet water demands. In fact, treatment centers are being established in order to recycle, treat and purify wastewater to help meet city water needs. Even Los Angeles is apparently building a treatment plant.
How Much Land Do You Need to Eat Well? [Infographic]: So much talk about living sustainably, I'd be remiss to not mention something about growing your own food. But how much land do you really need in order to grow sufficient food to eat well? This article will help give you an idea.
7 Lessons from Canada's Environmental Pragmatism: Many people, cities, government and countries like to talk the talk when it comes to making environmental and sustainable changes, but Canada shows they are really walking the walk as well. Check out these 7 lessons which can be learned from Canada.
That covers this week's Weekly Greens. I hope you enjoyed and got some good information from the above articles. If you have something you think I should feature or mention in my Weekly Greens, please feel free to message me on Twitter or email me (biofriendlyblog at gmail). I look forward to hearing from you. Until then, have a wonderfully biofriendly weekend.