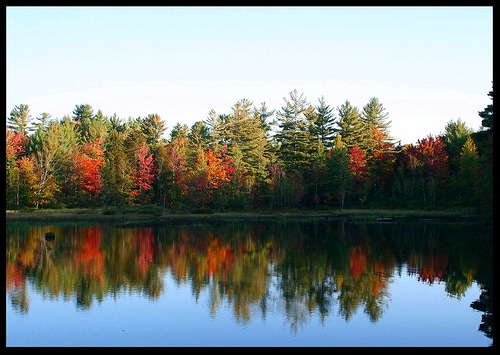 Autumn's First Weekly Greens

Image by Lida Rose / Creative Commons
Believe it or not, autumn is here and the year is almost 3/4 of the way over. With school back in, work piling up and holidays looming on the horizon, it may be hard to keep up on the latest news. Even some of the most interesting green viewpoints and articles may be missed completely in favor of other news or work.
So, in honor of Autumn showing its face, let's get right into this week's weekly greens:
1) Going green and getting EVERYwhere: Every green step you take makes a difference. Whether it makes a difference in your own life, in the life of your family, your friends, your neighbors or the world around you, each step makes a difference. It is the combined efforts of everyone which will bring about a broad change.
2) Plan B: A Roadmap for Stabilizing the Climate: Plan B is a movement set out to stabilize both population and climate. It is geared towards cutting carbon dioxide emissions, stabilizing population, eradicating poverty, and restoring the Earth's natural systems.
3) Moving Planet: In case you missed it, Moving Planet was yesterday. Organized as a worldwide day to move beyond fossil fuels, there were over 2000 events in 175 different countries. Take a look at the photos, videos and demands for the future of the planet and its people. Hopefully you'll be inspired to keep things moving forward.
4) How Biomimicry Drives Sustainability: From Fish-Inspired Wind Turbines to the Future of 3-D Printing (Video): The numbers of inventions and innovations that have been inspired by nature may astound you. But why not use nature as a guide? If you are looking for sustainable ideas, you don't need to look far. Here are 15 of the coolest cases of biomimicry.
5) Worldwide Car Free Day was September 22nd: Did you participate? If not, have you ever considered getting out of your car and opting for a different, hopefully more environmentally-friendly mode of transportation? Even if you decide to opt for public transportation, ride your bike or even walk 1 to 2 days a week, it can make a difference.
6) Autumn is leaf-raking season!: Even though we know this time of year is the time when the leaves change colors and litter the ground as far as the eye can see, times are changing. Raking isn't the chore it once was. Leaves can provide a lot of nourishment to your garden and should be USED in all their natural beauty.
7) Canadian Study Shows Geothermal Potential at One Million Times Current Energy Demand: Think about it…one million times the current energy demand. That's a lot of energy. Even if only 40 percent can currently be extracted, don't you think it's worth further research and investment?
Well, there you have it. Although it's just a drop in the environmental bucket for the week, if you're looking for more green and eco-friendly news, you can follow me on Twitter. Until then, have a wonderful, biofriendly day and week ahead.