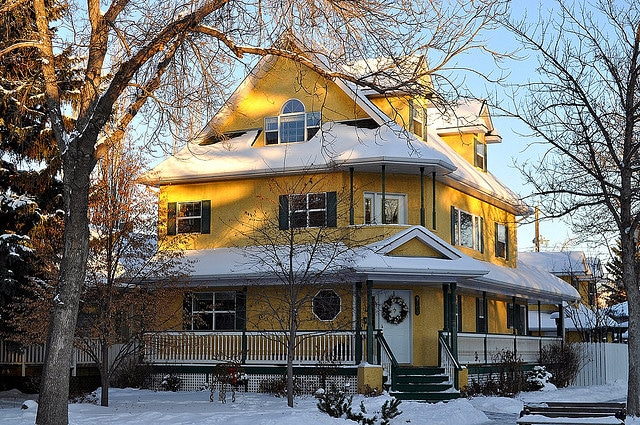 Biofriendly Wishes to You and Yours
Image by Stella Blu / Creative Commons
The holidays are here and as we all scramble to finish up our shopping or finalize those last minute plans, I wanted to take a moment to wish each of you a happy holiday. Here are my biofriendly wishes to you and yours:
1. May your days be filled with smiles, laughter and other eco-friendly ways to brighten your spirits and lift your mood.
2. May the beauty of nature draw you outside to experience the natural wonders of the world around you.
Image by Per Ola Wiberg / Creative Commons
3. May you have lower emissions and higher fuel efficiency as you travel to visit friends and loved ones.
4. May your house be filled with natural decorations, soy candles, and plants that help clean the air and improve your indoor air quality. A healthy dose of fresh air wouldn't hurt either.
5. May you have little waste, and may you finds way to recycle, reuse and reduce during the holiday season.
6. May your meals feature lots of organic, healthy and local foods, like those found in these gourmet vegetarian recipes, perfect for Christmas dinner.
Image by Andy Roberts / Creative Commons
7. May you have just enough food to provide for you and your loved ones. May any leftovers find their way back to the table to be used and enjoyed. And may your compost be your friend.
8. As often as possible, may your home be warmed by the natural heat of visiting family and friends. The rest of the time, may your home heating oil be tempered with a little Green Plus® to reduce your costs and help save the environment.
Image by Cody / Creative Commons
9. May you take the time to unplug, both at work and home, during the holidays. I don't mean just log off your computer, unplug. Even those of you who do not have time off work should spend your downtime unplugged. Who knows, you may find you like it.
10. For those of you with kids (or even for those of you who do not have kids), my friend Bethe says it best with her 12 Days of Christmas: Kicking it Grass Stain Guru Style!
Image by Biofriendly
Last, but not least, may the following quotes help inspire your actions and activities throughout the holiday season and into the new year:
" Take care of the earth and she will take care of you."  ~Author Unknown

"There is a sufficiency in the world for man's need but not for man's greed."  ~Mohandas K. Gandhi

"We do not inherit the earth from our ancestors, we borrow it from our children."  ~Native American Proverb
Wishing you and yours a truly biofriendly holiday!