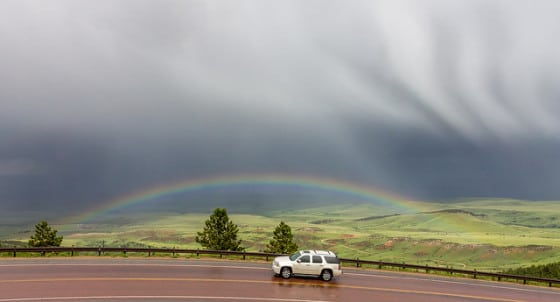 Biofriendly Road Trip Tips for Summer
Since the unofficial start of summer (Memorial day weekend) has come and gone, and school is either wrapped up or almost wrapped for the year, now is a good time to begin finalizing your summer travel plans. According to AP, America is going to see the return of the classic road trip this summer. This means more and more families are gong to be loading up their vehicles and hitting the road this summer to take advantage of lower gas prices. Of course, I'm sure planes, trains and other source of transportation will be packed as well, but in this post, I'm going to focus on some biofriendly road trip tips for summer.
Perform basic maintenance on your vehicle: Road trips go a lot more smoothly when your vehicle has been tuned up and is really well. Check your tires for proper air pressure. Top off all fluids. Do routine maintenance. These actions alone will help improve the fuel efficiency of your vehicle, lower your emissions and save you money.
Clean out your vehicle: Remove all items you won't need for your trip (so as to not unnecessarily weigh down your car). An extra 100 pounds could lower your MPG by one percent. If you have a smaller vehicle, this number could be higher.
Pack lightly: During the warm, summer months the majority of people will find they don't need to pack as heavily as if they were traveling during the winter. No need for heavy coats, long pants or layers for the most part. Some shorts, t-shirts, swimsuits and the basic necessities are pretty much what you'll need. This also keeps the overall weight of the vehicle down.
Pack smart: While most people have items they "must have" on trips, you're going to want to pack smart when going on a road trip. In addition to packing lightly, try to avoid hauling cargo on the roof of your vehicle. In some cases, hauling items in a roof rack or roof-top cargo box can lower fuel economy up to 25 percent.
Follow posted speed limit signs: Adhering to the speed limit will help keep you and your family safe. It will also help with gas mileage.
Choose a proven energy transition fuel: While some people may be unaware of the benefits of using an energy transition fuel, we at Biofriendly Corporation are well versed on this subject. Green Plus®, has been proven to not only reduce the harmful vehicle emissions, but increase fuel economy and improve engine power too. Adding just a small amount to your gas tank each time you fill up can reduce emissions up to 45 percent. Talk about being good for the environment!
Avoid idling: Idling is simply a way for your vehicle to use gas without getting you closer to your intended destination. When making a road trip, it is important you minimize idle time as much as possible. Turn off your vehicle rather than leave it idling. Use your GPS to avoid heavy traffic and congestion.
Map your route: Like using your GPS when going on a road trip, mapping your route can help you save gas and time. It will also generally reduce the harmful emissions being released into the environment. Mapping your route may allow you to avoid road construction, get around traffic and accidents, in addition to finding the most direct route to your final destination.
Bring your own water bottles: Keeping hydrated on a road trip is important. The easiest way to do this is to bring your own, reusable water bottles from home. Reusable bottles work well as most are BPA-free and you can fill up time and time again. This saves money, eliminates the need to find recycling bins and reduces the amount of plastic in the environment.
Pack healthy snacks: Food on road trips can get costly, particularly when you have a long way to go. If you pack healthy, tasty and organic snacks in reusable containers, you may be able to avoid making unnecessary stops. You can also save quite a bit of money and reduce the volume of trash you and your family generate.
Protect yourself from the sun's harmful rays:  Traveling in a vehicle does not mean you will be protected from the sun's harmful UV rays. Wearing clothes which shield your body from the sun, trying to stay out of the direct sunlight, keeping those sunglasses on, wearing a hat when the top is down and using one of the EWG's best sunscreens can help protect you from getting burned.
Staycations are okay too: Even though many people will be road tripping over the summer months, staycations are okay too. In some instances, staying close to home can prove to be just as fun as traveling far away. Staycations can involve walking to your destination, riding your bike, doning a pair of roller blades or hoping on the bus. Even taking a day trip on the train can make for a biofriendly staycation.
Using these and other biofriendly road trip tips can help make sure your summer vacation is as friendly to the environment, as it is fun for you and your family. Safe and happy travels!