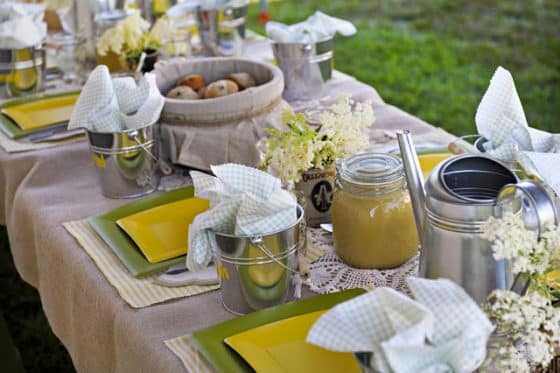 How to Create a Biofriendly Picnic or Outdoor Party
Summer is a great time for picnics, outdoor parties and barbecues. You can celebrate Independence Day (aka the 4th of July), a birthday, a wedding or have a family get-together. Each of these is a perfect opportunity to get outdoors. I mean, you might as well enjoy being outside while the weather is nice. Of course, it's important to respect the environment while you do so. No reason to create excess waste or be harmful to nature while you're celebrating. This is particularly true when you can create a biofriendly picnic or outdoor party with ease.
Biofriendly Outdoor Party-Planning Tips
Turning your outdoor celebration into a biofriendly picnic or party doesn't have to be difficult. A few, minor changes is generally all it takes. Making these changes allows you to have a wonderful day while minimizing your environmental impact.
Plan your party or picnic with "The Leave No Trace Seven Principles" in mind: When out in nature, it's essential you act in a sustainable manner by avoiding any unnecessary human-created impact. Following The Leave No Trace Seven Principles will help. As long as you plan ahead, you can enjoy nature and allow others after you to do the same.
Choose reusable rather than one-use items: One-use items generate a lot of waste. Using reusable cups, plates, silverware and food containers cuts your waste to almost nothing. Encourage guests to do the same. Offer veggies, fruits and dips in easy-to-serve containers. Have a condiments station with all your guests' favorite condiments. Store silverware and napkins in glass mason jars. Create a hydration station where guests can refill their glasses with fruit-flavored waters.
Make your decorations yourself: No reason to buy cheap plastic or paper products. Make decorations yourself. With so many DIY options, you can get quite creative. Lighting can be done using teacup candles and mason jars. Potted plants can be used as centerpieces, then sent home with guests afterwards. Fabrics from around the house can be used for mix-match tablecloths or napkins. You can reuse tablecloths, fabric and other materials to make "sit-upons" for guests to enjoy. You can even make ring-toss games using old wine bottles.
Strive to have mostly organic or locally-sourced meals: Picnics and outdoor parties are the ideal time to try something new. If you're going to have an outdoor party this summer, why not mix it up a little. Offer your guests some organic mason jar salads instead of traditional potato salad or coleslaw. They can even bring home the jars afterwards. If you can't find organic, look for locally-sourced meals. Ask those bringing food dishes to bring organic too. This helps make your party biofriendly and the food super-tasty.
After Party Clean-Up Made Easy
Cleaning up after a biofriendly picnic or party is easy if you've planned it out right. Reusable products mean you'll have very little trash to clean up. Any food not consumed can be sent home with guests or brought home for leftovers later. Store party decorations for another time or give as gifts to guests. Really that's all it takes. No bags and bags of trash. No food waste. You could have a zero waste event. Better for fun times and happy memories!