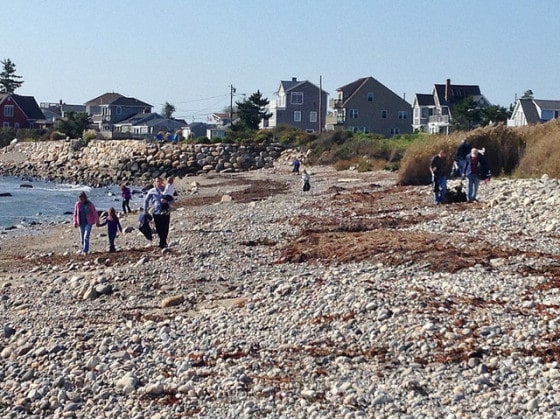 Biofriendly Action of the Week: International Coastal Cleanup Day
Last year an estimated 560,000 volunteers, across 91 countries, participated in International Coastal Cleanup Day. Through their efforts, more than 16 million pounds of trash was picked up and removed from our beaches and coastlines. In total over the past 29 years, Ocean Conservancy reports 10.5 million volunteers have helped clean up at least 350,000 miles of shoreline and removed in excess of 192 million pounds of trash. This one biofriendly action alone has had a significant impact around the world and this coming weekend is your opportunity to join in: Saturday, September 19th, 2015 marks the 30th anniversary of the International Coastal Cleanup.
Consider it your biofriendly action of the week. Even if you recycle and take other green actions throughout the week, this can be an added item to your list. (It's a good one, too!) Just head over to the Ocean Conservancy site and click on its map to find a cleanup site near you. Then sign up. If no cleanup is scheduled near you, or you'd rather initiate your own cleanup, Ocean Conservancy has DIY cleanup tool kits to help you get started.
To give you an idea of what you might find, last year's top 10 items collected along our coastlines were:
A few of the stranger items volunteers apparently found included: over $1,600 in cash, eight bowling balls, five rubber duckies, a plastic dinosaur, and 26 barbecues. Now, I might be able to understand the ducks, dinosaur and even the lost cash, but bowling balls are not an item you expect to find on the beach, and why would anyone leave their barbecue? Dispose of it properly if you don't want it anymore.
Now, in addition to your assistance being needed to help clean up our coastlines, efforts must also be taken to reduce the amount of trash, debris and other harmful materials making it onto our beaches and into our waters. According to Ocean Conservancy, "between 5-12 million tons of plastic debris enter the ocean annually from land-based sources."
Here are a few other biofriendly actions you can take in between International Coastal Cleanup days to keep trash and harmful debris away from the oceans and beaches:
Opt for reusable items, rather than single use.
Throw away trash in proper containers and bins.
Recycle whenever possible.
Donate items which are no longer of use to you.
Pick up trash and debris so it doesn't get washed down storm drains or make it to the coast.
Coastal cleanup image by Save the Bay via Flickr Creative Commons license and infographic from Ocean Conservancy.