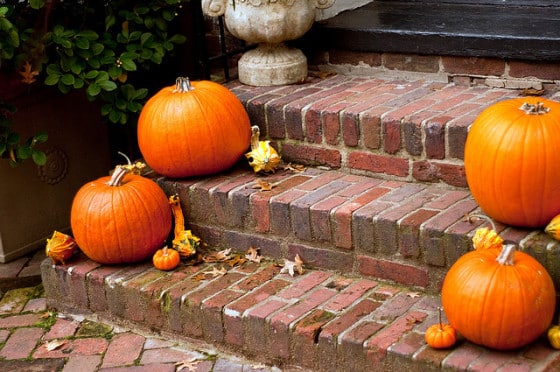 Environmentally-Friendly Pumpkin Tricks and Treats
With Halloween just around the corner, many of you probably already have your decorations out and your costumes all lined up. So, instead of telling you about ways you can green up your Halloween (which hopefully you are doing on your own), I wanted to give you a few environmentally-friendly tricks and treats to help you put your pumpkins to good use before, during and after Halloween.
First off, as we all know, keeping a carved pumpkin looking its best between now and Halloween night can be difficult. Fortunately, our friends over at MNN have a few simple tricks on how to preserve a carved pumpkin. Using these tricks can help you keep your carved pumpkin going strong throughout All Hallows' Eve. NOTE: If you are planning to consume the pumpkin after Halloween, be sure to avoid using bleach and opt for more natural lubricants to keep it hydrated.
Pumpkin itself can be a very tasty treat. In addition to roasted pumpkin seeds (which my son and I love to make right around Halloween), many other recipes can be found which incorporate fresh pumpkin. Some recipes I've come across recently involve using pumpkin in pie, soup, bread, rolls, salsa, pasta, risotto, pancakes and salad. You can also bake it and stuff it. The sky is really the limit when it comes to pumpkin recipes.
Your kids may want to help get in on the action too, particularly if you tell them they'll be making pumpkin crisps, fries and s'mores. Home Grown Fun details out exactly what you need to do to turn your pumpkin into some really yummy treats.
Smaller pumpkins can be carved out and used as bowls to serve candy, cookies and other treats, or soups and salad. Fresh pumpkin soup in a real pumpkin, doesn't get much better than that. Don't want to serve your food in the left-over pumpkin shell? That's okay too. Little pumpkins can be used as centerpieces with fresh flowers or herbs placed inside, or can be carved out as holders for utensils at a dinner party or Halloween get-together.
Pumpkins make great lawn and garden decorations as well. The trick is to get a few extra pumpkins, like maybe a few you don't want to carve, and put these around your yard or in your garden. In addition to the carved jack-o-lanterns you probably have on your porch or front stoop, these will be a welcome and environmentally-friendly treat throughout the fall season. The nice thing about pumpkin planters is you can put in whatever potted plant or soil and flowers you want. The choice is up to you.
Pumpkin facial masks, body scrubs and other DIY spa treatments can be made for your own enjoyment or made as gifts for friends, family and co-workers.
Remember, there's no reason to waste a perfectly good pumpkin when you can use a few simple tricks to provide you with fun, creative and environmentally-friendly pumpkin treats the whole season long.
Pumpkins on steps by Christopher Connell, jack-o-lanterns by Peter Dutton, pumpkin soup bowl by Corey Harmon, pumpkin planter pot by JB Kilpatrick, and pumpkins by Arkansas Shutterbug via Flickr Creative Commons license.