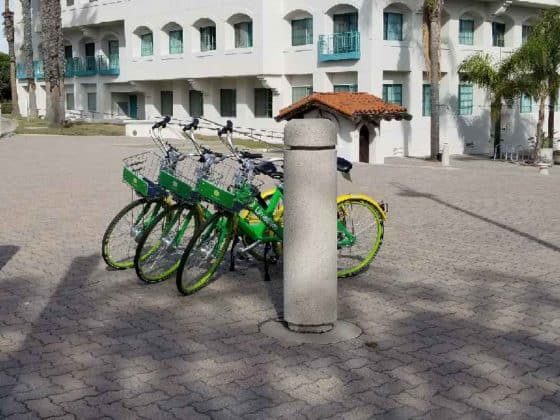 Bike Sharing: Green Transportation Option to Get You Around Town
When it comes to getting around town with ease, not all cities have the most environmentally-friendly options. Fortunately, more and more cities are beginning to support the use of green transportation. Providing public transportation is key, of course, as is the use of electric and hybrid vehicles. One of our favorite types of green transportation is bike sharing.
With bike sharing, you can take public transportation into a major city or down to your favorite beach town, then rent a bike when you arrive. If you live there, it's even easier. For example, bike sharing goes perfectly in places like New York City which, according to CleanTechnica, is adding crosstown protected bike lanes. It is also made for beach towns like Santa Monica, Santa Barbara and Ventura. Even ports like those in San Pedro or up in San Francisco can benefit from offering ride sharing options to tourists and locals alike. Bike sharing is also ideal for colleges and universities. No need to buy a college student a car, when he or she can simply rent a bike to ease mobility around town. Bike sharing is not an expensive option either. No gas or harmful emissions, so it's good for the environment. As an added bonus, it's a fun way to spend some time outdoors and get in a little exercise.
Bike Share Popularity
According to NACTO (National Association of City Transportation Officials), riders took a total of 88 million trips on bike share bicycles between 2010 and 2016. In 2016 alone, riders took advantage of bike sharing programs to the tune of 28 million trips. This is apparently right around the same number of people who rode Amtrak that year. Bike share systems also grew quite significantly during this time period with only 1,600 bikes in 2010 and more than 42,000 in 2016.
My guess is these numbers are only going to continue to rise. With bike sharing being an extremely green transportation option, it simply makes sense. Why buy a bicycle when you can rent one any time you'd like? Why use a car when a bicycle will do? Instead of staying inside, you can get outdoors and go for a ride anytime you wish. The demand is high and companies are working hard to keep that demand met.
5 California Bike Sharing Companies
Over the years, countless bike sharing companies have emerged on the scene to help meet the demand for more eco-friendly (and fun) forms of transportation. While Uber and Lyft may be fine to get where you want to go, bike sharing is for those individuals who want to spend a little time exploring the city on their own. Going with a bike sharing program means you can ride where you want, at your own speed, stop whenever you feel like it and be outdoors all the while. Bikes can also go places other vehicles cannot. Many bike share programs give riders the option to "return" their bikes to countless, convenient locations throughout the city. Check out a few of our favorites:
1 – Lime Bike in San Pedro:
While Lime Bike serves countless areas across the U.S., I first encountered Lime Bike while visiting San Pedro, here in Southern California. I kept seeing these green and yellow bikes on street corners throughout the city and just had to find out more. What I found was these bikes don't require stations or docks. You simply download the app, pay for your rental, unlock the bike and ride around. When you're done, use the app to find a place where you can return your bike and do so. LimeBike is available 24 hours a day, 7 days a week, which makes it an extremely affordable and viable option for anyone looking to be a little more eco-friendly.
Best of all, many cities, businesses and college campuses can have Lime Bike brought to their location at no cost to them. That's right. If you want to see Lime Bike in your city, go to the Lime Bike website and find out how to get the ball rolling. You'll be glad you did! As a side note: Qualifying low-income families can gain access to Lime Bike at a rate of $5/month for up to 100 rides.
2 – Metro Bike Share in Los Angeles:
My first experience with bike sharing was through the Metro Bike Share program. Metro Bike Share has docking stations through downtown Los Angeles, Pasadena, the Port of Los Angeles and along Venice Beach. This makes getting around in any of these areas quite simple. You can even take a Metro train or bus to one of these locations, then bike around town and return home, using eco-friendly transportation the whole way.
Even if you don't want to plan your day ahead of time, Metro Bike Share offers Walk-Up passes. On Tuesday you can use the promo code: 2222 to get a 30-minute walk-up ride for only $2.00. After that, the cost is only $3.50 every half hour. For those of you who want to be able to use these bikes on a whim, can also buy walk-up passes in bulk.
If you live in or around Los Angeles and have other locations where you want to see docking stations, you can suggest a new location.
3 – Breeze Bike Share in Santa Monica (aka Santa Monica Bike Share):
For those who live by the beach or enjoy spending time at the beach, Breeze Bike Share (presented by Hulu) currently has 80 stations and 500 bikes located throughout Santa Monica. Customers can reserve a bike ahead of time, pay-as-you-go, become a monthly member or get an annual pass. What's nice about this particular bike sharing company is its proximity to the water. Nothing quite like being able to ride your bike up and down the beach. Then, once you are done riding along the bike paths, you can head into the city for a little shopping or to fuel up and head back out again.
Cost is right on par with other bike shares at $7/hour. Monthly plan is $25/month and yearly is $99/year. Each plan comes with 90-minutes a day of ride time. Students can receive a significantly discounted rate of $7/month.
4 – Ford GoBike in San Francisco and the Bay Area:
The next bike sharing company we wanted to mention is Ford GoBike. This particular program is available to tourists, college students and locals alike. Ford GoBike can be found in five different cities throughout the Bay Area: San Francisco, Oakland, Berkeley, Emeryville and San Jose. In these areas, they have a total of 540 convenient stations and 7,000 bikes. This makes it easy to get around town and do a little sight-seeing without having the contend with traffic or worry about parking. Students can use bikes instead of having to buy a car to get around. Bike sharing is a fun and green form of exercise too.
Ford GoBike also has a mobile app, making it easy for people to find docking stations nearby with bikes ready to use. All you do is get on the app, pay, unlock, ride and return.  Single, one-way trips can cost as little as $3 and a day-pass is only $9.95 (unlimited 30-minute rides for a 24-hour period of time). Annual membership is $149/year.
5 – Zagster (throughout California and the U.S.):
Zagster is apparently the market leader for bike sharing in the United States. This company hasn't limited itself to any given area or state. It has more than 200 bike sharing programs in 35 states. While some of its bike share locations are traditional docking stations, Zagster also offers "Pace" which is a dockless bike sharing service for cities and universities. Like the programs mentioned before, Zagster has a mobile app which makes using their service quite simple: create an account, join one of the ride shares near you, find a bike, use your bike, enjoy your ride and return it when done.
Cost is minimal with trips under two hours being free, then $1/hour after that. If you have the bike for 24 hours, it's $24. Only downside is if Zagster doesn't have a bike share near you. If this is the case, you'll probably want to urge your company, city or local university to get one asap!
Next Level in Bike Sharing
In addition to traditional bicycles being available through bike sharing programs, one company in particular is set to launch the largest electric bike-share system in the U.S. According to nextcity.org, Social Bicycles (SoBi) has been working with a few cities in and around Sacramento, California to bring this plan to fruition. Their plan is to start with 300 electric bikes and add another 600 a month or two later. In total, they expect to have 900 electric, pedal-assist bicycles available through their bike share program.
Finding a Bike Sharing Company Near You
If you're looking for a green transportation option to get you around town, we recommend checking out a local bike sharing program. It's eco-friendly, fun, affordable and friendly to the environment. To get started, you can visit bikeshare.com to find a program near you.
If you have a favorite bike sharing program near you, let us know.
Have fun and happy riding!