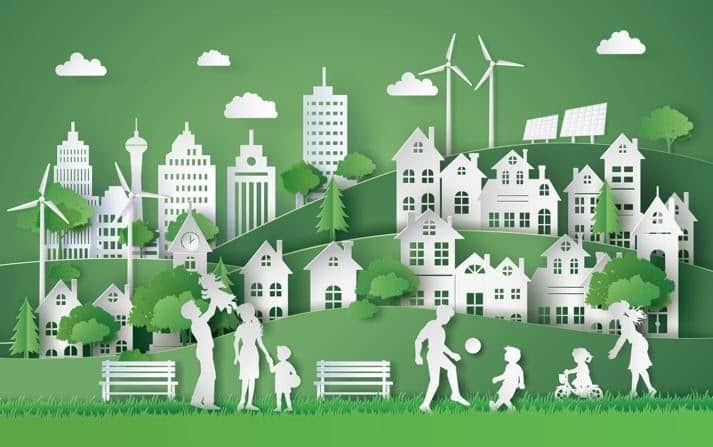 8 Innovative Cities using Technology to Reduce Energy Use
High pollution, energy shortages and the depletion of natural resources have caused many of the world's major metropolitan areas to rethink energy usage. City leaders are partnering with energy companies, environmental groups, technology developers and engineers to devise strategies for reducing energy consumption while creating cleaner urban environments.
Although much of the world still has a long way to go to undo the effects of cities' carbon footprints on the planet, leaders in larger cities are developing innovative strategies for providing electrical power, clean water, eco-friendly transportation and efficient operations. 
Let's take a look at what the world's leading cities are doing to reduce energy use.
1. Boston, MA
The Renew Boston Initiative has placed the city among the energy elite worldwide. Boston leaders have instilled community-wide programs and partnered with local utility partnerships to reduce energy consumption in a wide range of areas including wind turbines, solar panels and recycling. Boston has replaced standard street lights with LEDs. Its underlying objective is to entirely rely on renewable energy systems that are both human-produced and completely organic.
2. Reykjavik, Iceland
Most experts place Reykjavik, Iceland at the top of the list of the world's most efficient cities. Reykjavik benefits from renewable hydropower and geothermal plants scattered across the city. Energy-efficient solutions such as these provide hot water, heat and plenty of electrical power for a population over 120,000. Space heating and hot water come from the Nesjavellir geothermal power station. All of this is part of a 2050 fossil fuel-free initiative that also includes hydrogen-fueled buses.
3. Malmo, Sweden
Malmo has experienced a 25 percent decrease in fossil fuel consumption in recent years. The city also turned a former shipyard into a housing complex for over 10,000 people. The facilities are powered through wind, solar and water energy. Also, they're making plans to improve waste management services, reduce transportation dependence through car sharing and cut back their electricity consumption with solar technologies. 
4. Vancouver, Canada
Six years ago, Vancouver released its plans for a massive city-wide energy overhaul. The goal was to become the world's most energy-efficient city by 2020, and they're well on their way. Like Reykjavik, Vancouver is dependent upon hydroelectricity to power 90 percent of its residential and commercial properties. What makes Vancouver unique is how many of its citizens ride bikes and carpool to work. The city has even made concessions for commuters by adding over 250 miles of bike lanes and particular areas where drivers can park and share the ride.
5. London, England
Like New York City, London often gets a bad rap as being a city plagued with pollution. All that changed in 2005 when the city launched a cleanup campaign through its famous Climate Change Action Plan. At the heart of the plan is home efficiency. Currently, London has 10 of the 25 fully-operational offshore wind farms. London also has one of the most stringent tax laws and penalties for fuel-based automobiles. The result has been a 60 percent reduction in CO2 emissions.
6. Copenhagen, Denmark
Although Reykjavik leads the world in clean energy, one could argue that Copenhagen, Denmark is the world's cleanest city. Denmark has one of the planet's largest wind farms powering over 90 percent of the city. They also lead the world in green roofs that cover the city skyline. Since 2010, all buildings with flat roofs are required to have green roofs.
City leaders developed a wide range of solutions for the roofs to absorb rainwater, implementing waterproof enclosures that house innovative technologies to redirect water from sewers and drains. Their focus has been primarily to clean up dense urban areas.
7. Olso, Norway
Bio-methane generated from waste is what powers 80 percent of Oslo's heating systems. The goal is to be utterly free from fossil fuels over the next decade. Oslo is also taking advantage of smart automated technology by completely transforming their city lighting system. Lights are programmed to turn on and off at certain times during the day and night. It has reduced energy costs by over 50 percent. Oslo is among many cities aiming to be carbon neutral over the next 20 to 30 years. They've also stimulated the electric vehicle industry by offering incentives for drivers to purchase EV transportation. 
8. San Francisco, CA
San Francisco consistently ranks as one of the cleanest cities in the U.S. They are also one of the most innovative cities in the world. San Francisco benefits from strict regulations set by the state of California. The city has utilized a broad spectrum of automated technology and energy-efficient systems to save money, energy and keep the city clean. Improvements include clean-air vehicles (especially the bus transit system), an advanced water treatment plant and the use of LED lights wherever possible.
While many attempts at creating more energy-efficient systems are still in the beta phase, one thing is clear. Leaders in many of the world's cities recognize the need for creating sustainable, clean solutions.
The world's growing population can no longer survive on conventional methods. It's time for a radical paradigm shift with a new approach for providing urban communities with necessary resources for daily living. Hopefully, many of the world's major metropolitan areas can follow the example set by the cities mentioned above. If so, we'll all benefit from using less energy and living on a cleaner planet.
Kate Began serves as the Sales and Marketing Manager for Polycase at their Avon, OH headquarters. Kate is an avid Cleveland Indians fan, she recycles whenever and wherever she can – at home and at work. She protests against straws and single-use plastic bags. Additionally, as her company is located near Lake Erie, she participates in beach clean ups to keep the local shores trash-free!