7 Bio-Friendly "Camping" Destinations
As we enter Spring and head towards Summer, camping is often the vacation of choice. Who doesn't have memories of going camping with their family? I sure do and I hope you do too, because camping is a great way to get outdoors and connect up with nature, to bring you and your family away from the hustle and bustle of everyday life and to enjoy the great outdoors. In celebration of the great outdoors, here are a few ideas for bio-friendly camping destinations:
1) Maho Bay Camps: Located in the U.S. Virgin Islands National Park is the Maho Bay Camps. The Maho Bay Camps actually opened back in 1976 and were a premier eco-resort before there were eco-resorts.
Originally there were only 18 tent-cottages, all built by hand construction methods so as not to disturb the natural beauty and environment. Now there are 114 units nestled amongst the trees and foliage to help provide privacy and to help blend in. Wooden walkways connect the units with the shared bathrooms, which of course contain low-flush toilets and pull-chain showers. Both of which are connected to a recycling system that provides irrigation for the nearby plants and trees.
2) Concordia Eco-Tents: This next destination grew out of the popularity of the Maho Bay Camps. The Concordia Eco-Tents were added as a new and additional destination about 25 miles from Maho Bay.
Each of the 25 eco-tents has an ocean view, private bathroom, sink, deck and are powered by solar energy. Due to the screened windows, the eco-tents allow campers to be as close to nature as possible without actually sleeping outdoors. Although you could probably sleep on your private deck, if you wanted.
3) Chepu Adventures Eco-Camping: Chepu is a rural village of little over 200 people. Located on the west coast of Chile, Chepu is surrounded by 5 rivers, an evergreen forest, wetlands, dunes and the beach on the Pacific Ocean.
The Chepu Adventures Eco-Camping offers only 4 camping sites for your privacy and to protect the environment. A 2 KW wind generator powers the outdoor lighting, a solar water heater heats the 3-minute showers and all organic waste is composted.
If one of the camping sites isn't for you, they also offer little dorms that can accommodate up to 4 people each. Basically it's a single room with bunk beds. If you want your own private bathroom, a cabana is probably the way to go.
4) Mayne Island Eco-Camping: This one I like, even if it's mainly for the great outdoor tree shower. Mayne Island Eco-Camping is a private campground that not only offers a choice of oceanfront or forest sites, but they offer outdoor showers and outhouses as well. Their campground is laid out so you can be close to nature and the wildlife that inhabits Mayne Island.
Like most eco-campgrounds, if you don't feel the desire to sleep right up against nature, you can always opt for their Seal Beach B&B or Cottage. Neither appear to be especially bio-friendly, however, so personally I'd stick with the eco-camping. Besides how often do you get to use an outdoor tree shower?
5) Alentejo Adventure: Set in the Alentejo region of Portugal, in the Serra da Sao de Mamede Natural Park, the Alentejo Adventure is truly designed to get you connected back to nature.
They have their own private lake, which is filled from natural mountain streams. Bird-watching and checking out the local wildlife is a favorite past-time in this area due to the location being a little further off the beaten path.
Additionally, an indigenous tree will be planted for each guest car. However, with so many winding trails and areas to explore, there is no real need for your car while you are staying there.
Your camp consists of a "Soul Pad" tent placed in the middle of your own private meadow, by a mountain stream or possibly near the olive trees. Any location puts you right up to nature so you can experience the full outdoor experience.
One of the very cool things about the Soul Pad is that when it is opened up, it appears to be floating. The walls can be moved up or down to let in more or less air as you see fit.  Each Soul Pad also comes with a futon bed, stylish furnishings and solar lighting.
Bathroom facilities are nearby in a centralized wet-room which includes a shower, toilet and sink. All used water then goes to irrigation for the gardens and trees.
6) ECOCAMP® Patagonia: Located in Torres del Paine National Park, EcoCamp has become a widely recognized symbol of eco-camping destinations.
The dome-shaped tents were designed after the traditional Kawesqar dwellings, which were usually built using organic materials found on site.
Each dome is laid out to be close to nature, like in a regular tent, but with the extra amenities of a high-end hotel. The domes are not meant to stand out, they are meant to blend in to their natural surroundings. And since each is completely portable, the domes are removed every winter to let nature take its course.
You can take a look at this promotional video for more information on what EcoCamp® Patagonia offers: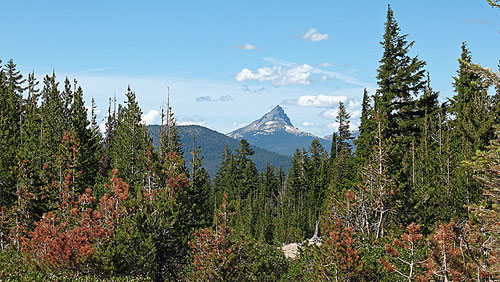 7) A Dispersed Campground: This last one is a kind of "do it yourself" camping destination and probably the most bio-friendly one of all.
Rather than traveling out of state or even going to a pre-designated campground, try dispersed camping in an area close to home.
Dispersed camping is camping on public lands, but not in designated public/private campgrounds. It's the ultimate way to rough it and really connect up with nature. And there is no reason to travel long distances to enjoy your dispersed camping destination, when closer more fuel-efficient methods are available.
One key thing, if you are going to do some truly bio-friendly camping, is to ensure you don't leave any trace you were there. When you are done camping, clean up and remove ALL evidence you camped there. That way it will be just as beautiful for the next people. Also don't forget to check in with the U.S. Forest Service or the Bureau of Land Management to see if you need any special permits or there are any specific guidelines you need to follow.