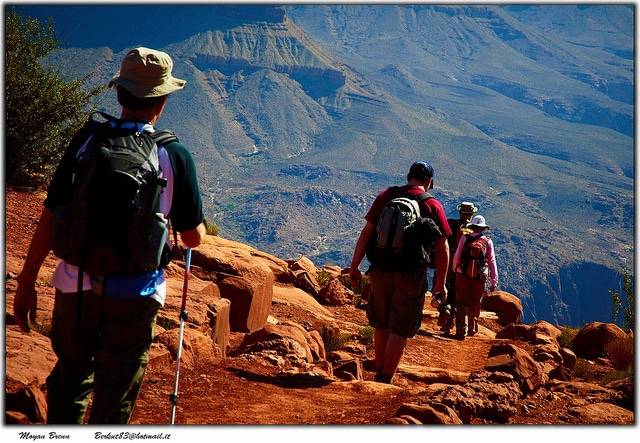 11 Biofriendly Ways to Reconnect With Nature Before Summer is Over
Although fall doesn't officially start until near the end of September, kids are going to be heading back to school soon, officially ending their enjoyable summer break. Rather than spending the rest of summer connected to their computer, video games or the television (yes, this goes for you too), here are some biofriendly ways to reconnect with nature before the summer ends.
Image by Moyan Brenn
Hiking: Hiking is a great way to get outdoors and enjoy the afternoon. Hiking through the woods or on predefined trails is a smart and fun way to get some fresh air, sun, exercise and really be able to experience the beauty Mother Nature provides.
Image by Gordon Bell
Walking: If hiking isn't really your style then why not go for a walk? You can walk alone, walk with friends, walk with family, or really whoever you think would be a good walking companion. Take the time on your walk to breath in some fresh air, look around at the trees, birds, clouds, etc. and definitely take a moment to smell the flowers.
Image by biofriendlyblog
Bike Riding: It doesn't matter how old you are, kids and adult alike, seem to have a fondness for going on a bike ride. It's a simple way to get exercise while getting outside. Let's face it, if this guy is still out riding a bike at 103, then we should be too!
Image by Lorenzo G
Climbing trees: I'll admit, climbing trees was a childhood favorite of mine. There was nothing quite as fun as being able to climb high above the world and lookout over everything below. Do you still climb trees? Do your kids climb trees? I say, let's go climb a tree!
Image by mizrak
Swimming: What better activity is there on a hot day than going swimming? Even with the sun beating down, you can still have fun in the water. You get my kids around water and the only trouble you have is when it's time to get them out. Plus, activities such as this make us want to take steps to preserve what we have for future generations.
Image by Loren Sztajer
Kayaking: Another way to enjoy the wide open space of a lake or the ocean is to go kayaking. You can coast along soaking in every view around you or paddle a little faster to get your heart pumping. Either way, kayaking is a fun way to reconnect with nature.
Image by USDAgov
Gardening: Gardening is something anyone can do. No matter your physical condition nor the amount of time you think you have to spend outdoors, gardening is a quick and simple way to keep you connected to nature. Plant some herbs, plant some vegetables, even plant some flowers. The key is getting down and dirty!
Image by Alexander Acker
Cloud watching: Okay, be honest here. When was the last time you simply laid back outside and did a little cloud watching? Do you remember doing that when you were a kid? I sure do! I still do it today, especially because it's a fun activity to do with the kids. Try it and you'll see!
Image by Chris Gehlen
Rock climbing: For those of you who are experienced climbers or even those who want to learn how to rock climb, now is the time. Get outdoors, start climbing some rocks. Use nature as your guide and stepping stone to the top. Please be sure to exercise caution, however, as rocks can be pretty hard-headed or hard on the head.
Image by Rob Lee
Camping: Camping is a wonderful way to connect with nature. Whether you sleep in a tent or simply lay your camping bag out under the stars, camping brings us a little closer to nature. While you are camping, please remember to keep these principles in mind. Leaving no trace is an important part of protecting and preserving nature for those who will come behind you.
Image by mking1783
Stargazing: Another great way to connect with nature is to lay down and do a little stargazing. Yes, you are looking up to the heavens and the sky above, however, when you realize just how great this universe is, maybe some of the smaller things which keep you away from nature won't seem quite as significant.
Of course in order to do any of these activities, you are going to have to pry yourself away from your computer or other "must do" chores. Remember, the time to get outside is now. Before you know it summer will have passed you right on by and we don't want that to happen!
"You will find something more in woods than in books. Trees and stones will teach you that which you can never learn from masters." – Saint Bernard
With those words of wisdom, what is your favorite biofriendly way to connect with nature? Leave a comment below in order to share your great nature-connecting ideas!