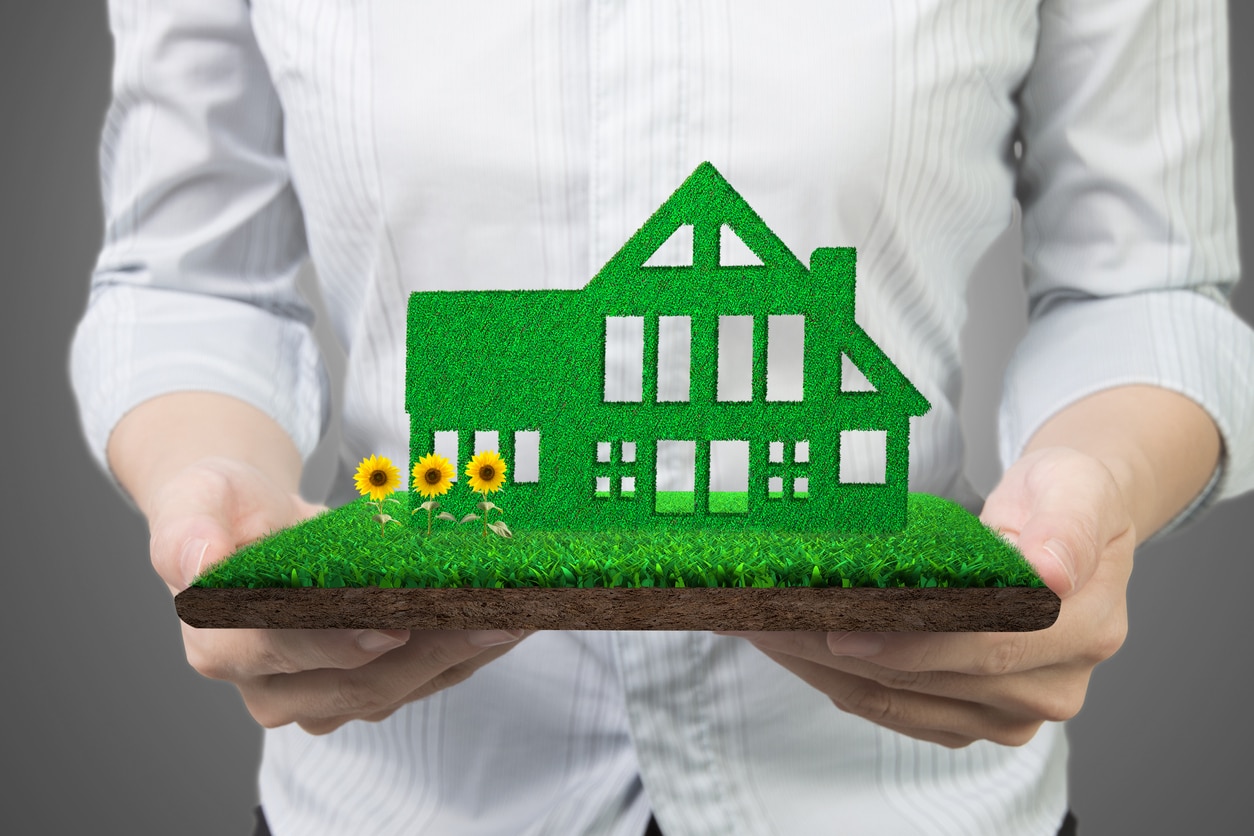 Your Guide to Planning and Building a Green Home Without Breaking the Bank
The current status of the climate and economy is prompting many to consider switching to greener living. The market is flooding like never before with options for energy-efficient appliances, water-saving fixtures and eco-friendly building materials. Building a green home on a budget can help you achieve your goals, whether you're hoping your new build will save you money down the road, you want to do your part for the planet or a little of both. 
Is Building the Right Choice?
Before you dig into building your dream eco-conscious home, you should determine if it's truly the best option for you and your goals.
Those who desire to trade out their less-than-green home and start from scratch with a better design might be missing the big picture. The materials in your current home, while not eco-friendly, were already wasted. The best thing you can do is to continue using them to their fullest potential. Moving forward, you could upgrade and retrofit your home with green technology. 
Building a more sustainable home from scratch may be the most sustainable option if you rent or have to move. You'll want to follow best practices for building and saving green in these cases.
11 Tips for Planning a Budget-Friendly Eco-Home
Building any house is a long, complicated and expensive process, especially when constructing a green home on a budget. These tips will help keep you on track with your spending and eco-friendly goals.
Set a Budget 
This essential first step is important for any build — without a set budget and plan, it's all too easy to spend more than you have and stall your project partway through. Some contractors won't even take on your build if you haven't done thorough homework before talking to them.
Leave some wiggle room for unexpected expenses when planning your budget, like when your well needs to be dug deeper than expected or the project goes past the estimated deadline. Otherwise, any of these costs could keep you from finishing your home.
Choose Essential Features
Once you've determined your budget, you'll know how much you can realistically put into your home's green features. You may have to decide where your priorities lie and choose the elements most important to your needs and goals.
Will you splurge on the south-facing lot for extra sunlight or upgrade to water-saving plumbing fixtures? Odds are at least one or two items will have to go from your original wishlist.
Get Professional Designs
Most of the green building process happens before you even hire a general contractor. Earning LEED certification can be challenging, so if it's one of your goals, you should work with a qualified architect to draw up your plans. Find someone who's worked on eco-friendly homes before and review their credentials and past projects.
Once you've selected someone, you can work together to create a home that suits your green and aesthetic needs while adhering to strict build and sustainability certification guidelines.
Select a Good Location
The orientation of your lot and your new build can significantly impact your overall energy efficiency. Heating and cooling make up a large portion of monthly energy consumption, so reducing those costs as much as possible makes sense.
A south-facing home will let in the best light while reducing your cooling costs over east-to-west windows. Solar panels should also be situated toward the south to absorb the maximum amount of light possible. 
Find an Eco-Friendly Contractor
Choosing the right contractor can make or break your budget. You want someone you can trust who'll stick as close to your initial funds as possible. Look for an out-of-the-box problem-solver who can help you get the most sustainable bang for your buck. You should hire someone who's worked on green homes before. They can recommend solutions you may not have even considered.
Before hiring your general contractor, ask about previous projects to see if they came in at or over budget.
Source Local or Recycled Materials
Transporting materials across the state or country expends a significant amount of energy. Sourcing local products instead can reduce your home's embodied carbon footprint — which encompasses transportation, manufacturing, installation and disposal of construction materials. You'll still have to stick within the confines of your budget. However, you may get products cheaper if you stay closer to home, since no one will need to pay for shipping. 
You could also look for possibilities to recycle materials into this project. You can ask your general contractor if they save items from previous work to reduce waste. You may be able to purchase those at a reasonable discount. Another option is to check with your local recycling center or shops specializing in upcycling building materials. Your steps will keep usable products from landfills and save money. 
Add Sustainability to the Contract
At this point, you're almost ready to begin the building process. You've set your budget and expectations for the project. Still, you have one more step to complete before you move forward with your general contractor. Add your green home preferences to the official agreement between all parties. You can stipulate the types of materials they can use and the waste removal methods.
Rent Construction Equipment
Over half of the nation's contractors and DIYers rent their equipment rather than buy it, and researchers suggest that number will continue to rise over the next few years. Some people may prefer a contractor who owns all his tools. However, renting them is much more environmentally friendly. They always have access to the newest energy-saving upgrades and don't need to spend resources maintaining a partially used fleet.
Choose Green Materials and Appliances
Certain items in your home are worth splurging on. For example, upgrading your insulation may cost a little more upfront, but it can save you loads in energy bills. Other smart options are energy-efficient windows and appliances.
You can even analyze the building materials you choose, like green alternatives to standard concrete or bamboo floors instead of hardwood.
These small changes make a significant difference in your home's energy efficiency and sustainability. Often, green materials even cost less than their "premium" counterparts.
Look for Tax Breaks and Incentives
You may be eligible for tax breaks and monetary incentives for completing a green build that meets specific standards. You should check state and federal regulations for these awards. Commonly, you'll find rewards for becoming LEED-certified and installing solar panels. 
Most programs have many hoops to jump through, so it's best to plan for them from the project's beginning. Check in frequently with the requirements and your general contractor's progress to ensure you meet all expectations.
Recycle Construction Waste
You've put all this work into meeting specific eco-friendly standards and building a green home of which you can be proud. Don't ruin all that progress by letting your general contractor send all the construction waste to a dump. Talk with them ahead of time to see if you can compromise on waste removal. See if leftover materials could be used in a future project or recycled at the very least. This small step will help lower the embodied carbon of your green home build. 
Sustainability Meets Affordability
You may look at your budget and wonder how you could afford to build a green home. However, sustainability and affordability aren't mutually exclusive outcomes — you can achieve both with careful planning. Prioritizing the upgrades that mean the most to you and following these tips will set you up for success. By the end, you'll have an eco-friendly home you can be proud of and some money left in the bank.