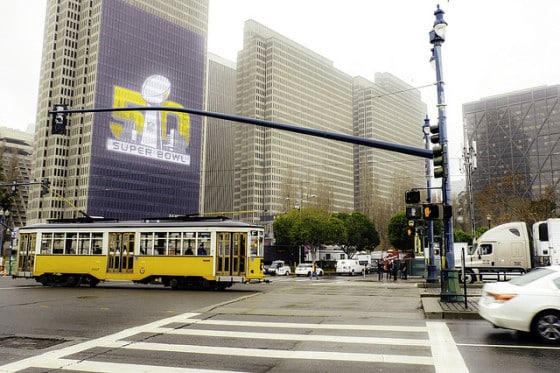 Sustainability and Super Bowl 50
With millions upon millions of eyes focused on the San Francisco Bay area and Super Bowl 50 this weekend, and game-watching parties happening all around the world, It raises the question of the sustainability of the big game. The Super Bowl is not exactly one of the greenest and most eco-friendly events in the world, however efforts have been made in recent years to lower its environmental impact.
According to the SF Bay Super Bowl Host Committee website, this year's host committee has been focused on:
Reducing its impact on climate change
Being responsible in its use of resources and materials
Striving to be an inspiration to fans and encouraging personal sustainability (take the pledge to play your part)
Doing what it can to leave a positive legacy for the surrounding region
What Exactly Makes Super Bowl 50 More Sustainable?
While the host committee apparently working hard to reduce its environmental impact, you may be wondering about the specific actions being taken to make Super Bowl 50 more sustainable. These are just a few of the actions which contribute to a more sustainable game:
Buildings: Levi's Stadium is the first LEED gold-certified pro football stadium and Moscone Center, the convention center being used to house The NFL Experience, is also LEED gold-certified.
Tree-Planting: The Host Committee, NFL, Verizon and American Forests have partnered up to plant 28,500 trees on behalf of Super Bowl 50 to help make it a greener event. This should be enough trees "restore a forest equivalent to the footprint of Levi's Stadium."
Carbon Offsets: In addition to the above, carbon offsets are being used to balance out unavoidable emissions.
Public Transportation: Increased service levels will be ongoing through February 8th, which includes the Golden Gate Ferry, BART, WETA, and Muni. A 'Fan Express' charter bus is also available for transport to and from Levi's Stadium. Those who want to ride their bikes, can take advantage of the bike valet offered by the San Francisco Bike Coalition. Using public transportation and leaving your car at home is encouraged, whether you're going to the game or not.
Energy: PG&E has partnered with the Host Committee to make it possible for Super Bowl City to run on clean, renewable power. Generators will be running on renewable diesel to help improve air quality and lower harmful emissions. Hydrogen Fuel Cell generators will be featured as well.
Food: Concession stands will serve locally-sourced food, in addition to having organic options available throughout Super Bowl City. Food waste will be reduced by having a food recovery program in place to collect food which would usually be wasted and take it to local food banks.
Water: Fans are being encouraged to bring their own reusable water bottles so as to take advantage of the water stations throughout the Super Bowl City. Irrigation is done with 100% recycled water.
Waste: No single-use bottles will be available in Super Bowl City. Compostable serviceware will be used to serve all food and beverages. Waste management will help divert waste from landfills. The NFL, Host Committee and other community groups will be running a materials recovery program to make sure materials are collected, recycled and upcycled.
Here are a few more of the actions being taken to create a green legacy for the San Francisco Bay Area.
What You Can Do to Make Your Game Day Activities More Sustainable
With all the actions being taken by the NFL and the SF Bay Area Super Bowl Host Committee, we wanted to provide you with some simple ways to make your game day activities more sustainable:
Opt for reusable plates, cups and silverware rather than one-use items.
Choose organic, locally-grown and fresh food over prepackaged items.
Only buy the food you are actually intending to use. Instead of going way overboard on food for the big game, buy and make what you think you and your guests will really eat.
Be sure to save and properly store any leftovers, as well as send food home with guests.
Carpool with friends. If you're planning a viewing party, carpool with family or friends. No need to bring three cars when one will do. If you can take public transportation, walk or ride, that's even better.
Let nature air out your home and your food preparation provide a fresh, welcoming scent. Leave the toxic air fresheners in the store.
Regardless of how big your game activities are planned to be, or which team you want to win, a few simple actions can make your day much more sustainable. It doesn't take much, but it does make a difference. Choose sustainability!