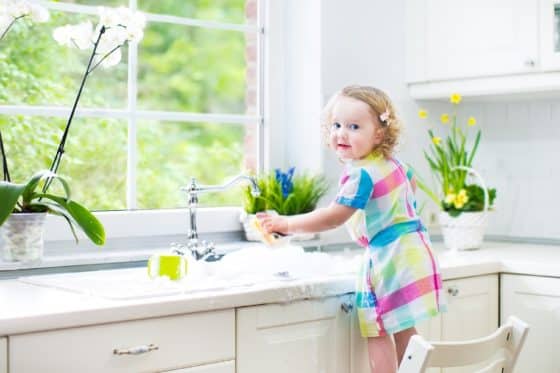 Organic, Natural DIY Cleaners Benefit Health and Home
When it comes to cleaning around the house, organic and natural DIY cleaning products benefit both health and home. You might as well not even think about using most store-bought cleaning supplies as many of these have lots of chemicals or toxins. In fact, a recent article from Fortune revealed a recent study showed prolonged use of cleaning products can be as bad as smoking a pack a day.  So, if you are one of those people who likes to keep their home neat and tidy at all times, organic and natural is definitely the way to go. Even if you only clean now and again, or maybe like to do a big Spring cleaning and then just keep things in maintain the rest of the year, making your own cleaners is far more beneficial.
Benefits of Using Organic, Natural Cleaning Supplies
Organic, natural cleaning supplies have countless benefits. Not only are these types of cleaners less harmful to the environment, less damage will be caused to the areas you are cleaning. For example, cleaning a wood table with a chemical cleaner can cause long-term (and sometimes even short-term) damage. Using natural products can help you achieve a gorgeous shine and pleasant smell. Plus, in a lot of cases, you can actually prolong the life of your stuff by taking care of it properly.
Organic cleaning products can also help improve indoor air quality in your home. Instead of spraying a bunch of chemicals around to try and get your house smelling like flowers, citrus or the great outdoors, you can use natural ingredients to achieve the same results. You may not realize it, but all you really need to make a fragrant indoor air freshener is a glass spray bottle filled with a half and half mixture of infused vodka (using orange or lemon peels, vodka and fresh herbs) and distilled water. If you want, you can even add a few drops of orange or lemon essential oil to heighten the smell. Shake it up and spray away. In fact, in this recipe, any citrus will do. You could opt for other scents as well. Just make sure you use organic and natural ingredients.
Using organic and natural cleaning supplies is more pro-survival for your health and the health of your family too. Why would you want to spray chemicals into your home or use products containing harmful toxins? Instead, use products you make yourself. Use organic foods and natural materials. This way you know exactly what is in the ingredients and you'll be able to avoid those which could potentially cause harm. Organic cleaning supplies means your kids can join in on the cleaning too. Make it a whole family affair!
7 Natural, Organic DIY Cleaning Solution Recipes
While I'm sure you can find countless DIY cleaning solution recipes online, these seven are a few of our favorites. These are also quite easy to make. In addition to the vodka-infused, citrus air freshener mentioned earlier, you should try one or more of the following:
All-purpose cleaner (good for cleaning pretty much everything except glass): Take a 16 ounce glass spray bottle, add in 3/4 cup of water, 1/4 cup rubbing alcohol, 5-10 drops of either peppermint, lemon or orange essential oil and a squirt of natural dish soap. Shake it up well. Spray onto the surface you want to clean and wipe it up with a microfiber towel.
All-purpose disinfectant: Combine 1/2 cup vodka, 1/2 cup vinegar, 10 drops of both lavender and lemon essential oils. Top off the mixture with 1 1/2 cups water. Put entire mixture into a glass spray bottle and use to disinfect counters and other areas of your home.
All-purpose wood polish: To make 1 cup of cleaner, simply add 3 parts olive oil and 1 part vinegar. Then take an old t-shirt or soft rag and use it to rub the mixture onto your wooden furniture.
Tub/shower cleaner: Add 1 part water, 1 part white vinegar and a few drops of your favorite essential oil to a glass spray bottle. Shake up the mixture and spray it around the tub, concentrating on areas where soap scum has accumulated. Leave it for a few minutes, scrub and rinse. Repeat as necessary.
Toilet cleaner/deodorizer: Add 1/2 cup of baking soda, 10 drops of tea tree oil and 1/4 cup of vinegar to your toilet bowl. Start scrubbing right away. This mixture will help clean and deodorize all in one.
Kitchen cutting board sanitizer: Sprinkle coarse salt on the surface you want to clean/sanitize. Rub it in with half a lemon. Let it sit for about 10-15 minutes, then rinse it off. NOTE: Salt also works well as a degreaser for pots and pans. Got cast iron? Add a little olive oil after the salt, then scrub away.
Microwave cleaner: Pour 1/2 cup water into a microwave-safe bowl. Squeeze 1/2 a lemon, lime or orange into the bowl. Toss the rinds into the bowl as well. Place the bowl into the microwave for three minutes. Keep the microwave door closed for another five minutes. Open the door and carefully remove the bowl. Don't toss the ingredients yet. Wipe the insides of the microwave with a dish towel. Afterwards, you can dip the towel in the bowl and use the infused water to help scrub away stubborn stains.
In addition to the above recipe ideas, you can check out these 20 eco-friendly ways to spring clean your home, particularly if you plan on doing a thorough house cleaning. The list includes ways of brightening yellowed linens with lemons and salt, deodorizing your fridge with stale coffee grounds and lots more.
Whatever you do, remember the purpose of cleaning your home is to actually get it clean. Adding harmful toxins and chemicals into your home does not achieve that objective. Use organic, natural cleaners to fully benefit health and home.