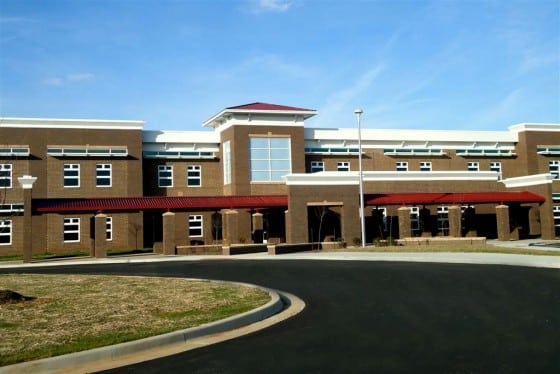 Net-Zero 'Ready' Schools: Energy-Efficient Design at a Whole New Level
Jody Richards Elementary photos courtesy of Sherman Carter Barnhart
A few years ago I wrote a blog about Richardsville Elementary School, the first Net-Zero Energy public school in the United States. Well, it's been almost two years since that incredible accomplishment, so I figured it was due time to give you an update on Richardsville Elementary and Sherman Carter Barnhart's (the green architects who designed the school) latest endeavors.
After Sherman Carter Barnhart's first net-zero energy design, they decided to take energy efficiency to a whole new level in order to make it easier for net-zero schools to be built by providing them with a Net-Zero 'Ready' Design.
In fact, Sherman Carter Barnhart is responsible for designing five out of the seven most energy-efficient schools in all of Kentucky. One of the schools, which has been in operation for three years now averages 28 kBtu's per sq ft annually. (Note that the average for schools in that region is 73 kBtu's per sq ft annually.) Another school boasts a 19.5 kBtu/sf/year, while one of their most recent Net-Zero 'Ready' schools, Jody Richards Elementary, has a projected annual energy use of just 17.5 kBtu/sf/year.
Now you may be asking yourself what Net Zero 'Ready' Design really means. As Sherman Carter Barnhart describes it: "In order to be considered Net-Zero 'Ready,' a building must operate at or below 25 kBtu/sf/year and incorporate infrastructure for a future renewable energy source. The lower the annual energy use of a building, the less renewable energy required."
Some of the key design features that go into a Net Zero 'Ready' school are: site design and building orientation, energy-efficient systems, daylight harvesting, healthy kitchen design, renewable energy structure, and life cycle evaluation.
In total, energy-efficient designs, green construction measures, savings policies and more have contributed to Warren County schools saving over $5.9 million in energy costs since 2003. Just take a look at the solar power output and MWh being produced currently by Richardsville Elementary School alone.
Richardsville Elementary School has done so well that students from the school recently attended the National Energy Education Development Youth Awards in Washington D.C. to accept an honor as the "Kentucky School of the Year" and were given a plaque as a finalist for the "National School of the Year".
Earlier in the year, the school was one of the first schools in the U.S. to be recognized by the U.S. Department of Education as a Green Ribbon School. Richardsville Elementary is also registered with the USGBC for LEED® Gold Certification and they are considered a high performance school.
Jody Roberts Elementary was built using similar design strategies to those employed at Richardsville Elementary, with the added feature of having the infrastructure put in place to be able to install solar panels in the future.
In the interim, however, the school will be able to effectively operate at around 20 kBtu/sf/year. Another added bonus is that these green and Net-Zero 'Ready' features were built at a cost of $144/sq ft, whereas the state allocated budget was $203/sq ft. That's a saving of $59/sq ft by going with the green, Net-Zero 'Ready' design.
In my opinion, all schools should have such features in place. I mean think of the advantages…energy savings, reduced operational and maintenance costs, a healthier indoor environment for students and teachers, it's better for the environment, a teaching tool for sustainability, not to mention the possibility of being able to receive renewable energy grants and incentives.
I know many of the schools near me have recently been incorporating solar technology, environmentally-friendly measures and other green initiatives, but the Net-Zero 'Ready' designs truly are taking energy-efficiency to a whole new level.