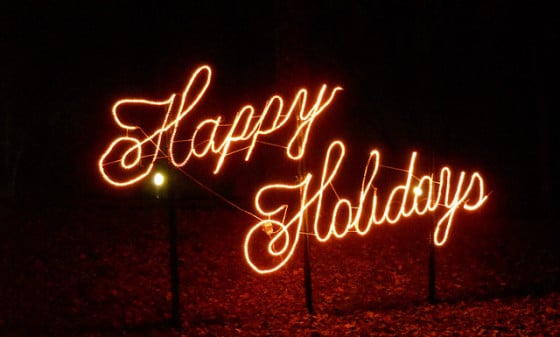 Holiday Shopping Ideas That Will Help End Your Year on a Green Note
It's that time of year again. Time to cherish every moment with family, friends and loved ones. Time to show others how much you care and time to plan for the holidays (if you haven't done so already). For those of you who plan on giving gifts and other physical mementos, you may have already begun your shopping on Black Friday or Small Business Saturday. Perhaps you are anxious to get shopping today on Cyber Monday. Some of you may even be waiting until the last minute to get those items you need. It doesn't matter whether you already have a fully laid out plan or you are in desperate need of some shopping ideas, here are 10 green holiday gift ideas I truly believe are worth considering:
Opt for thrift stores and other consignment-type shops. Why buy new when you may be able to find what you are looking for, or better, at a thrift store? What is one man's trash is another man's treasure, right?
For those of you who have friends who love to throw holiday parties or even go to holiday parties, you are going to want to make sure they have a copy of the Holidazed Cocktail Cookbook in their hands. Oh, and while you are on the site, don't forget to check out all of Jerry's incredible holiday recipes. You will be glad you did.
Not all of your family and friends need or want more stuff sitting around their homes. Instead of wasting money on gifts that will never be used, how about making a donation to a good, green cause on their behalf? Here are 5 green causes for holiday gift donations. You can find out which of those they would like best or find another cause near and dear to their hearts.
In the past re-gifting has always been considered a little "taboo", but times have changed. Now re-gifting is much more acceptable and in all honesty, if you aren't going to use it yourself then why not give it to somebody who will use it? That way nothing goes to waste.
Know before you go. When it comes to shopping over the holidays, you want to do your homework ahead of time. Using a smartphone app can help you save time and money. There is no reason to drive around town when you can do all your research online and using one of these 5 shopping apps to get you the best prices.
If you are good with your hands or have a knack for arts and crafts, then you might want to consider one of these 16 DIY holiday gifts for everyone on your list. There are some great ideas here and DIY is so much more fun and creative than buying brand name. If you want a unique, one-of-a-kind gift, this is the way to go.
If you aren't particularly good with the DIY stuff, but you are looking for jewelry or other items that your loved ones will enjoy, opt for handmade jewelry from an individual or small business. My friend Tracy has her own jewelry business and she can make necklaces, earrings, bracelets, key chains and so much more. She also donates a percentage of her sales to various worthy causes. Check her out at Juicybeads Jewelry.
Shop local. Whether you are buying food, clothes, handmade goods or other items, it is always best for your community that you shop local. Finding individuals and businesses who also use local materials in the production of their goods is even better!
Last but not least, we all know that sharing is good….don't we? Okay, well most of us do. So, as an added extra bonus for some ideas that will help you end your year on a green note, I recommend you check out Beth Buczynski's latest book Sharing is Good. It will help you learn more about how to save money, time and resources through collaborative consumption. I hope you use these shopping ideas well. You and yours have a wonderful and biofriendly holiday season!
Happy holidays image by fauxto_digit and fruit shop image by Matt Browne via Flickr Creative Commons