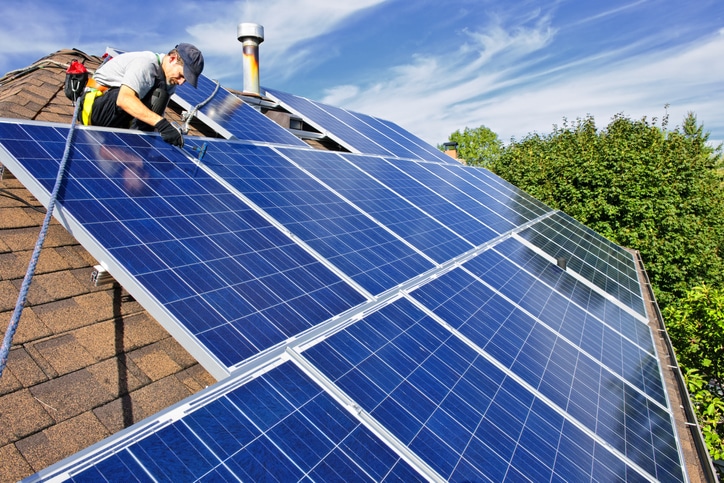 Green at the Top: Ideas to Make Your Roof Eco-Friendly
The roof is the one part of your home that isn't often thought about in terms of its eco-friendly possibilities. But, if you make the right choices, your roof can help boost the environmental benefits of your home. So, it is important to understand the various strengths and weaknesses of each type of roof. Here, we present a range of green ideas to make your roof eco-friendly and help you establish which one is the best choice for your home.
Solar panels
Perhaps the first and most obvious possibility when homeowners think about making their roof eco-friendly is the idea of installing solar panels. There can be no doubt that solar panels have huge green credentials, and when you have them installed at your property you are doing something that provides a significant amount of green energy to the whole house.
If they can be positioned effectively, solar panels can provide enough energy to pay for themselves, and can also hugely reduce your dependence on the grid. But, it is not necessarily as simple as placing solar panels on your roof.
Many roofs are not suitable for solar panels – either because they don't have the space, or because they face the wrong direction. But, that doesn't mean that there are no options for eco-friendly roofs. Indeed, unlike many options, solar panels don't actually change anything about the physical structure of the roof itself – but many do.
Cool roofs
A relatively recent concept, cool roofs are designed to block ultraviolet rays from the sun. Whether it is by using a combination of white glue and gravel or simply adding white paint, these roofs reflect the sun rays which helps to minimize the amount of heat that penetrates the property from the sun. The idea is that by minimizing the amount of heat coming in from the outside, homes are less dependent on air conditioning and the kind of huge electricity power required to run a system all day.
Of course, cool roofs are only effective if you regularly use air conditioning. However, such systems are becoming increasingly common, especially as cities heat up as a result of climate change.
If you are considering having an air conditioning system installed in your home, it could be a great idea to invest in a cool roof instead, as it might well do the same job in a far more eco-friendly way.
Wood shingles
If you are thinking of improving your roof and are trying to be as green as possible, you have to think about two issues. First, the materials used must be eco-friendly, but they also need to be durable and long-lasting to ensure they aren't replaced too often. If you want to address both these issues with one dependable wooden material, then roof shingles are a good choice.
"Cedar wood shingles are an attractive and durable solution for outdoor buildings and have been used as an exterior building material for many hundreds of years," says Dale Rivolta, Director of About Roofing Supplies, "resistant to wear and decay, they are a long lasting and fantastic quality option when it comes to choosing roofing materials for houses, sheds, summerhouses, home offices and more".
Made with thin strips of Cedar and lighter in weight, this choice of wood for roofs is growing in popularity in timber-constructed houses across the UK and Europe. As cedar shingles are made from recycled and reclaimed wood, they are extremely eco-friendly and sought after.
Green roofs
Green roofs are becoming an increasingly popular option thanks to the stunning visual appearance and the fact that they offer an incredibly eco-friendly option. Sometimes known as living roofs, these don't use regular shingles or tiles, but turn the top of the property functionally into a garden.
According to Permagard, specialists in roofing: "green roofs extend the life and improve the performance of the roof, cutting energy costs. They also have a positive environmental impact, attracting wildlife such as birds and insects, and improving air quality in particular in urban areas."
They are extremely expensive to set up and do require a great deal of ongoing maintenance, so it is certainly the case that green roofs aren't right for everyone. It would require a keen gardener who is willing to put in the work – many plants are self-sufficient and hardy, but if they do they will need to be replaced, and this needs to be monitored constantly.
Clay tiles
Clay tiles are another material that can create a stunning roof, but are more eco-friendly than many other options. Available in a variety of styles and colours, it is easier to match clay tiles to the aesthetic of your existing property than other eco-friendly roof types.
Clay tiles have the additional advantages of being easy to maintain and are highly durable. A popular choice, they are both machine and hand-crafted; either choice will add character and instantly modernize your roof. From an environmental perspective, they are a good material to consider mainly for their energy-efficient, hot air circulating capability.
When it comes to making decisions about re-roofing, there are many eco-friendly and natural options and possibilities to choose from. The good news is that by altering your roof with the right material, you can in the process, elevate the eco-friendly rating of your whole home.