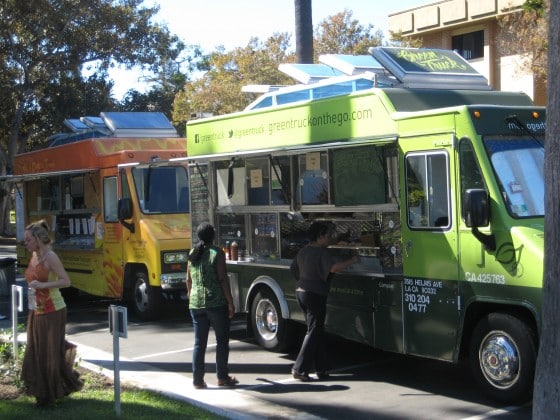 Green and Organic: The Way Food Trucks Should Be
If you haven't noticed, over the last few years, food trucks have been taking major cities and towns by storm. A few decades ago, the only kind of food truck you would have been able to find is the classic "roach coach". And while I've had some pretty tasty food at a few of them over the years, nothing quite compares to the quality and variety that can be found on today's food trucks. Some of the more successful food trucks have tapped into the power of social media, are featuring green and certified organic menu items, and have figured out how to make their trucks a little more environmentally-friendly.
Take Green Truck for example. I had the pleasure of checking out Green Truck this past weekend. One of the first things I noticed was the fact that their menu had something for everyone. It wasn't just tailored to one group of people. Vegans, vegetarians, and meat-eaters alike could all find something they would enjoy. In addition, I noticed that their menu items featured organic food. On top of that, the truck had a composting slot where customers could put their utensils, etc. (which by the way are made out of potato starch), their compost goes back to the farms they get their organic ingredients from, and they use the vegetable oil from the day's cooking (and a little solar power) to power the truck the following day. Here's a video that explains it even further.
Green Truck's mission is: "Healing our planet one meal at a time." I have to say, after tasting their food, in particular the the grass-fed beef burger, I think they are doing a pretty tasty job. The Cali Kale Bowl and sweet potato fries were both big hits that day too. For those of you who are looking for a tasty vegan/vegetarian burger, go for the made from scratch "Mother Truck Vegan Veggie Burger". From all reports, you'll be happy you did.
A couple other green and/or organic food trucks I'd love to check out one of these days are GuacTruck and The Cinnamon Snail. Now, in addition to food trucks bringing good food to the masses, bike food carts are now popping up all over the place. Check out some of these cool bike food carts, I mean the food truck/food cart options are limitless. These small electric food trucks would be great for any location. Personally, I could see trucks like this traveling around Santa Monica, Santa Barbara, Ventura and other beach areas. When it comes to mobile food, I'm just I'm wondering when the day will come that we'll see Cooking Stoned's very own Jerry James Stone peddling around San Francisco on his bike with a freezer full of popsicles like these.
There are so many food truck options available, but as Green Truck says "Serving you fresh, organic food isn't enough. Green Truck believes that a healthy environment is essential to healthy living." To green, organic and sustainable…the way all food trucks should be.