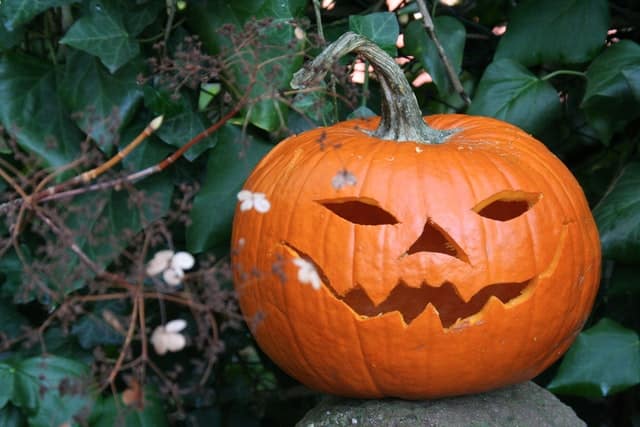 Going Green: Halloween Reimagined
As you're likely well aware, Halloween isn't going to be the same ole, same ole this year. Due to the coronavirus and social distancing measures many areas have in place, celebrations and holidays will probably be a little different. Fortunately, that's okay.
We've come up with a number of ways you can enjoy this spookily, haunting time of year while still going green and having a Happy Halloween.
Decorate with Nature
Start with bringing a little bit of the great outdoors in. If you're anything like me, being out in nature makes you smile. The fresh air is crisp around this time of the year, the leaves are changing in many places and the beauty of nature just abounds. So, why not bring a bit of nature indoors to help lift your spirits?
You can put pine cones on your mantle. Put pumpkins, straw and a DIY scarecrow on your front porch. Make a wreath, for your front door, out of wigs and berries. Bring in some squash, gourds, pumpkins and other vegetables to not only decorate your stoop, but use as centerpieces for your table. You can even make these cool pumpkins planters filled with flowers or succulents.
Carve a Pumpkin
Carving a pumpkin is one of the things you can do this Halloween, just like you usually do, regardless of whatever else is happening in the world. Plus, you can bring some joy to those around you when you carve a pumpkin and place it outside your door or on your porch.
If you're feeling adventurous, you can even line your walk or driveway with your carved pumpkins. Then light them up at night and let those jack- o'-lanterns shine!
Roast Pumpkin Seeds
Since you're trying to be a little green here, cut down on food waste by roasting those seeds you've pulled out of your pumpkin(s). You can either roast them with some salt or try using other seasonings. Our friend, Jerry James Stone, shows you three different ways you can make roasted pumpkin seeds.
Make Halloween Treats at Home
Since many kids won't be trick-or-treating like they've done in years past, get your kiddos together and make some Halloween treats at home. The nice thing about doing this at home is you know exactly what you're putting in your treats, so you can add as little (or as much) sweetness as you want.
You can make monster cookie bars, ghost cookie pops, a rosemary-pumpkin seed brittle, a spiced pumpkin-molasses cake, coffin sandwich cookies, a haunted gingerbread house, organic caramel apples, pumpkin butter and much more. The recipes are endless. You can even make vegetarian, gluten-free and vegan Halloween treats your kids are bound to love.
Arrange a Nature-based Scavenger Hunt
Instead of trick-or-treating, you can take the kids on a nature-based scavenger hunt earlier in the day. This Halloween is perfect for that, specifically because it falls on a Saturday this year.
You can give the kids a certain number or type of items to find (rocks, trees, pumpkins, colored leaves, flowers, squirrels, birds, etc.) and a list they can mark off as they go. If you want to be even more eco-friendly about your scavenger hunt, or you want to include your older children, require they take pictures of each item. Encourage they get creative with their picture taking too. Most creative image wins a prize.
Plan a Viewing of Other People's Halloween Decorations
Instead of doing your traditional trick-or-treating around the neighborhood, plan a ride-by viewing of other people's Halloween decorations. This way you can load up the family and go through your neighborhood, and other neighborhoods you don't often visit on Halloween, to see all the beautiful decorations they've put up. If you've made DIY treats at home, the kids probably don't need a bunch of store-bought candy anyway. Make this time all about being with family and admiring the creativity of others.
If you want to be more eco-friendly, and still social distance, you can walk around the neighborhood during a time when few others are out and about.
Attend a Drive-thru Halloween Event
Since traditional Halloween events aren't happening in most areas, you might want to consider attending a drive-thru Halloween Event. Many of these events even encourage guests to dress in costume. Some also give out candy or treats and non-alcoholic drinks. It's a great way to get your spook on, while still social distancing. It is also a nice want to support local businesses and groups who may have been seriously impacted by Covid shut-downs. If you look around, you might have events and activities like this in your area.
A few of the events we have around the Los Angeles area include a Stranger Things Drive-Into Experience (apparently they're extending this into Spring because of its popularity and the fact its booked solid…not surprising), a Nights of the Jack drive thru experience and a Hauntoween LA drive thru event. One of my absolute favorites, though, is the event(s) being put on by The Gentle Barn. You can choose from either A Gentle Drive-Thru Halloween or The Haunted Barnyard drive-thru experience. Both are fundraisers to help support The Gentle Barn.
Have a Halloween Movie Night at Home
If you don't want to go anywhere on or around Halloween, that's okay. As we've mentioned, there are plenty of things you can do at home. One of the things you can do is have a Halloween Movie Night. You can do this indoors by decorating your living room, setting out your spooky treats and picking a scary movie to watch. It's simple, but it's a great way to get the family together in celebration of Halloween.
Plan a Night Under the Stars
Last, but definitely not least, plan a night under the stars. Since many people are used to be out and about on Halloween night, this year you can spend the evening under the stars. Bring some chairs or a blanket into the backyard. Then lean back and look up. You can even camp out if you want to spend the whole night under the stars. Those who don't have a lot of light pollution around will probably see quite a few stars.
The key is to reimagine your "traditional" Halloween activities this year. Companies are doing it with their drive-thru experiences designed to keep people safe, yet still get them in the spirit and give them their dose of Halloween fright. There's no reason you can't do the same with your activities at home.