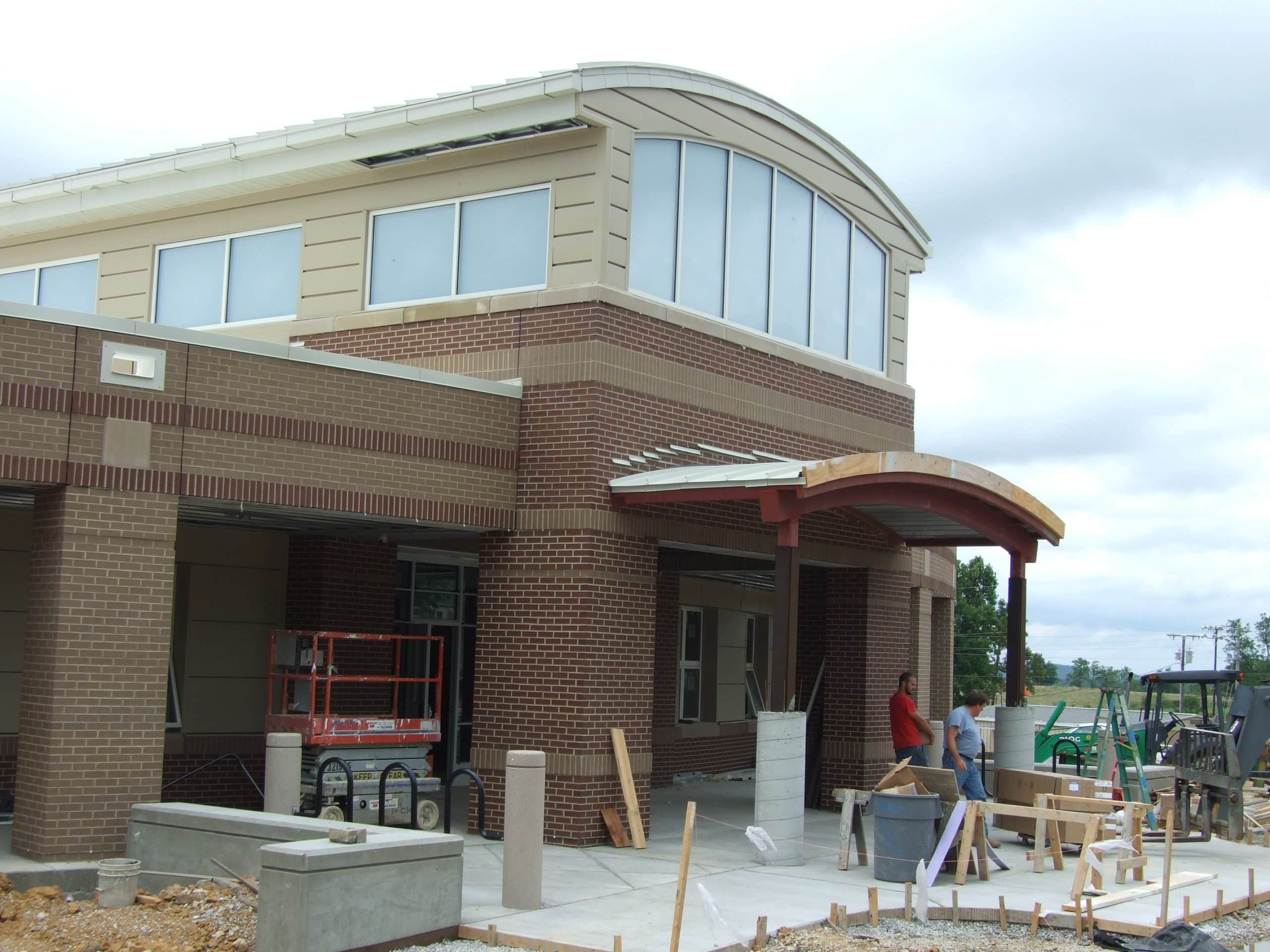 First Zero Energy School About To Be In Session
Earlier this year I shared the good news that Richardsville Elementary School was working towards becoming the first net-zero energy public school. As you can imagine, that is quite an undertaking and will be quite an accomplishment when it opens. Well…..as good news would have it, construction is nearing completion and Richardsville Elementary is on target to be open by the end of August!
As principal architect on this project, Kenny Stanfield AIA and LEED® AP (Accredited Professional), described it:
"For our team, the goal of achieving a net zero school was simply the next step – to go from a proven, design operating facility (Plano) that requires only 28 kBtus of energy per square foot annually to a facility that needs 18 kBtus to operate."
The design for this net zero energy school was even awarded the Green Design Concept Winner 2008 Green Education Design Showcase.
Now, if you are unfamiliar with the term "net zero building", it basically describes a structure that generates as much (or more) energy than it needs to operate. It does that through renewable energy resources such as wind and solar.  This doesn't mean it isn't connected to the electric grid, but it does mean the building itself generates more energy than it consumes.
Besides the fact that it completely generates its own energy, Richardsville Elementary is a relatively "typical" school in that it has classrooms, a gymnasium, cafeteria, library, etc. Another difference though is that it was designed and built as a tool to educate students on the value of energy conservation, solar, water conservation, recycling and more.
Let's take a look at some of the features that take Richardsville Elementary up to the next level in educational building standards.
First there is the design layout of the school property:
As you can see, it includes a full array of solar panels on the main building as well as the covered drop-off/pick-up area in the parking lot. Renewable materials were used during construction whenever possible and ICFs (Insulated Concrete Forms) were used as a green construction measure to provide smart insulation. Additionally the building was laid out in a north-south site orientation in order to increase solar output and naturally conserve energy.
As you can tell from this picture of the front entrance, the building has a clerestory spine running down the middle of the building. This was designed to allow for maximum natural daylight and minimal lighting costs. The windows themselves are made from Nanogel® filled sandwich panel glass to provide a nice aesthetic for the building without lowering energy efficiency.
This photo shows the rear of the school building, with the media center on the second floor and a covered outdoor classroom below it. The stair towers to the left and right are encased by windows and decorated by sunshades at each level to minimize heat/glare.
The south facing facade (classrooms) clearly shows the use of daylighting as well as the incorporation of sunshade devices in the design and practicality of the building.
The new gymnasium floor was made mostly from bamboo with the dark hardwood sections salvaged from the old gymnasium. Acoustical wall panels were added to give the room optimum acoustics. You can also see a bit of the clerestory daylighting in place here as well.
With regard to the kitchen area, Energy Star rated equipment was used and combi-ovens were chosen as a healthier option to traditional fryers and skillets. So not only will the cafeteria be energy-efficient, it will be able to provide healthier food choices to the students as well.
In terms of overall construction costs, the building and site itself ran about $12,160,000 with the solar/Photovoltaic costs adding an additional $2,753,124. Bringing the total construction costs to a little under $15 million. As the building is 77,466 sq ft, that breaks down to approximately $193 per sq ft.
One note though, as this is a net zero building, the project was able to get a federal bloc grant through the Kentucky Dept of Energy for 50% of the solar costs.
If you are interested, you can follow some of the final construction via the Warren County Public Schools' webcam.
A special thank you to Kenny Stanfield from Sherman-Carter-Barnhart for providing me with photos and additional information on this great accomplishment of the first net-zero energy school – Richardsville Elementary in Warren County, Kentucky. For more information on Sherman-Carter-Barnhart's other green projects, you can check out their website.
Congratulations to all involved! Building the first net zero energy school is definitely a historical moment and hopefully there will be many more schools following suit. I can't wait to hear more about Richardsville Elementary once school is in session.