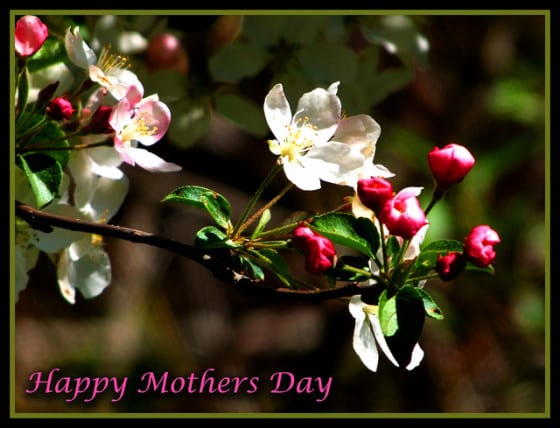 Eco-Friendly Ways to Give a Personalized Touch to Mother's Day
Every year it seems as if more and more notations are added to our calendars. Days to thank our bosses, our assistants, our parents and grandparents, post office workers, teachers and so many others. The question is…when our calendars tell us the day has come to celebrate those people in our lives who mean the most to us, how do you think we should go about doing that? The reason I ask is Mother's Day is coming up. Mother's Day is the one "recognized" day each year when children are supposed to give thanks to their mothers and let them know how much they care. It's a day for mothers to be appreciated for their hard work, dedication and unwavering love. In all honesty, I think that's something kids should do every day. Don't you? My mother knows how much I care, regardless of whether it's Mother's Day or not.
Having said that, if you do want to thank your mom this Mother's Day and let her know she is appreciated, or tell her how much you truly care, here are a few eco-friendly ways to give a personalized touch to Mother's Day. Mother's Day doesn't have to be all about consumerism – go beyond store bought cards, flowers and chocolates. Celebrate your mom by sharing or doing something that will have special meaning just between the two of you.
Write your mom a poem or a story. Make it about some special time you spent together, how you feel about everything she's done for you, how much you love her or whatever comes to mind. Trust me when I say it is the personalized gifts like this that moms love the most. A gift card to the spa may be nice, but this is a gift that will last forever.
If you have a mom who loves to be pampered, how about trying your hand at a little DIY with some homemade herbal bath salts. You can add whatever essential oils she likes best so the salts are personalized just for her and better yet, they won't be filled with unknown chemicals or toxic ingredients.
Another great pampering idea for mom is to put together a few Do-It-Yourself Organic Spa Treatments.
Give your mom a potted flower or plant. Cut flowers are nice and a bouquet can be beautiful, but neither will last as long as a potted plant. In many cases, these types of plants and flowers will often continue to grow in their existing pots or in the garden for years to come. As a bonus, every time your mom looks at them she will think of you.
If your mom lives nearby, schedule a time when the two of you can go for a walk or go bike riding or even just sit outside and talk. In other words, give her a little "you time." Life can get busy and we don't always have time to catch up or talk with our parents, particularly on a one-on-one basis. Spending time together is usually worth a lot more than a $4.50 store-bought card.
Make a day of it. Take your mom to the local farmers' market, pick out some fresh and organic ingredients, then go home and put together a Mother's Day meal she will love. If your mom would get more enjoyment by having the two of you make the meal together then by all means, go for it. Either way, here is a tasty eggs benedict recipe you might want to check out to help get the creative cooking ideas flowing.
For those whose have moms living farther away, making a scrapbook to highlight some of the special moments you two shared is always a wonderful thing to do. It also gives your mom a good look at some of the moments and memories you hold dear.
Keep in mind, the whole idea of Mother's Day is to let your mom know how much she means to you. Of course, most moms don't expect any recognition, praise or gifts. Everything we do is simply for the love of our children. Their happiness and well-being is all that matters. That being said, and as I'm sure many mothers will agree, it is always nice to have a day dedicated just to you. This Mother's Day do something special for your mom. Let her know how much you care, but do it in your own way. If you have any other ideas for eco-friendly ways to give a personalized touch to Mother's Day, we'd love to hear them!
Images from LadyDragonflyCC (Happy Mothers Day), Mike Baird (Walk along beach), Gayle Esterly (deck garden) via Flickr Creative Commons license.