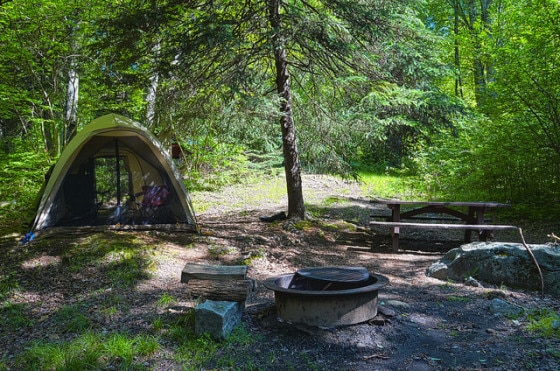 7 Eco-Friendly Camping Tips

Camping is one of those activities many people have come to know as one of their favorite pastimes. There are many different ways to camp. Some people go "glamping" (glamorous camping), while others would rather stick to the more-traditional tent camping. Other people would rather rough it out in nature under the evening stars. Whatever your camping interests may be, I highly recommend spending some time in the great outdoors this summer. These camping tips can help make your adventures a little more eco-friendly!
Buy used gear or rent the camping equipment you need. For those items you may not want to purchase used, such as your sleeping bag, there are eco-friendly options from which you can choose. If you go camping a lot or plan on doing so, investing in an

eco-friendly sleeping bag

that is made out of recycled materials may be a wise thing to do.
Unplug by leaving electronic gadgets at home. Don't stay on your phone all day either. Enjoy your time outdoors and use it to reconnect with nature. You can avoid using batteries or having to rely on your vehicle to charge you cell phone by opting for solar chargers. Even a solar lantern can be used in place of a gas or electric lantern.
Find a camping area in close proximity to your home. You do not need to travel far to enjoy a few nights under the stars.

Summertime means sleeping outdoors

, so make good use of camping areas nearby. From your backyard to the nearby lake, there are so many options from which to choose.
Leave no trace. Remove all trash you and your family generated during your camping trip. This will allow the next group of people to enjoy the area the same way you were able to do. Do not break off branches, pick flowers or otherwise disturb the environment and animals in it. Observe and enjoy. Here are the key principles of "leave no trace" that every camping needs to take into consideration.
Use a  fire pit or figure out a way to contain your fire. California is in a serious drought right now. If you live in an area where fire danger is high, it is important you take steps to minimize your chances of starting a fire. At an established campground you should build your fire in a fire pit. If you decide to go a little farther out, you will need to be aware of your surroundings and do what you can to keep your fire small. Be sure to keep water or dirt nearby that can be used in case of an emergency to extinguish the flames.
Do not waste your money on disposable, one-use items. Buy plates and dishware you can wash and reuse. Reusable items cost less overall and they do not cause as much harm to the environment. Do a little research and you're bound to find some items you'll enjoy.
Opt for non-toxic sunscreens and bug sprays. There is no reason to put additional toxins in your body, nor is there a reason to spray harmful chemicals into the air. The Environment Working Group posts their list of the least harmful sunscreens each year. If you want to keep the bugs away, this

3-ingredient DIY bug repellent spray

might just do the trick.
Camping takes planning. When you include eco-friendly options as part of your plans, you are helping preserve the environment and your camping destinations for others who will eventually follow in your footsteps.
Image by Iris via Flickr Creative Commons license