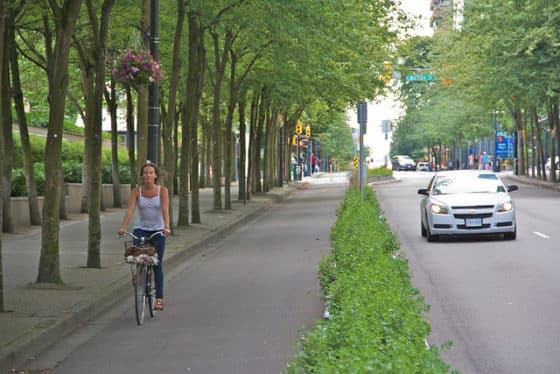 Eco-Friendly Cities: Biking Your Way Around Town
Riding a bicycle is one of the most eco-friendly forms of transportation. Bike riding is not only a good way to get some exercise, it is also a fun activity to do outdoors. In addition, countless cities around the world are working to be bike-friendly. Many are creating bike paths or bicycle-friendly roads so bicyclists can ride safely around town. Being able to use your bicycle to get where you want to go is something many of us used to do as kids. Now it's becoming more and more common to see people opting to ride their bikes rather than drive.
Eco-Friendly Events Geared Towards Biking Around Town
Some cities are even hosting events geared towards encouraging people to bike around town. The LA River Ride is one such event (being held tomorrow, June 4th, as a matter of fact). It is the seventeenth year this event being held. This year bicyclists have a choice between seven different routes, depending on the distances they wish to travel:
100-mile LA River Century Ride (starting from either Long Beach or Griffith Park)
70-mile Expert Ride (starting from either Long Beach or Griffith Park)
50-mile Half Century Ride (starting in Griffith Park)
36-mile Training Ride (starting in Griffith Park)
25-mile Explorer Ride (starting from either Long Beach or Griffith Park)
15-mile Family Ride (starting from The Autry in Griffith Park)
Kids' 2-mile Ride (starting near The Autry in Griffith Park)
While it may be too late to register, those who live in the LA area should head down to either Long Beach or Griffith Park to check it out.  Bonus is you don't have to wait until next year to enjoy the dedicated bike path along the LA River. Riding along the LA River is something bicyclists can do throughout the week to explore the scenic route alongside the river.
Another such event is CicLAvia.  According to CicLAvia, "Inspired by Bogotá's weekly ciclovía, CicLAvia temporarily closes streets to car traffic and opens them to Los Angelenos to use as a public park. Free for all, CicLAvia connects communities to each other across an expansive city, creating a safe place to bike, walk, skate, roll, and dance through Los Angeles."
Over the years, CicLAvia has temporarily shut down many streets throughout Los Angeles in order for pedestrians, bicyclists, skaters, joggers, runners and the neighboring public to make their way through the city. The next CicLAvia event is being held in the Glendale/Atwater area on Sunday, June 11th from 9am to 4pm. Bring your family or meet up with friends. Either way, it is a great way to explore Glendale and/or Atwater Village by bike or by foot. For more information, including street closures, visit the CicLAvia – Glendale Meets Atwater Village site.
5 Eco-Friendly Cities Focused on Being Bike-Friendly
Countless city executives and residents seem to be focusing their attention on making their cities more pedestrian and bike-friendly. While this is movement in the right direction, encouraging people to ride around town is one thing, but making it safe for them to do so is another. Cities wanting to be bike-friendly are creating separate bike paths, separating bike lanes from vehicle lanes and enforcing safety laws.
Walkscore.com ranks the five most bike-friendly cities in the United States as Minneapolis, San Francisco, Portland, Denver and Boston. Two of these (San Francisco and Boston) also rank within the top five most walkable cities in America. Five other cities considered to be quite bike-friendly are:
Amsterdam:  According to Iamsterdam, approximately 63% of the local population uses their bicycles on a daily basis. This is close to 800,000 people.  What's also impressive is 32% of the traffic moving throughout Amsterdam is bike traffic, as compared to 22% by vehicle.  This rate is even higher in the city centre. Amsterdam has 500 km (almost 311 miles) of bike paths and a whopping 250,000 bicycle racks in public places near Amsterdam Central Station.
Copenhagen: Few people are unfamiliar with the biking culture in Copenhagen. The official website of Denmark states Copenhagen has been voted as both the "Best city for cyclists" and the "World's most livable city".  The city itself has more than 390 km (242 miles) of designated bicycle lanes, which as you can see from the video below, get quite a bit of use on a daily basis. Copenhagen also has its own Cycle Super Highway. How many cities do you know can say that?
Denver, CO: As it currently stands, Denver has more than 300 miles of dedicated bike lanes throughout the city, with more to come in the future. Approximately 10% of Denver's residents commute to work via bicycle. Not all of Denver is easy to trek on a bicycle, but its mountainous terrain make it a great place to ride. Denver also has a widespread bike-sharing program in place for visitors, tourists and residents alike.
Santa Clarita, CA: The city of Santa Clarita, CA is known for its  open spaces, beautiful scenery, green living, as well as its bike/walking trails weaved throughout the city. In total, the city of Santa Clarita has over 115 miles in its bike trail network including 38 miles of paved bike paths, 30 miles of on-street bike lanes and another 47 miles of natural paths. City buses are equipped with bicycle racks and bike lockers are located throughout the city (primarily at MetroLink stations). While you can take your bicycle on the MetroLink, as some trains have bicycle cars, you can also take advantage of the Metro Bike Share program once you get to your LA destination.
Vancouver, Canada: Bicycling is reportedly Vancouver's fastest growing method of transportation. With more than 279 miles of bike routes, various bike rental stores throughout the city and a bike-centric culture on the rise, bicycling will soon become the thing to do around town. Tourists and residents can all enjoy exploring the city by bicycle. Whether you choose to do a bike pub crawl, venture to a more urban location along the waterfront or head towards the mountains, Vancouver has you covered.
Biking Has Numerous Eco-Friendly Benefits
Riding a bicycle has numerous eco-friendly benefits. Biking is a lower emission form of transportation and a more pedestrian-friendly way to get around. It is a smart way to get some exercise and check out the great outdoors, as well as being better for the environment overall. If you haven't tried exploring your city by bicycle, I encourage you to do so. Then, the next time you travel or go on vacation, try renting bicycles or taking advantage of a bike-sharing program. It's fun, interactive and healthy. Besides, biking gives you the opportunity to be out in nature giving it the respect and adoration it deserves.