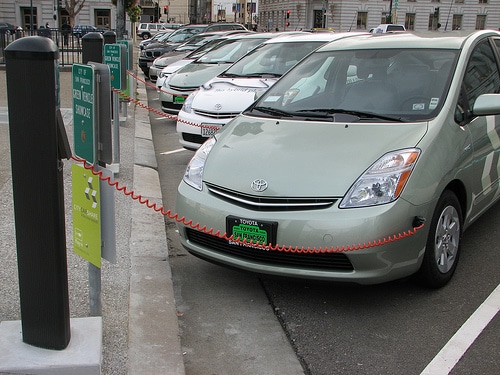 Charging Stations, the Backbone of the Electric Vehicle?
Electric vehicles are gearing up to become the next best thing since sliced bread, aren't they? Well, that may be what the EV auto makers would like us to believe, but let's not get ahead of ourselves just quite yet. I mean what good is an electric vehicle without a charge?
At this point most electric vehicles are reported to get a maximum of 100-200 miles per charge. With limited charging stations, where are those EVs going to "fill up" if they're away from home? A lack of charging stations is going to seriously limit the mobility and practicality of the electric vehicle.
Image by felixkramer
First take a look at some of the hottest electric vehicles we can expect to see on the roads in the new future. From the Nissan LEAF to the Chevy Volt to the Tesla Roadster and more, these electric vehicles are looking to make a major change in what people drive and how they get around.
Make no mistake, if the electric vehicles can gain the popularity auto makers are hoping for, they can make a serious dent in lowering harmful emissions. They also require less maintenance, they can be charged using solar power and they are much more energy-efficient overall. But that now brings us back to charging stations.
Without charging stations littering major highways and thoroughfares, driving your vehicle long distances will simply not be an option. Luckily that's where companies like BetterPlace and Coulomb Technologies (with their ChargePoint® Network) come into play.
Image from coulombtech.com
Coulomb Technologies is aiming to place their charging stations at homes, existing gas stations, rest stops, curbside parking spots, businesses and more. They think (as do I) that if you are going to have an electric vehicle it should be just as convenient, if not more convenient, to get it charged up.
You can even suggest locations for charging stations if there aren't enough ChargePoint charging stations near you. They also have a recently released iPhone app for your convenience to help you find charging stations, check availability, receive messages when your vehicle is charged and more.
Better Place aims to provide not only access to charging stations worldwide, but to battery switching stations and other services essential to making the EV driver experience a pleasant one.
Until that point, I'm afraid it'll be just hit and miss. Check out this Southern California EV charging station map for example. I thought it was interesting that some users made comments that the location they used didn't even realize they had an EV charging station. Wow!
So, if you are considering getting an electric vehicle, I highly recommend you do your research first. Otherwise you may end up with an electric vehicle that doesn't get used as it should.
Hopefully though, sooner rather than later, we'll start seeing charging stations pop up at every "gas station" up and down the highway. Until that point, work on driving less and driving smarter.
Image by Todd Mecklem