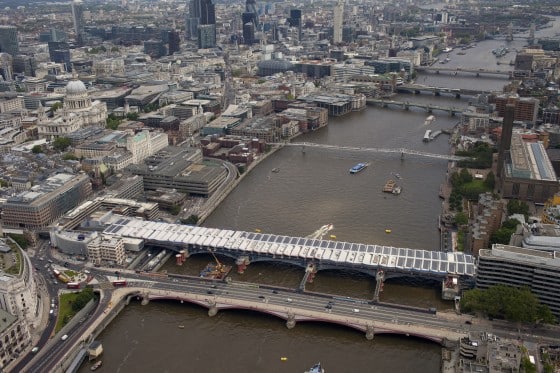 Biofriendly Technologies Set to Change the Future
Image by Network Rail
Technology is evolving at an amazing rate these days. Things we would have thought impossible, or at least extremely "futuristic", 20 to 30 years ago are now becoming reality. Even more so, green technologies are coming to the forefront and changing the way we think and operate. Let's take a look at some biofriendly technologies that are set to change the future.
1 – First is the world's largest solar bridge being built at Blackfriars station by Network Rail. The original bridge, the Victorian Bridge, was built in 1886 and spans the River Thames. It is also the foundation for the new Blackfriars station. The bridge will have more than 4,400 solar photovoltaic (PV) panels, generate upwards of 900,000kWh of electricity, and reduce harmful CO2 emissions by 511 tonnes every year.
Now we all know solar technology has been around for awhile, but incorporating it into buildings, bridges, and more, is a great way to start using the power of the sun on a global scale.
2 – Speaking of solar technology, how about the spray-on battery? With the use of a simple aerosol can, you could potentially turn any surface into an energy storage device. Just think what the future holds for this technology…entire houses could be sprayed in order to capture and store the sun's energy.
3 – Next comes the green propellant technology being tested by NASA. This green propellant is being tested as a replacement for the currently used, and highly toxic, propellant. Not only would this new propellant be better for the environment, but it would save money, and make the launch process a lot less complex. As the Director of NASA's Space Technology Program puts it: "High performance green propellant has the potential to revolutionize how we travel to, from and in space".
4 – The production of eco homes is a extensive subject and one that involves many different technologies, all geared towards making a greener, more eco-friendly home. There is the home which is designed to not only be close to nature, but use nature to help make the building and its amenities be more sustainable.
Then there is the dome home which is built to rotate in order to capture the power of the sun. Can you imagine having a home like this?
5 – Taking things a step further, home design and construction has now advanced to the level where fully-customized, modular solar homes can be prefabricated using a 3D printer. Yes, a 3D printer. How cool is that? Take a look at the following video and you'll see what I mean.
6 – This is a great one. This Guatemalan non-profit organization is re-using and recycling bicycles in order to make electricity-free machines. Personally I think it'd be great to have this kind of technology in a lot more places. Kind of brings people back to basics, don't you think?
Take a look at all the machines they can make and those that they are currently working on making. They even have downloadable designs and instructions so people can make their own machines.
7 – Here are two technologies I consider to be pretty innovative. In addition, they were thought up by school-age kids who were awarded first place prizes at the 2nd Annual First® LEGO® League Global Innovation Award ceremony. The first technology is the "Erasable Barcode" which would prevent the sale of meats that have been stored at improper temperatures. So if the barcode disappears, then the meat cannot be sold. The second technology is a "Smart Sticker" designed to be placed on foods in order to detect if they have been stored at the proper temperatures.
The last one I'm going to cover here is a somewhat "older" video, but it is still one of my favorites about how to grow your own fresh air:
With indoor air pollution being such an issue, don't you think placing these three simple plants in your home would be worth the effort? Besides, bringing a little of the outdoors in is always nice.
In some cases the technology already exists and in other cases, the technology is soon to come. Either way, there are many different biofriendly technologies that are truly set to change the future.