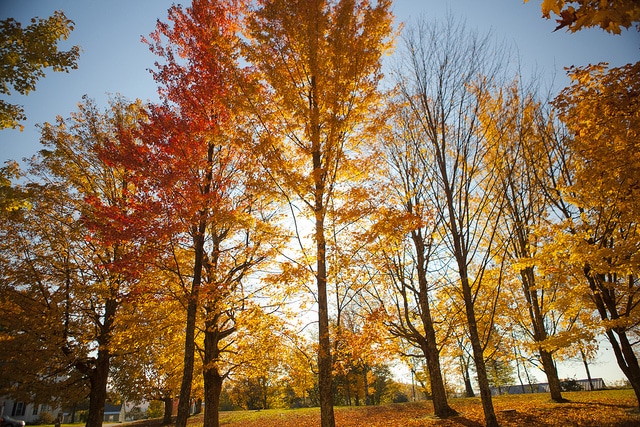 4 Biofriendly Activities to Celebrate the Autumnal Equinox
Autumn is officially here. Now this doesn't mean it's time to change your clocks back (if your state/area observes Daylight Savings Time), it simply means the Autumnal Equinox aka Autumn Equinox aka Fall Equinox is upon us. So, summer is officially over for those north of the equator and fall has arrived.
What Is the Equinox?
For those of you who may be unfamiliar with the term, the equinox signifies the time of year when the sun crosses the Earth's equator giving us an equal amount of time for day and night. Each year we see two equinoxes: spring equinox and autumn equinox. While the northern and southern hemispheres will experience different seasons when the equinox occurs (i.e. fall in the northern hemisphere and spring in the southern hemisphere during September's equinox), everyone on Earth will experience day and night of approximately the same length on the day of the equinox.
4 Biofriendly Things to Do Since Autumn Has Officially Arrived
When fall arrives in the northern hemisphere, it is a sight to be seen. While not all areas will experience the same beauty nature lets loose during this time of year, we've got a few biofriendly activities to help you celebrate the Autumnal Equinox and make the most of the season.
1. Go for a Walk, Then Incorporate Walks Into Your Daily Schedule
Today is one of only two days a year when you'll have equal hours of day and night, but from this point forward and all the way into winter, you'll see fewer and fewer daylight hours. This will even be more noticeable when you have to change your clocks back on November 4th (2018). Fortunately, the shorter days makes it a little cooler for those who like to go on evening walks. Even if you want to go for a walk during the day, the weather should still be nice and just being able to spend a little time out in nature to see the leaves begin to turn colors is well worth it.
While you're outside, be sure to take in the sights. Look at the trees around you. Watch the falling leaves. See how nature adjusts for the change of seasons. Doing so is good for you and it helps inspire a new level of appreciation for the world around you.
2. Decorate Your Home With Touches of the Outdoors
Many people have already begun swapping out pillows and other decorations inside and outside their homes to reflect the changing of the seasons. One of the most biofriendly and natural ways to decorate your home is to do so with a touch of nature. Use fallen leaves, pine cones, acorns, twigs, berries or whatever you find on your walk to add little accents to your mantle, end tables and even to create a beautiful centerpiece. Add a natural wreath to your door. You can also decorate indoors, or on your patio, with pumpkins and gourds. Here are a few more decorating ideas you can DIY to bring touches of the outdoors in.
3. Air Out Your Home, Then Bring in Some Natural Scents of Fall
Sometimes people have certain scents they associate with fall. It could be the smell of cinnamon or apples reminds you of your grandma baking a pie. Maybe the smell of pumpkin puts you in a holiday mood. Regardless of what scent seems to remind you of Autumn, start out by airing out your home. Try to get rid of as much indoor air pollution as possible. Doing so can be as easy as opening some windows and doors in the cooler morning or evening hours. Then, once you've done that, you can either schedule some fall baking and cooking or spend some time making your own natural scents. Stay away from store bought. You don't need to add chemicals into your home.
If you need some ideas, try one of these DIY home scent recipes for fall or maybe this baked pumpkin cheese fondue recipe. For those who'd prefer vegan or vegetarian recipes to get your house smelling like fall, maybe you'd like to try this red tea poached pear recipe or this garlic and herb stuffed brussels sprouts recipe. Any one of these can be used to bring in some natural scents of fall.
4. Visit a Local Farmers' Market or Farm to Get Organic Food
Last, but not least, visit a local farmers' market or u-pick farm to get some organic fruits, vegetables and other foods. Another option is to join a CSA (Community Supported Agriculture) program so you can have local, organic veggies sent directly to your home.
We've all got our favorite recipes we crave when fall arrives, the leaves start changing colors or the weather begins to cool.  Going organic is the healthiest way for you to celebrate the arrival of the Autumn Equinox and it's a pretty tasty one too.
Can't think of what to make? Well, here are some organic fall recipes for those looking for something new.