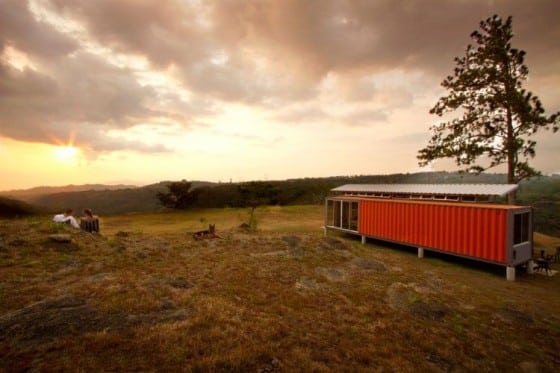 8 Homes That Exude Sustainable Living
In this day and age, finding ways to lower our environmental impact are front and center not only in the minds of individuals around the world, but at the state, federal and international level as well. In fact, actions are being taken across the globe to combat the impact we are having on the environment by improving sustainability worldwide.
One of the first steps designers, builders, home owners and others can take is to get educated on, and learn more about the sustainability options that are available. Sustainability comes in many shapes and sizes, so we can all take measures to improve our quality of life, make us less dependent on the finite resources the Earth offers, and make us more independent and self-reliant.
In order to provide a little inspiration for those who are interested in living a little more sustainably, here are some examples of creative sustainable homes:
1 – This first one is a zero-energy home designed by LivingHome and priced with a single couple or small family in mind. It is officially known as the C6, and a portion of the proceeds from each sale go towards supporting "Make It Right". The best thing about it? The fact that it is easy to build and is "the first Energy Star certified production home with a LEED Platinum level environmental program" makes this home quite a winner. Here is a video of the installation of the Home Depot LivingHome C6 in Long Beach:
2 – This next sustainable living project is titled "Containers of Hope" and involves the use of 40-foot shipping containers to build affordable and sustainable homes. One of the many features that makes these homes sustainable is the incorporation of enough windows to allow the home to have a refreshing level of natural light and a connection to the great outdoors.
Image from benjamingarciasaxe.com
3 – This is one of my favorite ones. It comes from urban designer and architect, Mitchell Joachim, and it involves growing your own home rather than hiring a traditional contractor to build it. Just take a look at the video and you'll see what I mean:
4 – This next one comes from Habitats Hawaii and is a cool example of sustainability in a small, comfortable and mobile fashion. With an outdoor shower and composting toilet, these types of homes may not suit everyone, but you do have to admit they are pretty cute.
5 – The "Freedom House" comes courtesy of a JMU Alum. This house is a much larger house than the previous one, however due to some key innovations it has been designed and build to be extremely efficient and free from the electric and water grids. Maybe add a living wall out back and you would be good to go.
6 – This next home was a finalist in the Queensland Premiers Climate Smart Awards of 2011. It comes from Wagtail Homes and is built to maximize solar energy, natural ventilation, energy efficiency, material selection and more. Each home is tailor-made to owner specifications and strives to be stylish, unique and most importantly, sustainable.
7 – Now, I know this is more than one home, but I read this article the other day and thought these green portable homes were just too cute to pass up. To me these seem to be designed with the traveling single or nature-loving couple in mind. Even someone who simply wanted a little change of pace could probably find at least one of these to fit their needs.
8 – This last one is from Silicon Valley. I see it as kind of a hybrid home. It has been touted as "The World's Greenest Home" with all manner of sustainable features including solar panels, rainwater collection, natural and recycled building materials and much more. In addition, it has been fitted with a hi-tech control system geared to keep the entire house functioning smoothly and energy-efficiently.
Most people think about solar panels, rainwater harvesting, wind energy, urban gardening and more when they think about how to become more sustainable. There are, however, so many different ways homes can be made more sustainable. Homes can be built using energy-efficient bricks made from industrial waste, from home-grown mushroom bricks, from recycled materials, from natural materials like seaweed, with living walls and more.
When it comes to sustainability, the possibilities are endless. I personally look forward to seeing Damien Hirst's plans to build 500 sustainable homes in Devon come to fruition. When it all comes down to it, the key is making the decision to take that first step away from dependency and closer to independence and sustainability.